Certified Gemstones
We have several thousand fine quality colored gemstones for sale, many of which are unique, one of a kind or perhaps are unusual for some reason. Very few have been certed; frequently, there is no reason. We stand behind our gemstones and have a 100% Customer Satisfaction Guarantee (10 Days) and a LIFETIME GUARANTEE - see our policies page: Guarantee
Just because a gemstone in our inventory is not certed, actually has no reflection on the quality. Some of our gemstones were purchased already with certs, or we were traveling abroad and felt more comfortable obtaining a cert. Perhaps we were told it was unheated and we wanted to do a check upon our return from abroad (note that regardless if it were heated or not heated, we would be keeping it - heating is standard in the trade for certain gemstones, and we accept that as long as that is all that was done; there are also some purists or collectors who seek non-heated gemstones). We have also certed a few gems because we wanted another opinion on whether a gemstone was to perhaps be called a Ruby vs. a Sapphire (Pink, Magenta, Fuchsia, etc.). Many times we purchase as Ruby and sell as Sapphire (yes, Ruby and Sapphire are the same gemstone, the mineral Corundum, it is just the percentage of red that causes the differentiation. Europe and Asia identify Ruby as what most Americans in the business would call Sapphire.
A
B
A - 2.64ct Orangy Pink Oval Sapphire, UNHEATED Note the color description - the color description of a Padparadscha. It was bought as a Pad, but we always sell as a Orangy Sapphire. It is a rather unique gemstone, in that under diffused daylight, it looks like a smoky pink, and then under incandescent, it is a bright lively reddish orange. Depending on the lights available, this seems to be a real color changer!) (egaj-11-37) $12,675
View Cert
B - 3.24ct Medium Blue Octagon Sapphire, UNHEATED Not a common shape for Sapphire and a very good size!
(egaj-11-25) $18,954
View Cert
A
B
A - 1.74ct Fine Deep Blue Oval Sapphire, UNHEATED (egaj-11-29) $8,483
View Cert
B - 2.17ct Light to Medium Blue Lively Sapphire (Cushion), UNHEATED, (egaj-11-27) $10,579
View Cert
A
B
A - 0.84ct Round Blue Sapphire UNHEATED (egaj-11-04) $1,775
View Cert
B - 1.15ct Deep Blue Oval Sapphire, UNHEATED (egaj-11-28) $4,765
View Cert
A
B
A - 1.25ct Light Yellow Oval UNHEATED Sapphire (egaj-11-02) $2031
View Cert
B - 1.87ct Medium Yellow Oval UNHEATED Sapphire (egaj-11-01) $2,917
View Cert
1.24ct Deep Pinish Red Sq Cushion - Ruby. This beauty is like a glowing ember of a fire... Not a great photo. UNHEATED and Certed. 5.91x5.21x4.39mm (blgj-05-04) $8,866
A wonderfully brilliant 2.18ct Sapphire that shows a color shift from a pleasant dusty salmon to bright reddish or purplish pink! Described in the Cert as heated and of an orangy purple! 8.52x6.40x4.85mm (blgj-10-01) $6,540
View Cert
Another shape not commonly seen in Fine Sapphire and that is why we have it in inventory! It weighs 2.88cts and is a fancy emerald cut. Depending on the lights, this gem will look either more blue or purple. A lively gemstone. UNHEATED and Certed. 9.18x5.85x4.95mm (blgj-10-02) $14,040
3.91ct Oval/cushion Shaped Color Change Sapphire. The stone has a good purple and under different lights can appear as a Tanzanite color (purple/blue). 9.16x7.50x6.24mm Under other lights, a unique blue. UNHEATED and Certed. (blgj-05-03) $23,851
Large Color Changing Sapphire - A Real Beauty!
3.86ct Oval Color Change Sapphire from Ceylon (Sri Lanka); Wonderful cutting and color; changes from purple to bluish. Fine large example of not only a sapphire, but a rarity too. Slight feather off to the side. UNHEATED and Certed. 10.04x6.43x6.74mm (baryco-96-02) $23,160
6.21ct Blue Sapphire
A large brilliant Blue Sapphire... Small feather near top (visible from the back of the stone - not the front) 10.0x9.00x7.68mm UNHEATED and Certed. (pgml-93-03) $39,359
4.38ct Blue Sapphire
A wonderfully brilliant blue from Ceylon. A large Sapphire to grace a custom designed ring for a future family heirloom. 9.55x7.24x7.13mm UNHEATED and Certed. (minco-93-01) $28,032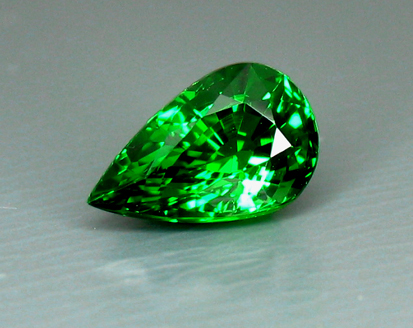 This is the Chrome-like Green that one seeks out in this gemstone. Certed 2.02ct Tsavorite (Green Garnet), measuring 9.75x6.13x5.15mm. (pond-07-01) $5,454
View Cert
4.18ct Color Shifting Garnet, dusty beige/rose to bright pinkish red Certified as Rhodolite ; dimensions 9.90x7.68x6.24; Color described as Purple, but we think our description is more accurate (kaek-07-01) $2,508
View Cert
1.10ct Certed Demantoid Garnet
An over 1 carat Certifed Demantoid. A Clean, decent cut and of a green tourmaline, possibly yellowish green color Demantoid. Shows Dispersion under the right lights. Not a deep green like many of the Russian gems, but this is said to be Russian. Most likely, it is African. We are trying to get more information. The location may not be all that important, but the fact that it is a certified Demantoid is! This gem does contain Chromium as one would expect of a Demantoid, as it will display red flashes when viewed using a Chelsea Filter! (bkkol-08-08) $525
View Cert
A
B
C
A - David Stanley Sculpted Interlocking Citrine( 2.11ct)/Amethyst(2.90ct) $735 (dstan-90a#)


Signed statement of authenticity by David Stanley

B - David Stanley Sculpted Green Tourmaline(3.99ct) $650 (dstan-90e#)


Signed statement of authenticity by David Stanley

C - David Stanley Sculpted Interlocking Citrine(2.26ct)/Amethyst(3.48ct) $825 (dstan-90c#)


Signed statement of authenticity by David Stanley

These pieces were designed by David Stanley, one of the first Americans working in a similar fashion to Munsteiner in Germany. These unique pieces were chosen from a few hundred pieces of David's work approximately 20 years ago. They were chosen based on the designs, keeping the customer and goldsmith in mind. Note that the citrine and amethyst pieces are separate pieces, and one can separate them with a bar of gold, diamonds, other gemstones or whatever the customer desires.
For an article on David Stanley's work and a photo of one of his design's click on the link below:
Modern Jewelers Article - David Stanley Gem Sculptor
RARE - Certified Cuprian Amethyst Purple Mozambique Tourmaline As indicated previously on the All That Glitters Website, this color from Mozambique (the cases that we are aware of that have been tested) has always been found to contain Copper and therefore is Cuprian Tourmaline.
8.91ct Mozambique Purple Tourmaline WITH Copper CUPRIAN. RARE Color and this one is CERTED! (cwgc-10-01) Call or email for price quote - our price is approximately 60% of the wholesale price from a well known West Coast Company!
6.47ct Cuprian Mozambique Tourmaline

13.77x9.61x7.17mm Oval Bright Pink Mozambique Tourmaline weighing a whopping 6.47cts and containing Copper. Therefore, this is a Curpian Tourmaline similar to Paraiba and other bright neony Tourmalines from other localities. A number of smaller inclusions exist, but does not affect the brilliance or overall look of this gemstone. This is also to be expected of pink and red Tourmaline, not to mention Paraiba and the bright colors coming from Mozambique! Note that this color is a bright pink with maybe a hint of purple, and it does not brown out under incandescent light. For the most part, the color is consistent under a number of different light sources. (fgj-07-01)
4.46ct Mozambique Tourmaline, Oval, bright neon green depending on the lights (yahya-06a-02)
5.05ct Mozambique Tourmaline, Triangle, bright neon green depending on the lights (yahya-06a-03)
Certed 6.40ct Oval Spessarite, Good Orange. (11.65x8.79x6.59mm) (kaek-07-03) $4,320
View Cert
Certed 7.11ct Oval Spessartite, Good Orange. (11.75x9.47x7.11mm) (kaek-07-04) $4,799
View Cert
Not often seen, here is an unheated 1.18ct Ruby. The Winza Ruby coming out of Africa, is one of the few locations in the world that currently is being mined and 'may' not be heated. Most corundum (Sapphire and Ruby), is typcially heated as is pretty much 99% of Aquamarine and Tanzanite and many colors of Tourmaline are heated too. Other countries produce Ruby that may not require heating, but Winza is producing more of this material. As you can see from the cert, it is described as a purplish red, typical to have some sort of modifier associated with red in Ruby (note the certs from the same lab for our Burmese Rubies!). Under fluorescent lights, you can see slightly more purple, but under incandescent (which is best for Ruby), it is more of a pure red.
Fine Rubys Continue to Rise in Price...!
To have a nicely colored, mostly clean Ruby is a real treat if it hasn't experience heat!
Approx 6.35X4.96X4.16mm (estrne-11-01) $6,750 View Cert
A 2.14ct Fine Deep Red Ruby - photo does not do it justice. We have found that obtaining accurate colors of Ruby, Alexandrite and a few other gemstones is very difficult. Where else can you find this size, clarity, polish, sparkle, cutting, etc for under $10,000/ct ? Just finding the store that carries this quality is difficult, and we only know of two of the big names where you might find something similar... A well known local appraiser/gemologist and the owner of All That Glitters sat down to discuss a number of fine gemstones in the All That Glitters inventory; this being one of them. This Ruby POPS under incandescent light and is more subdued under fluorescent, which is what one would expect for Ruby. Approx 7.7x6.3x5.0mm (dbg-10-01) $15,622(Currently at or below wholesale)
View AGL Cert.
Certified as Purplish Red Ruby, this material is from Africa and is certed as having NO evidence of heat, which is quite rare today. There are many pairs of matched rounds and ovals here. The average weight is about 32pts each. Price per carat is $750, therefore an average matched pair would run about $480. Good matched pairs in Ruby are very difficult to find. This material is a nice rich red under incandescent lights, well cut, clean, NO Heat and are super all around! Photographed under fluorescent lights. (vpng-07-05a) (The wholesale price from a West Coast company, whose matched pairs are not as well cut as ours and theirs is heated, is over our currently asking price. Expect retail prices to be approximately double.)
View Cert
We have sorted this out and matched them as best as possible. They have a really fine ruby red color under incandescent, which is where Ruby should be viewed. (Sapphire looks better under fluorescent - the Chromium within the Ruby "pops" under incandescent. We have the following pairs available:
Oval 0.51
Oval 0.57
Oval 0.58
Oval 0.60
Oval 0.60


SOLD!

Oval 0.61
Oval 0.61
Oval 0.61
Oval 0.62
Oval 0.63
Oval 0.72
Oval 0.77
Oval 0.78
Oval 0.80
Oval 0.96
Oval 0.99
Oval 0.99
Oval 1.00
Oval 1.12
Oval 1.15
Oval 1.15


SOLD!



Note - the above Rounds are all under 4mm in size.

0.49ct Certed Ruby (mcm-96-03) - $1,079
IGI Cert
and
Microfilm
Though a very fine Ruby and a nice red, unfortunately this is not a very good representative photo of this gem as red is difficult to capture in photos. This can also be said of most of our photographed Rubys - almost impossible to capture via a camera/photo what the eye sees.
An Unheated1.67ct Orangy Sapphire. Many people would call this a Padparadscha - we never make that determination. We buy Pads and sell them as Orange Sapphire, and frequently purchase Ruby and sell them as Pink Sapphire! (bbjwl-10-01) $9,018
A 2.88ct Ovaly-Cushion Blue-Indigo Sapphire from Thailand. An incredible example and we were only able to obtain one....(8.36x7.27x5.53mm) Has a paper Cert from Burapha Gemological Lab (BGL) in Chantaburi. Since we hadn't done business with the individual who owned this gemstone, and the color, clarity, cutting were all good, we wanted to insure that our purchase was natural. The cert indicates "Natural Blue Sapphire" and will accompany the sale. A second cert from AGL will also accompany the purchase. (kaek-07-17) $10,839
View Burapha Cert
View AGL Cert
A
B
A - 1.75ct Oval Deep Glowing Blue Natural (No Heat) Sapphire - Certed Stone. Email for a copy of the cert. Approx 7.2x6x4x5.3mm (blgj-05-01) $10,238
B - 2.37ct Oval Deep Blue Sapphire Unheated, Certed by AGL. (tremac-05-01) Approx 7.7x6.2x5.9mm $15,405
View AGL Cert
2.55ct Oval Deep Glowing Blue Natural Unheated Sapphire with Cert! Email for a copy of the cert.(blgj-05-02) Approx 9x2x7.4x4.5mm $18,564
24.97ct Tanzanite with Cert
This large Tanzanite has rarely seen the light of day since it's purchase back in about 1990. It has a certificate from Guild Laboratories in Los Angeles, CA, along with a photograph and with a retail price of $27,000 - that was back in 1991! Charles Carmona, owner of Guild Labs, is a well known respected Appraiser/Gemologist - who has appeared on The Peoples Court and has worked in various developing countries - I believe invited by The World Bank. As noted by Charles during the appraisal process, there is a small needle deep in the stone only seen under power - this indicates that it most likely would not have been heated, as most Tanzanites come out of the ground as brown color and have to be heated to obtaine the blue/purple that those expect. Some rough we have seen is indeed blue when mined (as well as a few exceptional pieces that might be fancy colors) - so most likely this large gemstone did not require heating as the coefficient of expansion of the needle most likely would have caused the needle to expand and crack the rough/gemstone. Having this needle pressent is a plus.

The very fine larger pieces are becoming quite scarce and prices have been going up - but Tanzanites are one of those gemstones that is known to fluctuate depending on what is being found, though supply is limited; though this mineral can be found in a few other countries, the fine color such as this one or even just a good blue/purple, purple blue, is just not found elsewhere.

No photos can do this item ANY justice! The color glows with life similar to a Kashmir Sapphire. Other lights will show the color as having purple highlights. We have included a number of various photos under various lights, showing it more blue, more purple and even purple blue. The video was shot with lights where you can see more people. This would make a killer pendant or perhaps even a pearl enhancer - if being customer designed, one could design a piece that could be a pendant, a pearl ehancer as well as a pin! Some people might even consider it for a ring - it is a large gemstone but for the right person, this could be worn as a ring!

Appraised back in 1990 at $27,500, perhaps we could have sold it then, but we put it into the vault since we were not ready to sell this beauty yet. The prices back then and the uncertainly of the deposit, made it one of those gemstones to place aside for the time being. The future of the Tanzanite deposit is still uncertain, but it is still being worked, material is sporadic, but one thing is for certain, the deposit is LIMITED and in time will be worked out and Tanzanite as we know it will be a rare commoditiy - no longer being actively mined, but will have to be purchased on a different level/market.

We have inclusded a screen grab of another large Tanzanite seen in the past few years for sale as a comparison.

This 24.97ct Tanzanite is sold with the original cert, as well as the case it has been store in all these years. Video was shot under lights with more purple available in the wavelengths. (rma-91-02#) Contact Us for Pricing.
To view the cert and more info: 24.97ct Tanzanite Cert
For a price comparison of a Tanzanite of similar size check out the following:
Note: Magnification and bright lighting is required to photograph gemstones. Some inclusions may be visible under these circumstances. You are viewing photographs as if you were using a loupe or microscope - not your unaided eye. Under normal conditions, these inclusions may not be visible.
Not responsible for mismatches of prices, photos, stocknumbers, etc.
<! code to insert on Photos Pages and others, where one wants the Payment Info/Intent to Purchase Form to appear -->
Buy Now Using the Following Options:
We continue to utilize Square, Venmo, popmoney, Wise and other services/applications, as well as Personal/Bank Checks, Wire Transfers and Bank to Bank ACH. We are always seeking additional options which would be reliable, safe and user friendly.

Contact us via Phone, Email or use our Intent To Purchase Form to discuss payment. Square, Popmoney and Wise links are below. Square is similar to PayPal, but an account is not required; Popmoney is bank/bank, account to account; Wise (formerly Transferwise) is typically for International Transactions/Foregin Currency but also works within the United States.

NOTE - For those who must utilize PayPal, we can provide an invoice or have funds sent to a PayPal account we have access to. There will be a 3% charge for this service, which PayPal charges - regardless of whether the item is returned. This is PayPal's mandate as of October 2019 - the only payment application that we are aware of that will not return their fee if an item is returned. We no longer offer PayPal as a standard payment option...

Purchase using Square:
Learn More by clicking on the logo!  
Purchase using Venmo:
Learn More by clicking on the logo!  
Purchase using Popmoney:
Learn More by clicking on the logo!  
Purchase using Wise:
Learn More by clicking on the logo!  
For purchases using another form of payment, please use our
Intent to Purchase Form.
You may also telephone or send an email: Contact All That Glitters