Natural Alexandrite
In the past 40+ years, we have only purchased a few Alexandrites for inventory. Previously, we stocked smaller ones from about 20pts up to 75pts, but the more rare and sought after pieces are larger - in the 1ct and up range.

We haven't had many larger pieces in inventory after all these years because the Alexandrites we have seen did not meet our criteria (and usually failed far more than just one of the five criteria we seek):

1.) Size
2.) Clarity
3.) Cutting
4.) Price
5.) MOST important, a very good Color Change!...
Tucson 2020 Update on Alexandrite:
As in the past, we have found Quality to be Lacking, as the material seen is too dark in even small sizes. As in the past, Alex found appears appears almost black even when closer than arms length! Prices are also crazy for this material and we wouldn't want this material in inventory at any price. Typically starting now at about the $6,000/ct figure for even small pieces, we saw a 31pt, emerald cut, that was very dark with a hint of purple coming from a few facets; the color change would also be overly dark to really observe the color. We were quoted $6,200/ct. After exclaming, "Wow" and saying Thank You, had to return to inquire and insure that the price we received was indeed the wholesale price. It was. Really? A 31pt almost black small Alexandrite at $6,200/ct? What is one going to ask on the retail market when a jewelry store offers this for sale? More importantly, even if selling this gemstone at almost nothing, who would want an overly dark Alex that really doesn't show any life or color unless one holds a light a few inches above it?! And, by the way, most are not even being certed...not that that is necessary or required, but is nice, especially if a larger Alex and a nicer one. This being said, one may come across a decent looking Alex at times and at a more realistic price, though very far and very few between. We do go for years at times without having any natural Alexandrite to even offer, as it must meet our criteria of size, cutting, clarity, color change and pricing - therefore, though Alexandrite will be seen at shows or when traveling abroad and having local dealers coming in from small towns or from the jungle/bush, the likelihood that something meets our buying/inventory criteria, is quite low.
Latest Pricing Seen in the Tucson Gem and Mineral Shows - 2023 (Wholesale)
If people thought that Natural Alexandrite was costly before, or fine color in general previously, the newest pricing seen is quite high as prices climbed due to demand for fine color in 2021/2022, slow production. Those in the trade, including the owner of All That Glitters, don't believe prices will go down. Fine colored gemstones, which are far more rare than diamond, were really on the low side for decades, and now are coming to a level where it makes more sense based on demand, rarity and the fact that nature is unpredictable. We really didn't see Alexandrite out there that looks like what exists in the All That Glitters Collection. Most of it is poorly faceted, some have inclusions, color change is not very good and usually one color is better than another. Also, most of the material is overly dark and color change cannot be seen (actually, the body color of the gemstone essentially looks black when held even a foot or so from the viewer - which in our opinion and most others opinions, makes a gemstone useless). Our exiting Alexandrite is lively and colors are obvious. Pricing on the wholesale level for a 1.03ct Round Brasilian Alex was at $23,000/ct. Though this might have been the highest price seen, it was a decent gem compared to what is seen out there in the trade, though again, on the dark side. Very small Alex of only 20-40pts is very high and again, typically poorly faceted and dark. We are talking thousands per carat for this small material.
We grabbed this image that was found on line in late 2020 - consider all previous pricing guides to be outdated if prior to 2021. Our pricing of our fine Alex is still below the expected wholesale price!
Alexandrite is a Type II Gemstone - and typically has inclusions:
A
B
A - Natural Alexandrite, believe to be from Brasil, changing from a Purple to a Blue/Green(Teal), 0.34ct Oval and priced well when compared to trade prices seen in Tucson 2023. GIA Certed, Natural Alexandrite, changing from Blue Green to Purple. (gg-23-01) $1879
View Cert
B - Natural Alexandrite, believe to be from Brasil, changing from a Purple to a Blue/Green(Teal), 0.41ct Oval and priced well when compared to trade prices seen in Tucson 2023. GIA Certed, Natural Alexandrite, changing from Blue Green to Purple. (gg-23-02) $2500
View Cert
 
With Alexandrite and a few other gemstones, especially color shifting or color changing gemstones, it may be difficult to obtain two accurate photos of the color shift/change. This is the case with these two particular Alexandrites. The purple is easily obtained with a camera, but the blue green/teal is much more difficult. You have our description of the color as well as the color description defined under the lights that GIA uses for Gem ID. We are in agreement that we see a blue green or teal going to a purple - no other modifiers noted.
2023 Tucson Trade Prices for Natural Alexandrite, REGARDLESS of Size or whether there is a good color change (or much!), inclusions, cutting isssues, etc. are very high and the fine quality that All That Glitters has been seeking and typically stocks, makes our pricing seem ridiculously low - which of course, is our goal, to make fine colored gemstones affordable. Below, you will see two screen grabs showing what one is expected to pay for Natural Alexandrite. Both of these are screen grabs from May 2023 - one showing about a third of a carat round (the image looks as if the color has been modified to enhance) and the other was found doing a Google Search on Alexandrite.
Images and Info Found via a Google Search - May 2023
Natural Alexandrite, changing from a Greenish to a Purplish, large 0.88ct Oval. Very well priced when compared to trade prices seen in Tucson 2023. This has inclusions as this material frequently has, but the size, the color change and price attracted us as everyone wants a Natural Alexandrite and this is below the prices that are out there for this material - and prices have increased dramatically over the past several years. This has been certed by GIA, Natural Alexadrite, chaning from a Bluish Green to Grey-Purple - which we feel is accurate depending on the lights. The green on this stone varies depending on the wavelengths/lights available, as we have seen it a forest green to vivid green to bluish green; this can be a really fine green for Alexandrite depending on where it is viewed!. The color rendition on the cert (pdf) is unimpressive and not that accurate as to what we see, but this is usually the case on GIA Certs - color rendition is off and we frequently disagree with the actual color description - but again, color is all light dependent and the wavelenghts available! We have sent gemstones/certs back to GIA at times for them to look at the color again, and have received them back with a different color description and a much better photo representing the gem in the report/cert... (tri-23-01) $9300
View Cert

Above photo shot using phone under a dual LED light source (cool/daylight & warm/yellow)

A Brasilian Alexandrite Oval weighing 0.57cts and having a great green to bluish green color, turning to various colors depending on the lights, but have seen a sort of green/blue/grey purple which is difficult to describe. Of course, both colors will be vary depending on the type of lights and the wavelengths available. The photo showing the green color is acccurate, but the other color had to be modified as the camera wasn't picking up what the eye was seeing. GIA described the color change as Blue Green to Grey-Purple. For what this is and the current market on material which isn't as nice as this, this is a good time to add this to your collection or jewelry if you have wanted a nice Natural Alexandrite. (ggc-19-03) $3700
View Cert
 
All That Glitters Quality and Pricing Comparison - See the Difference, Enjoy the Savings!
View the image below from a major U.S. company's Alexandrite and compare it to All That Glitters Alexandrite(s) further down the page....


(There is no comparison to what All That Glitters offers in both Quality (cutting, clarity, color change) and Pricing!)
Note - The prices listed above are trade prices (Wholesale) - an expected markup to the public would be 100%, twice what is displayed above. In order for All That Glitters to purchase an Alexandrite for inventory, it must meet our criteria of size, cutting, clarity, proportions and very important for this species, Color Change. Also say no to Alexandrites that are essentially too dark or black, have secondard colors of olive, khacky, brown or grey....

Pricing above is now outdated and one should expect these overly dark Alexandrites to perhaps be selling for 100% or more than the listed prices shown above. *** Screen Grab and Prices Display are from 2018 ***
1.00ct Oval Natural GIA Certed Alexandrite - We were fortunate to find one Alexandrite that met our criteria for inventory: Clean, Decent Cut, Sparkle, Eye Clean, Very Fine Color Change and an Affordable Price! This changes from a Green/Bluish Green to a Purple as noted in the accompanying GIA Cert. In ALL these years in the gemstone business, we have only had a handful of larger fine quality Alexandrite such as this. Again, the 2017 Tucson Show had very dark (almost black) Alexandrite, very poorly cut or included material, selling at high prices. Similar Alex to this newly acquired piece were non-existent and we wouldn't consider obtaining that lower quality for our inventory; plus the pricing was incredibly high, making this Alex not only an outstanding example, but also outstanding in price (way below the wholesale asking price of those we didn't look twice at). Alexandrite is one of those gemstones that is difficult to obtain accurate color photos. We obtained a good photo of the blue green, but decent photos of the purple were difficult. We've tried out best to be accurate in color as best as possible - one can have an idea of the color description and change by viewing the GIA Cert also. As always, should you purchase this Alexandrite, if you are not happy for any reason, you have our 100% Customer Satifaction Guarantee as well as our Lifetime Guarantee - see our 'Our Guarantees' link on the banner that appears on the top and bottom of all our pages! Priced VERY attractively - like most of our gemstones, below the wholesale as seen in Tucson - IF you can find such a fine piece. (strshn-17-01)

SOLD! (Australia)
View GIA Cert
Comments: Small photo above shows a line that may be visible to some customers. We currently do not have our GIA microscope to determine what is it, but it doesn't affect the value or integrity of the gem, and the owner of All That Glitters can't see it with 2.75x glasses. For those with 20/20 or better eyesight, this might be seen under the right lighting conditions and angle. We did note that if the issue is on the right hand side of the gemstone when viewed, we can see it under magnification; if the gem is rotated so that it is on the left hand side, we couldn't see it. (Magnification would be using glasses, a loupe, a microscope, camera or even a phone when talking a macro photo or a video.) Alexandrite is a Type II gemstone, which means that it usually contains some inclusions. This did not stop the purchase of this gem as it is the perfect size, a super color change, well cut for Alexandrite, well priced and has everything going for it. Just wanted to bring this to the attention of the retail public as the trade would not give this a second thought - we do hope to move most if not all of our Natural Alexandrite when we exhibit in Tucson once again, as the last time was in 1990! We are typically in Tucson annually, and for those who would like to see certain gemstones in person, contact us prior to the show to set up an appointment for a viewing of your favorite gems - they are ALWAYS better in person!
Large Wonderful 1.65ct Cushion Shaped Natural Alexandrite - Great Color Change from Blue Green to Purple; eye clean, well cut and exceedingly fine in every way compared to most Alexandrites seen on the market. This rare gemstone is not just over the magic carat weight of 1ct, but it is even over 1.5cts! In Tucson over the past 7 years, we haven't see anything quite like this, as most Alexs are poorly cut, shallow, weak color change (or one color is better than the other), high prices, etc. Priced VERY attractively - like most of our gemstones, below the wholesale as seen in Tucson - IF you can find such a fine piece. Prices for anything in Alexandrite right now in the trade are much higher than in the past, but fine color and unenhanced gemstones like unheated corundum, have increased 30% in about a year; Alexandrite has increased about 40% - and the material we are seeing on the market is overly dark and included. (btree-16b-01)

$28000
View GIA Cert

Pricing of Alexandrite on the retail level as well as current wholesale level, continues to shock us. From a dealer who have a few finer Alexandrites compared to the typical trade, the price of this just over 2ct Alexandrite is at $50,000/ct! Compare Natural Alexandrite of fine quality, color change, cutting, clarity, etc. in the All That Glitters Collection with the pricing seen out there! Easy to Make a Choice! (Screen grab below was done on June 15th, 2023)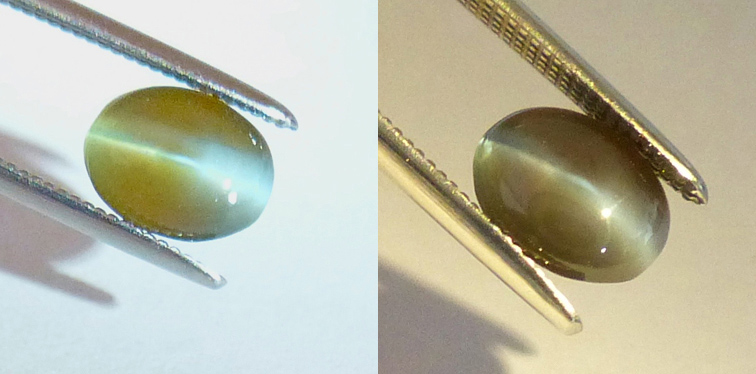 Natural Alexandrite Cat's Eye, 1.53ct (egaj-15-21) $2295
Unfortunately, not a great photo showing the color - Eye is nice and Sharp!
View Cert

Can't afford a Natural Alexandrite, then check out an alternative, providing you with a Genuine Alexandrite, but Lab Grown : Lab Grown Alexandrite

What is the difference between a Synthetic and a Simulant? There is a BIG difference - not only what the material is but also in price. Learn More: Synthetics vs. Simulants
Note: Magnification and bright lighting is required to photograph gemstones. Some inclusions may be visible under these circumstances. You are viewing photographs as if you were using a loupe or microscope - not your unaided eye. Under normal conditions, these inclusions may not be visible.
Not responsible for mismatches of prices, photos, stocknumbers, etc.
<! code to insert on Photos Pages and others, where one wants the Payment Info/Intent to Purchase Form to appear -->
Buy Now Using the Following Options:
We continue to utilize Square, Venmo, popmoney, Wise and other services/applications, as well as Personal/Bank Checks, Wire Transfers and Bank to Bank ACH. We are always seeking additional options which would be reliable, safe and user friendly.

Contact us via Phone, Email or use our Intent To Purchase Form to discuss payment. Square, Popmoney and Wise links are below. Square is similar to PayPal, but an account is not required; Popmoney is bank/bank, account to account; Wise (formerly Transferwise) is typically for International Transactions/Foregin Currency but also works within the United States.

NOTE - For those who must utilize PayPal, we can provide an invoice or have funds sent to a PayPal account we have access to. There will be a 3% charge for this service, which PayPal charges - regardless of whether the item is returned. This is PayPal's mandate as of October 2019 - the only payment application that we are aware of that will not return their fee if an item is returned. We no longer offer PayPal as a standard payment option...

Purchase using Square:
Learn More by clicking on the logo!  
Purchase using Venmo:
Learn More by clicking on the logo!  
Purchase using Popmoney:
Learn More by clicking on the logo!  
Purchase using Wise:
Learn More by clicking on the logo!  
For purchases using another form of payment, please use our
Intent to Purchase Form.
You may also telephone or send an email: Contact All That Glitters