Gemstones - Newly Photographed
Note that those gemstones below are being offered at their Initial Public Offering (IPO) and typically priced to move quickly. Prices may increase on any particular gemstone depending on market conditions and the fact that many of All That Glitters items are One of a Kind...
All That Glitters is known for searching throughout the world for the Finest Gemstones and Rough of high quality and uniqueness. Lower quality material may be be found online or in stores, but few have the exceptional material that we offer the trade and our online customers. Gemstones will only be added to our inventory if color, size, cutting, clarity and price match our strict criteria!
A Precious Topaz from the major and most important deposit for Precious/Imperial Topaz - Ouro Preto, Minas Gerais, Brasil. This bright golden yellow oval weighs 2.93cts and measures approx 8x10mm. A lively brilliant gemstone that is clean. The November Birthstone! The fine material only comes from this one location in the world and that is in the vicinity of Ouro Preto. The town is known for its churches and is part of UNESCO. This would make a wonderful pendant or ring and since it is a calibrated size, it will easily fit into a ring mounting with an 8x10mm Oval opening, saving you money in the setting! You can also use the All That Glitters Jewelers Showcase to find a setting or modify one to create your very own ring/design should you chose to go that route.

Note that the image of the pendant below is of a similar Topaz, purchased at the same time as this one for sale, and the customer used the All That Glitters Jewelers Showcase to set it into a 14kt Yellow Gold Pendant with a 10pt SI1/SI2 G/H Diamond at the top! You can do the same or design anything you want using our services.

(ramcam-23-0b) Contact Us for Pricing of this 2.93ct Ouro Topaz Precious Topaz!

*** NEW PHOTO AND VIDEO ***
In keeping with All That Glitters' Unique and Rare Gems, here is another colored version of Zoisite - a Green Zoisite; some call this Green Tanzanite or simply Fancy Tanzanite, as it is the same mineral as Tanzanite, but can be found in various colors. This interesting freeform weighs 4.27cts and one can almost expect that a larger piece of rough may be faceted in such a way to utilize this rare material. Faceted in the U.S. by a Multi-Award Winning Cutter who is represented in museums. (ggc-20a-03) Contact Us for Pricing. (The original cutter was seeking about $8,000 for this unique beauty!)
An 11.70ct Blue Flash Amethyst faceted by the owner of All That Glitters. Rich Deep Purple with Blue Hightlights under fluorescent lights. Photographed in one of our light boxes - as noted, color is richer in person. Great for a ring or pendant, and could be for a woman or a man. Note that the cutting design is unusual as we have faceted the crown in steps, which is not commonly seen in ovals. For those who like dimensions, we measured this one and it is approx 19x13mm. (afgm-19-01h) $878

NEW Photos and a Video!
24.97ct Tanzanite with Cert
This large Tanzanite has rarely seen the light of day since it's purchase back in about 1990. It has a certificate from Guild Laboratories in Los Angeles, CA, along with a photograph and with a retail price of $27,000 - that was back in 1991! Charles Carmona, owner of Guild Labs, is a well known respected Appraiser/Gemologist - who has appeared on The Peoples Court and has worked in various developing countries - I believe invited by The World Bank. As noted by Charles during the appraisal process, there is a small needle deep in the stone only seen under power - this indicates that it most likely would not have been heated, as most Tanzanites come out of the ground as brown color and have to be heated to obtaine the blue/purple that those expect. Some rough we have seen is indeed blue when mined (as well as a few exceptional pieces that might be fancy colors) - so most likely this large gemstone did not require heating as the coefficient of expansion of the needle most likely would have caused the needle to expand and crack the rough/gemstone. Having this needle pressent is a plus.

The very fine larger pieces are becoming quite scarce and prices have been going up - but Tanzanites are one of those gemstones that is known to fluctuate depending on what is being found, though supply is limited; though this mineral can be found in a few other countries, the fine color such as this one or even just a good blue/purple, purple blue, is just not found elsewhere.

No photos can do this item ANY justice! The color glows with life similar to a Kashmir Sapphire. Other lights will show the color as having purple highlights. We have included a number of various photos under various lights, showing it more blue, more purple and even purple blue. The video was shot with lights where you can see more people. This would make a killer pendant or perhaps even a pearl enhancer - if being customer designed, one could design a piece that could be a pendant, a pearl ehancer as well as a pin! Some people might even consider it for a ring - it is a large gemstone but for the right person, this could be worn as a ring!

Appraised back in 1990 at $27,500, perhaps we could have sold it then, but we put it into the vault since we were not ready to sell this beauty yet. The prices back then and the uncertainly of the deposit, made it one of those gemstones to place aside for the time being. The future of the Tanzanite deposit is still uncertain, but it is still being worked, material is sporadic, but one thing is for certain, the deposit is LIMITED and in time will be worked out and Tanzanite as we know it will be a rare commoditiy - no longer being actively mined, but will have to be purchased on a different level/market.

We have inclusded a screen grab of another large Tanzanite seen in the past few years for sale as a comparison.

This 24.97ct Tanzanite is sold with the original cert, as well as the case it has been store in all these years. Video was shot under lights with more purple available in the wavelengths. (rma-91-02#) Contact Us for Pricing.
To view the cert and more info: 24.97ct Tanzanite Cert
For a price comparison of a Tanzanite of similar size check out the following:
This Tsavorite weighs 0.73cts and was bought back in the 1990s, when Tsavorite was being introduced into some stores. The owner of All That Glitters purchased it and created a ring to show off this piece. In 2023, the ring was melted down, diamonds removed and now this Tsavorite Center Stone is available for sale. A rich deep chrome color. Photo doesn't do this gemstone justice - difficult to obtain accurate color. Priced to move at only - $975. (Price subject to change)

New Photo and Video!
Very Large 10.72ct Cushion Cut Neon Paraiba Blue Apatite. It truly has that Paraiba Blue color, and can be seen from 30 feet away with no problem! An incredible piece and the body color is that wonderful color that you see at the bottom of the gemstone in the above photo. Think of a bright neon Caribbean Ocean if you are unfamiliar with Paraiba Tourmaline. This has a checkerboard top, which provides flashes off the highly polished surface when any movement is encountered. The photo does not do this gem justice, but like Ruby and other gemstones, we sometimes cannot capture accurate color. This will sell to the first person who has the opportunity to see this in person. There is only one other gemstone that can look like Paraiba Tourmaline, and that are some very special rare pieces of Apatite - such as this one... (ucsc-10-02) Approx: 15.3x11.3x9.0mm. Contact Us for Pricing.
The owner of All That Glitters has just finished faceting a Lab Grown Alexandrite, from new rough that we sell to facetors. This Fancy Oval weighs 26.50cts. Has been on the dop and in the faceting process for 2.5 to 3 months. Finally it is finished! Depending on the lights, you will see the following - Mostly Deep Purple, Deep Purple with pink and teal highlights, bright pink to Ruby red. You can get a hint of some flashes of color seen as there are some pink and one flash of teal caught in the photo. (alx-syn-23-1a)


The Retail Price for Lab Grown Alex is at $495/ct by a major casting/mounting company who also sells gemstones. Our low price for this is only $100/ct.

(For those who know polish, many cutters abroad stop at 14,000 diamond; good cutters in the US and a few international facetors will finish with 50,000 diamond; when All That Glitters facets, and for a number of US Cutters that we utilize at times, we complete our gemstones with 100,000 diamond or similar, which makes a big difference, as the facets reflect like mirrors!)

A
B
A - Natural Alexandrite, believe to be from Brasil, changing from a Purple to a Blue/Green(Teal), 0.34ct Oval and priced well when compared to trade prices seen in Tucson 2023. GIA Certed, Natural Alexandrite, changing from Blue Green to Purple. (gg-23-01) $1879
View Cert
B - Natural Alexandrite, believe to be from Brasil, changing from a Purple to a Blue/Green(Teal), 0.41ct Oval and priced well when compared to trade prices seen in Tucson 2023. GIA Certed, Natural Alexandrite, changing from Blue Green to Purple. (gg-23-02) $2500
View Cert
 
With Alexandrite and a few other gemstones, especially color shifting or color changing gemstones, it may be difficult to obtain two accurate photos of the color shift/change. This is the case with these two particular Alexandrites. The purple is easily obtained with a camera, but the blue green/teal is much more difficult. You have our description of the color as well as the color description defined under the lights that GIA uses for Gem ID. We are in agreement that we see a blue green or teal going to a purple - no other modifiers noted.
Natural Alexandrite, changing from a Greenish to a Purplish, large 0.88ct Oval. Very well priced when compared to trade prices seen in Tucson 2023. This has inclusions as this material frequently has, but the size, the color change and price attracted us as everyone wants a Natural Alexandrite and this is below the prices that are out there for this material - and prices have increased dramatically over the past several years. This has been certed by GIA, Natural Alexadrite, chaning from a Bluish Green to Grey-Purple - which we feel is accurate depending on the lights. The green on this stone varies depending on the wavelengths/lights available, as we have seen it a forest green to vivid green to bluish green; this can be a really fine green for Alexandrite depending on where it is viewed!. The color rendition on the cert (pdf) is unimpressive and not that accurate as to what we see, but this is usually the case on GIA Certs - color rendition is off and we frequently disagree with the actual color description - but again, color is all light dependent and the wavelenghts available! We have sent gemstones/certs back to GIA at times for them to look at the color again, and have received them back with a different color description and a much better photo representing the gem in the report/cert... (tri-23-01) $9300
View Cert

Above photo shot using phone under a dual LED light source (cool/daylight & warm/yellow)

While pulling Sapphires for a Diamond Dealer, viewing the cert, the information in our database, calculating our cost, it was determined that one sapphire had an incorrect price. We have corrected this and the cost of the sapphire below is now $2000 below what it had originally been priced at - which was $7332. We would have caught this at the point of sale in the future and would have corrected it then, and the customer would have been even more happy to have this gemstone, but now this becomes more attractive and affordable for our customers considering this gemstone! Enjoy the Savings!...
Unheated Pink with possibly hints of Orange - 1.41ct Oval Sapphire. (egaj-15-76) -

SOLD!

View Cert
Fresh off the dop and faceted by the owner of All That Glitters - a 17.97ct YAG (Yttrium Aluminium Garnet) grown in a laboratory in the United States for Laser Rod use in Medical Applications. A Brilliant Bright green reminiscent of fine Chrome Tourmaline or Tsavorite Garnet - all due to their beatiful glowing green to having the element Chromium... and that can be said of Emerald too! An 8ct fine quality Tsavorite Garnet sold last year for $120,000 - if only this came out of the ground in Africa! (yag-cr-23-01a)
Only $35/ct - it took about a month to facet this beauty. $629

GIA Certed Sapphire, 1.87ct, in a shape seldom seen in Sapphire, a nice slightly elongated emerald cut. Very vivid Pinkish Red or Reddish Pink and should cert in Europe/Asia as a Ruby, but border line here in the US. GIA states it is a Sapphire of Purplish Pink, as noted we see more red perhaps than purple, but as in all gemstones, color is based on the light viewed under! As with many certs, the photo doesn't do the color justice and does show more purple in that photo. Also, the pdf maybe show a photo differently in color depending on the the device and codecs for color being used. All That Glitters knows the cutter who purchased the rough, faceted it and then heated it at low temp to remove a dot of blue that was present. (blgj-23-01) $6,171
View Cert

A wonderful example of Tourmaline from Namibia which is known for fine blues, blue greens and green blues Tourmalines. Faceted in the U.S. (exgem-23a-01)

SOLD!(Store Sale)
Wanted to Share this Most Recent Ring Created for a Customer
Here is an Example of a Ring Created with our Lab Grown Alexandrite!
This piece uses our Russian Grown Alex purchased and faceted by All That Glitters decades ago.
It was created by one of our customers using the All That Glitters Jewelry Showcase.
Design your own jewelry using All That Glitters Gemstones and our Jewelry Showcase. Check it out!


The All That Glitters' Jewelers Showcase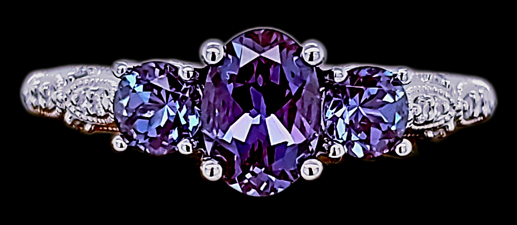 Our customer designed this ring using the All That Glitters Jewelers Showcase. He used All That Glitters Lab Grown Alexandrite - a 5x7mm oval center flanked by a 4mm round on each side; the Alexandrites were faceted from our rough purchased decades ago from associates in Russia. He chose 14kt white gold and there are 16 Full Cut VS/F+ Diamonds in various areas of the ring, as well as an inscription inside the band. Using All That Glitters for the gemstones as well as ring creation, this person saved approximately $1,380 off the retail price!
7cts Total Weight of 4 Peaks ARIZONA(!) Amethyst - yes, from the United States! Each measures about 10x8mm and have a wonderful blue component to the deep purple. (bgtc-14-01) $100/ct ==> $700!


Wikipedia

: Four Peaks (Yavapai) is a prominent landmark on the eastern skyline of Phoenix. Part of the Mazatzal Mountains, it is located in the Tonto National Forest 40 miles (64 km) east-northeast of Phoenix, in the 61,074-acre (247.16 km2) Four Peaks Wilderness. On rare occasions, Four Peaks offers much of the Phoenix metro area a view of snow covered peaks, and is the highest point in Maricopa County.


Four Peaks contains an amethyst mine that produces top grade amethyst.

Sharing a Recently Designed Custom Diamond Ring Created for One of Our Long Time Customers!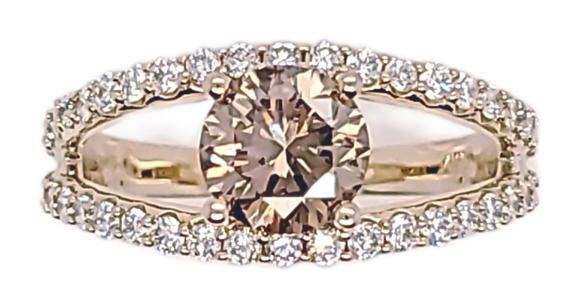 We saw a really brilliant beautiful 1.15ct, SI1 Round Brilliant Champagne Diamond (color of actual diamond is much lighter in person vs. the photo) with lots of Dispersion for sale by a dealer we have done business with for about 40 years. We called our customer to see if there was interest, because this piece was quite a sparkler and at a very good price. The customer purchased it and then designed the ring using the All That Glitters Jewelers Showcase and in about two weeks, had the finished ring in hand! She chose 14kt Yellow Gold with 42 Diamonds (0.61cts) of F+ Color, VS Clarity - Lab Grown. In Tucson 2023, there was lots of talk about Lab Grown Diamonds and large ones were available. The technology is there now to create large, very clean and highly white Diamonds; this was not the case initially. The prices are really wonderful too. As noted in recently trade articles, these Lab Created Diamonds are hot, affordable and many people are choosing to use them for center gems, engagement rings, accent stones, etc. In fact, we are working on an engagement ring for a new customer and he has selected the Lab Grown Diamonds also vs. natural for his ring - again, using the All That Glitters Jewelers Showcase. For those who are designing a ring and using our Jewelers Showcase link, your price will be approximately 25-30% below (perhaps more) than the retail price shown.



*** Between the Diamond and the Ring, We Saved Our Customer $4,100 OFF the Retail Price! ***





Read More about the All That Glitters Showcase - Start Designing YOUR Jewelry and Save Money Now!:


All That Glitters Jewelry Showcase
Signed Decades Old Zuni Piece - Published!
Sterling Silver with Turquoise, Zuni hand-made pin, signed by the maker - CJ. (Beautiful Vintage Needle Point Cluster, believed to be by Charlie John, well known Navajo Artist) Measures about 2 inches across. A wonderful piece found in our vaults after being stashed away. From the late 1980s - Contact Us for Pricing.

Just off the All That Glitters dop, a Honey Zircon (Rich Amber, Honey or Orange color), faceted from rough recently purchased. Have been cuttting this beauty for just about a month!.. Measures approximately 10.5mm - a squarish cushion with incredible sparkle/brililance. The faceting design is by Marco Voltolini and is called Mr. Sparkles - and one can see why! Zircon rough has increased over the past year plus so the faceted gems are increasing in priced. A Wonderful, Brilliant/Sparkly Gemstone, faceted in the U.S. and Well-Priced! (jeg-23-01)

SOLD!
This unique garnet was faceted by the ownner of All That Glitters some time ago. This is the largest faceted gem to come from a parcel of rough Umbalite Garnet from Tanzanite - the parcel was purchased by All That Glitters a few years back, but it was purchased in the Tanzanite bush a few decades ago. Sizes in the past have been about 3-4cts, so this 6.46ct gem is not the norm. Nor is this gem material the norm in general - as depending on the lights, it will be a Ruby Red, Magenta or Burgundy in color. It is a darker gem but it certainly sparkles under incandescent where you will see the Ruby Red; diffused daylight shows Magenta and under fluorescent lights it is Burgundy and it has a unique property in that under fluorescent lights, it is a dark burgundy, but unlike incandescent or diffused daylight, it lacks the brilliance. We have seen this in some Burmese Spinel as well as Red Zircon - under some lights it doesn't sparkle and the color is non-descript, but under incandescent light, it shows lots of life and was a Ruby-like color. For the price of one gemstone, one will have a gemstone that looks like 3 different gemstones depending on the lights/wavelengths. We have sold a number of small pieces in the past, including to International Customers, and a few have faceted a few gems from our rough - the latest cutter wanted more of the material after seeing for himself the colors and unique properties. (He is available to discuss this material if interested) In Tucson 2023, we saw a 4ct similarly colored garnet (do not know if the color shifted or not) and that was priced at $150/ct wholesale, which is our price to our customers also - that piece seen in Tucson was not faceted in the United States either. As you can see from the photos, the polish is such a mirror finish (100k Diamond was used) that the tweezers are mirrored off the facets of this gem! This particular garnet parcel is very difficult to photograph and obtain accurate color rendition, so we had to modify the photos, but it gives you an idea of the red and magenta color - but it certainly does glow red under the right lights. As always, you have our Satifaction Guarantee if this particular gemstone is not to your liking for any reason. (We have a few more pieces of this material, also faceted in-house, but an accurate photo has been difficult to obtain and haven't posted the material on our website - though we have shown and sold to goldsmiths/jewelers in person.) (eagt-18b-01c) $969

Chrome Sphene - Something Not Commonly Seen on the Market!
Chrome Sphene, 1.38ct, Round, deep green, brilliant and best of all, Incredible Dispersion as shown in the right hand photo above. Very difficult to obtain a good photo showing the accurate color and beauty, but under the right lights, the Fire/Dispersion seen is more than Diamond! (Yes, a physical character of this material, but this color green is not common in this material. Larger size pieces that are clean are not common and are quiet costly per carat. (ik-23-0)

SOLD!
We also have a slightly larger round, similar in all ways to the above Sphene, weighing 1.47ct. We couldn't obtain decent photos, and the ones of the 1.38ct Sphene we were also unhappy with, but this 1.47ct Round is also available! (ik-23-10)

SOLD!
*** Two Fine Large Round Blue Sapphires! ***
Both Lively with Great Color and Life - Not Overly Dark Like Many Out There
Rounds in this Size are Not Common
A
B
A - Fine glowing blue 2.40ct Round Sapphire from Sri Lanka. Priced at the wholesale prices seen in Tucson 2023. (ajay-23-01) $6,900


Long Term HOLD!(MB)

B - Deep Blue 2.60ct Round Sapphire from Thailand, most likely from the famous mining area of Chantaburi/Trat. Larger Rounds are not common in Sapphire due to the shape of the crystal. This is most likely heated, as most Sapphire, Ruby, Aquamarine, Tanzanite, Tourmaline and other gemstones are routinely heated to either improve the color, clarity or both. Prices for fine gemstones like this have been increasing dramatically. We were able to obtain this one at a decent price due to our contacts, knowledge and just dogged persistence in seeking out a few Nice Round Blue Sapphires - the rounds make wonderful center stones for rings, especially engagement rings as that is currently a trend - colored gemstones vs. diamonds for engagement rings. We have NUMEROUS Fine Quality Colored Gemstones that would make the perfect Engagement Ring if you are not interested in Blue or Sapphire. Would be a wonderful ring for a man or woman - a few small white diamonds would just add to it. Perhaps you can find a design in the All That Glitters Jewelers Showcase or create something custom using All That Glitters Custom Goldsmiths. (Our goal is to save you at least 30% off the cost of the retail price of a setting/mounting!) (gbcf-23-01) Contact Us for Pricing. (Video available upon request)
 
A nice bright light orange Congo Tourmaline, round, 1.50ct. Lively and has the look of Precious Topaz. (ggl-23-01) $450

A very bright neony 1.16ct Mahenge Spinel of a unique color, perhaps best called a reddish pinking orange. Very bright as expected from this famous/costly locality. Well cut and clean. Prices of this material have constantly gone up in the price and this is an amazing price for what it is. (mwgems-23-01) $1,972

In all these decades in the gem trade, we have only chosen a few Morganites - the past ones have typically been trililants, or sort of a beige color. Obtaining a pure pink or orange is quite rare, never mind the depth of color. We saw this particular 5.24ct Cushion Cut Morganite and had to add it to the All That Glitters Collection/Inventory. The size is nice, has good saturation/tone for a wearable gemstone, clean, well cut, great polish and most importantly, a more pure color compared to others of the past or frequently seen on the market. The color seems to shift depending on lights - sort of a light orange and sometimes seems to be a light pink. This is the only Morganite in inventory and we don't anticipate finding anything similar in the future. (ik-23-07)

SOLD!
One of the top three large round blue Sapphires we have had in inventory over our 42 years in business. A beauty from Sri Lanka/Ceylon and weighs a whopping 3.96cts - just under 4cts! Measures just over 9mm in diameter. Color glows under the right lights. Lively and impressive. Difficult to obtain photos showing the true saturation/tone - appears darker in person than the photo and video, but there is no missing this and someone is going to be extremely happy to have such a fine large round blue Sapphire in the future. We sold a "some what similar" Sapphire in 2022 - this is slightly larger. Like the other two purchased in the past, this was a tough purchase, taking a few days and then some negotiations. (avjwl-23-01) $23,760
 
Approx 2ct Tsavorite set in Platinum and 1ct of Diamonds.

No Longer Available
*** Montana Sapphires! ***
A
B
A - Beautiful 2.39ct Blue Montana Sapphire in a Hexagon-like Shape, which is frequently the shape of the natural crystal found. Masterfully Faceted by an AGTA Award Winning Cutter, whose work is withing museums. He bought the rough and faceted it and this should be unheated. Using a loupe and looking internally into this gem, one would agree this is unheated. A fine example of MT Sapphire, fairly large for this material and priced incredibly low for this size, color, location, gemstone species, and the fact that is it unheated and faceted by an incredible cutter! Another must see in person to see the sparkle/brilliance and the unique color whicch does change/shift under various lights. All photos typically do not do a gemstone justice as you can't see the life as it is tilted and moved as you can in person. (cgc-23-01) Contact Us for Pricing.
B - A Round Montana Sapphire weighing 1.07ct - hard to determine to the color, but it can be variations of blue depending on the lights, perhaps a grey blue. Faceted in the U.S. from rough we obtained in the past, it does have some inclusions seen using a loupe, but it is very brilliant and sparkles nicely, which hides any isssues. Priced to move or for anyone who would like to have a Montana Sapphire and not have to spend thousands....(jkiln-17a-01) $749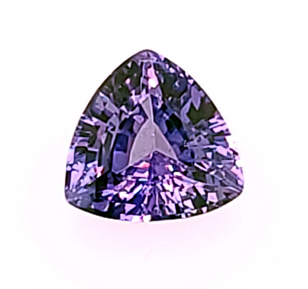 Bluish Purple to Purple depending on the lighting and wavelengths available, this 1.52ct Trilliant Sapphire could be a color shifing Sapphire. Very Brilliant and Eye Catching and catches the light even under low light levels. Most people think that Sapphires are blue, but they come in every color with the exception of red (which would then be called Ruby). Ruby and Sapphire are the same mineral, Corundum and it is the percentage of red in the gem that determines whether it would be a Ruby or Sapphire. Most Sapphire now-a-days is heated, just like most Aquamarine, Tanzanite, Tourmaline and other gemstones. This heat might be natural or perhaps under controlled lab condtions. This is a Natural Sapphire, possibly heated, origin is most likely Sri Lanka (Ceylon) or Madagascar. (egpl-23-01) Contact Us for Pricing.

Malachite/Azurite Slice from a noteable Russian Locality - Kamenushiuskiy Mine, Siberia, Kemerovo region, Russia. Measures approx 3", photos show both front and back. Back has a small amount of stabilizer to insure integrity while slicing and polishing. Stand comes with this piece. (db-23-02) $375
 
This Ametrine is an Absoulte Winner in Every Way! We have been working witht the Ananhi Mine Owner for years now, to obtain unusual rough in Ametrine; this mine is the only producer of this Unique Natural Gemstone! The owner chooses rough for us and we review images prior to making the purchase. We have very special cutters who work with this material to produce either flat faceted gemstones or in this case, Hand-Grooved Masterpieces! All of our Ametrines faceted from our rough have been very special and there are always a few that are outstanding. Our Ametrines have appeared in Magazines Articles and on various websites. This particular one is a Real Winner in Colors, Mixing of Colors, Design, Size, Uniqueness and is just Aesthetically Pleasing in Every Way! This is also one of the largest every faceted from our rough, weighing 42.64cts. The shape and pattern is reminscient of a snowflake, and like a snowflake that disappears in a short time frame, this incredible piece might not last long either, so reach out now and ensure this is yours if you think, as we do, what a great design, color separation as well as blending of colors! Measures approx. 22.3mm x 14.4mm (ajml-19-01e) $4,264
We will never have another similar piece of rough with the same blending, size and shape to do anything like this again.

One of our Blended Ametrines Hand Grooved by one of our Specialty Cutters. Weighs 31.65cts and is an interesting shape for a pendant or other piece of jewelry. Still in the possession of our cutter - as he is cutting some more of our rough. Like much of the All That Glitters inventory, this is a one-of-a-kind piece and once gone, something similar will not be available. (ajml-19-01r) $2,215

Incan Amulet purchased in the early 1970s by a dealer in antiquities for his own collection. Sold recently to the owner of All That Glitters by his son, who has followed in his fathers foot steps and sells similar material. Said to be from about the xxx timeframe. Peru. Measures approx 3". (ja-23-01) $975

An incredibly beautiful Blue Tourmaline (called Indicolite in the trade), weights 1.96cts and has a nice shape for a pendant or ring. Said to come from Brasil - known for their Tourmaline, this color is no longer common nor was it that common either when some strikes were found at various localities over the past 50 years. (rajgm-23-01) $1,800

SOLD!
Grape or Purple Garnet from the famous Mozambique Locality - a rather large one as this desposit hasn't been producing and when seen, they are usually small gems. This fine oval weights 2.89cts and is only $600/ct. The trade price at the Tucson Show is showing high prices for this material, and several years ago, similar material in New York City was retailing at about $1,000/ct. (ik-23-08) $1,734

A nicely saturated fine pink Kunzite, of relatively small size, which makes the color/size very affordable without the gemstone being overpowering. Aquamarine, Morganite and Kunzite typically are very large in order to have a decent color, so whenever a small gem of this species is seen, darker than expected in a small size, we have to have it in inventory! This 8.70ct Oval Cut Kunzite is set in 14kt White Gold with 0.13cts of Diamonds. (pmi-190094)
 
Very Lively Bright Green 1.13ct Square Cushion Tsavorite Garnet. (awa-23-02) $1,525

This is something unusual for finer quality colored gemstones - we found a small parcel of three nicely faceted bright, eye clean Tsavorites and can offer them at a really goood price considering the trade prices seen at the Tucson Gem and Mineral Show in 2023. Tsavorites and Mint Merelani Garnet, (Green Grossular - lighter than Tsavorite), are selling at MUCH higher prices than previous years.
(awa-23-01a) Cushion, 1.01ct - $1,010

SOLD!


(awa-23-01b) Oval, 1.32ct - $1,320

SOLD!


(awa-23-01c) Triangular, 1.14ct - $1,140

SOLD!




One Person Bought All Three Pieces!
Until recently, I hadn't seen this color Sapphire in all the years in the trade, and after 42 years, some of this color in Sapphire is making an appearance. This is said to have come from Sri Lanka and is also said to be unheated. Some teals are coming from Tanzania, but this color is a medium robins egg blue. Only two pieces had decent cutting to make it into our inventory, but we couldn't pass these two up due to the color! Unique Color, Sapphire, Unheated - a Give-a-Way at this low price!
(rgems-23-01a) Round, 1.46ct - $1,460
(rgems-23-01b) Oval, 1.63ct - $1,630

This incredibly unique Oregon Suntone was faceted/hand-grooved by one of our Cutting Specialists and weighs in at a very nice 11.47cts. Image shows the body color under two different light sources - there is Copper Schiller which does add color to this piece and in the detailed photo above, you can see the grooves literally have a Copper-look and that is the Copper Schiller reflecting from these polished areas! (demco-21-01d) $2,294

Parti-Colored or Tri-Color Tourmaline Diamond Pendant/Necklace featuring a 4.10ct cut-cornered rectangular step cut Tourmaline believe to have originated in the Congo, accented by 0.31ctw. of Diamonds, VS/SI clarity, G/H color, set in 18k yellow gold AND Platinum all on an 18" (18kt) adjustable chain. Gemstone weigths are stamped on the back of the pendant.

SOLD!

(Another wonderful deal - think about the retail cost of the just the chain, as well as the large unique Tourmaline, the numberous Diamonds all set in High Karat Gold with Platinum.)
An Incredible Play of Color in this large 8.30cts - measures approimately 22x12mm. (igmg-23-02) $1,245

SOLD!
***** TANZANITE *****
Hand-Selected for Cutting/Brilliance and Glowing Color
Photos do not do these gems any justice
Accurate color is difficult to capture
All have wonderful color, glow, show velvety blue with some purple depending on lights
Priced to Move - We Bought Well and are Selling Well too!
Sorry, we cannot obtain other Tanzanite of this color or near this price for the foreseeable future...
3.55ct Oval (ik-23-01) $2,663

3.76ct Oval (ik-23-01) $2,820

4.53ct Oval (ik-23-02) $3,398

4.82ct Cushion (ik-23-04) $3,615

4.87ct Elongated Cushion - this piece as well as the pear below, show the deepest richest glowing color. (ik-23-06) $4,263

7.69ct Incredibly Vivid glowing Blue with some Purple, Pear Shaped Tanzanite. Perfect for a ring or pendant when it it worn. Photos don't do this justice. This is the best of a small parcel that we picked up relatively recently - prices are expected to increase on these fine Tanzies, if they haven't already. Would make a great pendant but a ring is very possible too! Tanzanite has such an appealing attractive color and could be worn by a man or a woman; the owner of All That Glitters wears a ring with a Tanzanite that was cut by All That Glitters cutters back in the 1990s. This particular Tanzanite puts most others on the market to shame - and it is a relatively small gemstones without having to be very large (and therefore much more costly). This photo is perhaps the most accurate in color that we were able to obtain, but many gemstones, such as this one, are difficult to photograph and obtain the accurate color that the eye sees. This gem, as well as the Elongated Cushion above, are the deepest richest glowing color in this small parcel. (ik-23-05) Contact Us for Pricing.

9.59ct Round Faceted Synthetic/Lab Grown Alexandrite from All That Glitters rough and faceted by the owner of All That Glitters. This design harkens back to older cutting styless due to the large six crown facets, steeper crown and small table - but the design just increases the flashes of color that one sees. Flashes of true blue, teal, pink, red can be seen coming off the body color which will vary due to available wavelengths. All That Glitters pricing on gems cannot be matched! Here is a case where the retail price for Synthetic Alexandrite is $495/ct - that's not our price as our prices for this material are typically in the $100ct range for this material and our Russian Grown is more in the ballpark of $200/ct but in much smaller sizes. We can provide info on the standard retail pricing seen out there and can point you to the business where the retail is $495/ct and this is typically what you would expect in a retail setting. Our price for this US Faceted Gemstone is ONLY $100/ct. $959 (atg-23-01)

Faceted Synthetic/Lab Grown Alexandrite from All That Glitters rough and faceted by the owner of All That Glitters. This beauty sparkles and delights your eyes! A square portuguese cut weighing 28.47cts, this particular design provides lots of brilliance and the colors seen are wild - body colors of strawberry, neon pink, purple, pink and highlights of teal, blue, pink, lilac and a pinkish coral color. A must see. All That Glitters pricing on gems cannot be matched! Here is a case where the retail price for Synthetic Alexandrite is $495/ct - that's not our price as our prices for this material are typically in the $100ct range for this material and our Russian Grown is more in the ballpark of $200/ct but in much smaller sizes. We can provide info on the standard retail pricing seen out there and can point you to the business where the retail is $495/ct and this is typically what you would expect in a retail setting. Our price for this US Faceted Gemstone is ONLY $100/ct due to the weight - trying to make this attractive as possible, but this gem speaks for itself and doesn't need to be disounted! $2,847 (atg-22-02)

Note: Magnification and bright lighting is required to photograph gemstones. Some inclusions may be visible under these circumstances. You are viewing photographs as if you were using a loupe or microscope - not your unaided eye. Under normal conditions, these inclusions may not be visible.
Not responsible for mismatches of prices, photos, stocknumbers, etc.
<! code to insert on Photos Pages and others, where one wants the Payment Info/Intent to Purchase Form to appear -->
Buy Now Using the Following Options:
We continue to utilize Square, Venmo, popmoney, Wise and other services/applications, as well as Personal/Bank Checks, Wire Transfers and Bank to Bank ACH. We are always seeking additional options which would be reliable, safe and user friendly.

Contact us via Phone, Email or use our Intent To Purchase Form to discuss payment. Square, Popmoney and Wise links are below. Square is similar to PayPal, but an account is not required; Popmoney is bank/bank, account to account; Wise (formerly Transferwise) is typically for International Transactions/Foregin Currency but also works within the United States.

NOTE - For those who must utilize PayPal, we can provide an invoice or have funds sent to a PayPal account we have access to. There will be a 3% charge for this service, which PayPal charges - regardless of whether the item is returned. This is PayPal's mandate as of October 2019 - the only payment application that we are aware of that will not return their fee if an item is returned. We no longer offer PayPal as a standard payment option...

Purchase using Square:
Learn More by clicking on the logo!  
Purchase using Venmo:
Learn More by clicking on the logo!  
Purchase using Popmoney:
Learn More by clicking on the logo!  
Purchase using Wise:
Learn More by clicking on the logo!  
For purchases using another form of payment, please use our
Intent to Purchase Form.
You may also telephone or send an email: Contact All That Glitters