Synthetic (Lab Grown/Lab Created) Alexandrite Available - Russian and American
What is the difference between a Synthetic and a Simulant? There is a BIG difference - not only what the material is but also in price. Learn More:   Synthetics vs. Simulants
Absolutely the lowest price!
Learn More About the All That Glitters Savings, Color Change Info, Retail Prices Seen on the Market and More!...
Scroll down towards the bottom of the page or click on the following link:   More Info

We may have some gemstones selling for 6 figures, but our most active page of about 200 pages has been this page - and that has consistently been the case for 21 years! With our prices of about $100-200/ct compared to the retail seen at $495/ct from a major mounting/setting business in the United States who also sells gemstones, the savings that All That Glitters offers to our customers explains why this is our Most Popular Page. Genuine natural material sells at over $10,000/ct (for 1ct gems) vs. lab grown material that is typically better in color change, cutting and clarity! $100 or so vs. $10,000 - Big Savings. Please tell us how we can make this page and your shopping experience even better by sending an Email telling us what you like and what needs improvement. Our communication with our customers is the only way we can offer and provide more of what our customers seek! We thank you in advance of your thoughtful feedback...
Send All That Glitters an Email:   Email All That Glitters
In general, OUR Synthetic Alexandrite pricing is approximately 50% to 75+% off (depends on the lab - Russian vs. U.S. Lab Grown) the expected prices offered to the Retail Public based on a major supplier to the public ($500/ct). Our pricing is typically $20-$250/ct depending on the size, shape, cutting and lab of origin.
Our U.S. Lab Grown Synthetic Alexandrite Gemstones are Immediately Below
(This material is grown for laser applications for the cosmetic/dermatology industry)
To view Our Russian Synthetic Alexandrite Gemstones, Click on the Following Bookmark or Scroll Down   Russian Synthetic Alexandrite
U.S. Grown Synthetic Alexandrite Gems - Custom Faceted from Rough by All That Glitters Cutters
No photos or videos can truly capture the true brilliance/sparkle of these gemstones, nor the true color that the eye sees. What we see under a particular light/wavelength is very different than what any device such as a camera or phone will capture with this material. This is also true with Natural Alexandrite. We have done the best to describe colors seen within this dramatic material with one's eyes. The main body color maybe a variation of purple, pinkish purple, strawberry or variations in between. Some will be more teal under say diffused daylight - but with still purple being evident, so one sees numerous colors and flashes of color. Incandescent light usually shows a reddish pink or screaming pink. Some fluorescents will give a purple body color with teal, blue, orange, pink or pinkish oranges flashes. Color Changing/Color shifting gems (of which many will look differently under various light sources due to wavelengths available) are all light dependent. We love seeing this material, as well as our Color Changing/Shifting Turkish Diaspore under two light sources at the same time, which frequently happens in homes, offices, stores, etc. When this happens, you get the possibility of all kinds of colors displaying - such is the case of a very special Color Changing Garnet we discovered a few years ago...seeing is believing, so give our Synthetic/Lab Grown Alexandrite a try. We are also known for our cutting and since we own the rough, we control the cutting (!) and can produce really incredible sparklers!
The owner of All That Glitters has just finished faceting a Lab Grown Alexandrite, from new rough that we sell to facetors. This Fancy Oval weighs 26.50cts. Has been on the dop and in the faceting process for 2.5 to 3 months. Finally it is finished! Depending on the lights, you will see the following - Mostly Deep Purple, Deep Purple with pink and teal highlights, bright pink to Ruby red. You can get a hint of some flashes of color seen as there are some pink and one flash of teal caught in the photo. (alx-syn-23-1a) $2650
(For those who know polish, many cutters abroad stop at 14,000 diamond; good cutters in the US and other places will finish with 50,000 diamond; when All That Glitters facets, and for a number of US Cutters that we utilize at times, we complete our gemstones with 100,000 diamond, which makes a big difference, as the facets reflect like mirrors!)

Here is an Example of a Ring Created with our Lab Grown Alexandrite!
This piece uses our Russian Grown Alex purchased and faceted by All That Glitters decades ago.
It was created by one of our customers using the All That Glitters Jewelry Showcase.
Design your own jewelry using All That Glitters Gemstones and our Jewelry Showcase. Check it out!


The All That Glitters' Jewelers Showcase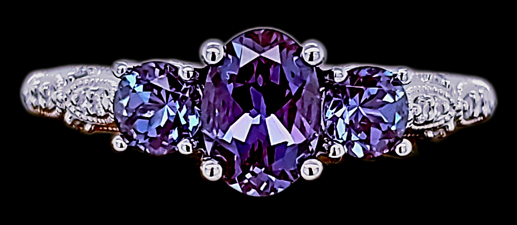 Our customer designed this ring using the All That Glitters Jewelers Showcase. He used All That Glitters Lab Grown Alexandrite - a 5x7mm oval center flanked by a 4mm round on each side; the Alexandrites were faceted from our rough purchased decades ago from associates in Russia. He chose 14kt white gold and there are 16 Full Cut VS/F+ Diamonds in various areas of the ring, as well as an inscription inside the band. Using All That Glitters for the gemstones as well as ring creation, this person saved approximately $1,380 off the retail price!
9.59ct Round Faceted Synthetic/Lab Grown Alexandrite from All That Glitters rough and faceted by the owner of All That Glitters. This design harkenss back to older cutting styless due to the large six crown facets, steeper crown and small table - but the design just increases the flashes of color that one sees. Flashes of true blue, teal, pink, red can be seen coming off the body color which will vary due to available wavelengths. All That Glitters pricing on gems cannot be matched! Here is a case where the retail price for Synthetic Alexandrite is $495/ct - that's not our price as our prices for this material are typically in the $100ct range for this material and our Russian Grown is more in the ballpark of $200/ct but in much smaller sizes. We can provide info on the standard retail pricing seen out there and can point you to the business where the retail is $495/ct and this is typically what you would expect in a retail setting. Our price for this US Faceted Gemstone is ONLY $100/ct. $959 (atg-23-01)

Faceted Synthetic/Lab Grown Alexandrite from All That Glitters rough and faceted by the owner of All That Glitters. This beauty sparkles and delights your eyes! A square portuguese cut weighing 28.47cts, this particular design provides lots of brilliance and the colors seen are wild - body colors of strawberry, neon pink, purple, pink and highlights of teal, blue, pink, lilac and a pinkish coral color. A must see. All That Glitters pricing on gems cannot be matched! Here is a case where the retail price for Synthetic Alexandrite is $495/ct - that's not our price as our prices for this material are typically in the $100ct range for this material and our Russian Grown is more in the ballpark of $200/ct but in much smaller sizes. We can provide info on the standard retail pricing seen out there and can point you to the business where the retail is $495/ct and this is typically what you would expect in a retail setting. Our price for this US Faceted Gemstone is ONLY $100/ct due to the weight - trying to make this attractive as possible, but this gem speaks for itself and doesn't need to be disounted! $2,847 (atg-22-02)

16.51ct Lab Grown Alexandrite (U.S. Grown as laser rod material for the cosmetic industry) faceted by the owner of All That Glitters. Color change is royal purple with teal highlights and sometimes peach, to pinkish purple with teal highlights to bright reddish pink. Under our office fluorescent ilghts, it is a rich Amethyst color with interesting bluish flashes. We saw this particular cutting design in a Tanzanite and thought it would look super in our Lab Grown Alexandrite - and we were right! Photographed in a light box with various lights. Measures approximately 16x13mm. (atg-22-01) $1,975

A 12.79ct Synthetic Alexandrite (approx 12.8x10.6mm) in a design called - Capital Dome, and faceted by the owner of All That Glitters. This design has a nice facet arrangement especially on the crown and is very brilliant, catching even low level light. Created with a thicker girdle on this particular one. A sparkler with a high polish, showing a body color of purple in diffused daylight, with flashes of teal and peach; under fluorescent light, one sees a variation of purple/pink with highlights of peach. Fingerprint inclusion on one side, but have only seen it under bright illumination and under magnification - doesn't affect anything. Unforunately, the camera cannot capture all the various colors or the brilliance/sparkle that the eye sees.
Priced about 80% below the retail price of Syn Alex (which iss $495/ct from the major supplier in the U.S.), as we sell at the best price possible, purchase the costly rough directly from the lab which grows it (a 6 month timeframe?) and the owner of All That Glitters performs the custom faceting or it is sent out to be faceted by other competent facetors. This is the only synthetic that we carry as stores really find that the public enjoys this interesting/fascinating material!
Second photo shows the first set of pavilion facets as well as the girdle facets having been completed. (Total number of facets for this design is 81; by the time it is completed, the cutter has visited and worked on 400 facets, roughing it in, going to finer laps, pre-polish, final polish, etc.) (atg-20-01) $1598

ON HOLD! (EK)

 
12.67ct Synthetic Alexandrite (U.S. Grown as laser rod material for the cosmetic industry) faceted in the U.S. Color change is purple, to purple/lilac with teal/green highlights to bright reddish pink. Photographed by a large window - diffused daylight. This design has the shape of the Famous Cullinan Diamond and the cutting design has the same name!... (laser-17-01) $1,267

All That Glitters Faceted Large 38.65ct Synthetic Alexandrite
U.S. Lab Grown Genuine Syn Alex Laser Rod Material
A very large Synthetic Alexandrite in a fancy custom emerald shape, faceted by the owner of All That Glitters from All That Glitters rough. Gemstones custom faceted from this rough are typically priced at $100ct - a cutter in the mid-west familiar with this material, has faceted it and has sold it, thought that the price for a fine and/or large gem from this rough should be priced at $125/ct. The retail price on another U.S. grown lab Alexandrite is $500/ct; but that material is too dark to produce anything larger than about 7mm round. The color change between the two different lab grown material is slightly different, as there are two different applications for the final product - jewelry vs. laser rod material for the cosmetic industry. The laser rod material can be faceted into gemstones as well, and as you can see, can produce some stunning results. (We have both types, with our material coming from Russia in one case and the company that produces the laser rod material is within the United States.)
The color of this particular gemstone can be described in the following way:
1.) First photo shows the gemstone by a window in diffused light - body color is purple with teal highlights reflecting off the internal facets. Our camera captured more bright blue, but the color is more of a teal. In different window lighting, we have seen this teal be more green.
2.) Middle photo was under our office fluorescent lights - shows a body color of purple with a glowing blue off the internal facets. These colors remind us of some of the fine bluish Amethyst that is available on the market. Look through the very center, the table facet, and in the back in two sections, one can see a more green color.
3.) Bottom photo is under incandescent light. It literally glows a bright pink with red flashes.
4.) We have viewed this gemstone under indoor flood lights and the body color seems to take on more of an orangy pink or perhaps orangy purple.
Various body colors will be seen depending on wavelengths available in the existing light source. This gemstone and material would make a great pendant and when worn where the light source is changing as one walks from room to room, will change color depending on the wavelengths available in the light sources as noted. For those admiring the piece of jewelry, it will receive comments and stares as people notice the gemstone looks dramatically different than it did previously. The 100,000 diamond polish adds scintillation on the surface as it is a mirror finish; one has the internal life due to the brilliance itself. You may note the interesting facet pattern on the top and bottom of the gem in the first photo (star burst pattern); this is due to the unique facet arrangement on the back. We have other photos that show this much better, but we chose this photo to represent this gem over the many that were taken. Please excuse dust and fingerprints that may be seen in the photos. $100/ct (synalex-17-01)
To View a Video of this Gem: Video Clip

55.88ct Synthetic Alexandrite - Could be the largest ever faceted!
This large Synthetic Alexandrite is from our Laser Rod material, and was faceted by our Award Winning Supreme Master Gemcutter - Stephen Kotlowski. We have many pictures showing the progression from the rough to the finished gem seen above. It measures 25.25x20.12x16.08mm. The polish is incredible as our cutter used 200k diamond powder in the final polishing step. Depending on the lights, the body color is pinkish red, amethyst purple and under a 65k Lumichrome Full Spectrum light, the color can be a greenish, bluish or teal. Normal lighting conditions show a more purplish body color with teal or blue highlights dancing around the internal facets! We haven't been able to obtain accurate color photos of Alexandrite or Ruby at times, possibly due to the Chromium. The gem may have a body color of teal to our eyes, but the camera sees it as a very different color,. Even when the office fluorescents show a purple color, cameras are seeing bright pinkish red! This was custom faceted for one of our customers. It is up for sale using All That Glitters as a broker, as our customer has home repairs that require large sums of money. If you have an interest in this this piece, please email us for more details.

SOLD!
Published Gemstone (International Gem Society Article - Main Image of Article):   Read Article

Concave Faceted!
Elongated Emerald Cut: 4.45cts - $890
Fan: 4.51cts - $902
Pear: 2.57cts

SOLD!


(laser-07-03d)

Published Gemstones (International Gem Society Article):   Read Article

All That Glitters Custom Designed Exclusive "Elegante" Cut
We may have multiple pieces in these sizes picturesd. If you require pairs, feel free to ask!
5x7mm (lasersun-10m) (

SOLD OUT!

)
8x6mm - $278 (lasersun-10l)
9x7mm - $399 (lasersun-10k)

This true synthetic Alexandrite is from the manufacture of laser rods. We have obtained some of this material over the years. It changes from a purple to a greenish blue color depending on the available light. It also shows highlights or orange and yellow. We faceted this material in our All That Glitters Exclusive Elegante Cut, designed by the owner of All That Glitters a few years back. It returns a very large proportion of the available light and has a very unique shape. The only place this unique faceting design can be obtained is through All That Glitters. Though a wonderful cut, we have not faceted many pieces as of yet, as the rough dictates the shape of the finished gem and unless the shape lends itself to our cut, we will use another design. You may see another two natural gemstones that have been faceted in the Elegante or Modified Elegante on one of our Tourmaline pages.

Learn More about the All That Glitters Elegante Design:
< Elegante Design >

Learn the difference between Synthetics and Simulants:
< Synthetics vs. Simulants >



Princess Cuts! Everyone loves this style/design in Diamond; a great shape for a man or woman!
6mm - $170 (lasersun-10j)
7mm - $265 (lasersun-10i)
8mm - $369 (lasersun-10h) Only 1 available!
9mm - $515 (lasersun-10g)
10mm - $761 (lasersun-10f) Only 1 available!

Here is an Example of a Ring Set with a Round - See Below for Our Available Rounds!
9mm Synthetic Alexandrite weighing 3.06cts, set into a Platinum setting (Stuller) with Diamonds, custom modified for our customer. We would expect a genuine natural Alexandrite of this size, clarity, cutting, etc. to fetch about $60,000 retail. One doesn't have to spend $65,000 to have a beautiful platinum and diamond ring with a gorgeous center gemstone. Many colored gemstones exist whether natural or lab grown which would look wonderful when finally set and worn!...

SOLD! (An ATG International Customer)
Rounds - the most popular shape in most gemstones and may not always be available in lab grown or natural gemstones.
6mm - $145 (lasersun-10e)
7mm - $225 (lasersun-10d)
8mm - $330 (lasersun-10c)

SOLD OUT!


9mm - $465 (lasersun-10b)

SOLD OUT!


10mm - $625 (lasersun-10a)

SOLD OUT!



"My package arrived safe and sound yesterday. Thank you so much, I couldn't be happier with the alexandrite from the laser rods. The color change is amazing. I had bought some earrings that were supposedly alexandrite from somewhere else and I now know it obviously wasn't alexandrite and they were a similar price to what I paid you for something half the size. I can't wait to turn these rounds into earrings."






A

B

12.30ct Synthetic Alexandrite in a Concave Cut! This is our first Concave faceted gemstone in this material and it is a wonderful play of colors depending on the lights. Even shows some peachy flashes!... (laser-07-03c) $1,538

17.25ct Square Synthetic Alexandrite (laser-07-03b) $1,035 - ONLY $60/ct!

 
3 cabs totalling 74cts of Synthetic Alexandrite. These are the only cabs that we have ever cut and we have never seen any other companys cut cabochons in this gemstone. These are fairly large and would make an interesting mans or womans ring, as well as a pendant or pin.
The weights are: 21.62cts, 25.72cts and 26.66cts
(laser-07-03e) $20/ct


Synthetic Alexandrite (Lab Grown)

Three recently faceted Synthetic Alexandrites weighing a total of 42.87cts. This material was faceted from our laser rod material. Synthetic Alexandrite sells to the trade from one company at $167 per carat, with a retail of $500 per carat. This is usually the material that we also have from Russian which has a higher Chromium content, but with the high Cr material, we cannot facet large gems like this as the gemstones will be too dark. This particular material was manufactured for laser rods.

In the above photo, the center gemstone is a 15x11mm oval weighing 10.38cts; the two ovals on either side are matched and measure 18x13mm. They weigh 16.36cts and 16.18cts.

Since these are large, the price has been discounted to $70 per carat. If purchasing more than one, the price per carat is only $60.





U.S. Grown Synthetic Alexandrite - From a Laser Rod
11.31cts

11.31ct U.S. Faceted Synthetic Alexandrite - Faceted from rough destined for a Laser Rod! Color Change is from a Pinkish Red to a Purplish, Purplish with Teal or Teal depending on the wavelengths available in the light source. Under diffused daylight, a nice green can be seen also. This has a number of pluses - it is Synthetic Alex(NOT color changing sapphire which sells for a fraction of the price of the lab grown synthetic alex), it has a unique origin, is U.S. faceted, and a low price. The cost of good U.S. Cutting wouldn't even pay some to facet this stone for what we are asking. This gem is not overly dark as some Syn Alex can be because it has less Chromium and saturation is not a problem in very large sizes.

Measures 14x12mm - a biggie! (laser-01) $100/ct

The photo above is not the best photo, as it can appear more teal and even green. Photographing color change or color shifting gemstone is very difficult.


14.94ct Synthetic Alexandrite - Laser Rod Material!!!!

This material is manufactured in the United States for use as laser rods but is still gemstone/jewelry quality. The color change of the above stone is a vivid pink red under incandescent lights. Under fluorescent, it is a mix of red, purple and teal. Under certain fluorescent lights, you will see more of the teal with some of the red or purple as an undertone. Photographing the stone under fluorescent lights was difficult compared to incandescent light. (laser-02) $896 ONLY $60/ct!


Russian Synthetic Alexandrite Gems - Faceted from Rough by All That Glitters Cutters
Our Russian Lab Grown Synthetic Alexandrite is calibrated and will easily fit into any setting with the same dimensions as the faceted gemstones. We have this material in 4mm Round, 6x4mm Oval and 7x5mm Oval!! Matching is easy for earrings or the sides of a center stone or even a full bracelet!
All That Glitters Price price is ONLY $250/ct!
A savings of $250 per carat off the current typical retail price!
4mm Round - $ 85 (frsmn-96-01z)

SOLD OUT!


4x6mm Oval - $150 (frsmn-96-01x)
5x7mm Oval - $250 (frsmn-96-01w)
Quantities may be limited and currently due to the cost of this rough, the unavailability and much higher cost of cutting, newer material would be much higher in final price.
The above photo is a representation of the color change - typically a blue-green/green-blue/teal/blue to purple. The purple is not hard to capture in photos, but the teal color typically never reproduces well in a photo and all colors may differ on various portable devices.

Note that the Laser Rod Synthetic Alexandrite and the Russian Material have two different tones (depth of color or what the public might call saturation). The Russian Material goes from a blue green to a purple and in sizes over 7mm round, we feel it is typically too dark. The Laser Rod Material allows for a MUCH larger gemstone and the color is typically reddish pink under incandescent, purple under office fluorescent lights and in shaded sunlight, it is a teal color. (The U.S. Laser Rod material is far less in price/ct than the Russian)
"Old" Retail Prices for Calibrated Russian Synthetic Alexandrite - Price has Jumped to $495/ct:

Russian Synthetic Alexandrite - Large Pieces




A
B
A - 1.76ct, 8x6mm, Oval Russian Synthetic Alexandrite (frsmn-95-01a) $440

ON HOLD!(AG)



B - 3.35ct Emerald Cut Russia Synthetic Alexandrite, U.S. Cut (fmm-93-01a) $838


These are larger gemstones than are usually found in synthetic alexandrite. Because of their size, they are deeper colored stones. Under incandescent, the color is purple to reddish purple. Under fluorescent lights, they are a dark teal (greenish blue). It is very difficult to obtain good photos of the teal. In many lights you can see both of these colors within the stone at the same time. The retail price from one of the leading sellers of this material in the US is $495 per carat. This price per carat also reflects stones much smaller than those above. Our prices on the above material is $200-250 per carat. We have heard that our color change may be slightly better than their material; obviously, since the two large gemstones were faceted int the U.S., you are guaranteed wonderful cutting. These were cut on an individual basis; most of this type of material is faceted in bulk outside of the U.S. and may show this fact to those who understand cutting. In fact, even most natural gemstones are faceted in the country of origin and end up being poorly cut. We attempt to purchase all of our gemstones in the rough so we can use our cutters to facet wonderful material that we are proud of.
If you have wanted an alexandrite or a synthetic alexandrite, the above stones are priced to sell!


 
More About All That Glitters Lab Grown/Synthetic Alexandrite!
Note that it is difficult to obtain proper colors in photos of certain gemstones - especially Alexandrite. This is most likely due to Chromium. The red/purple is far easier to capture vs. the teal/green, but you may see some teal/green in some of the photos, especially if the gemstone was photographed near a window, vs. the fluorescent light ring we usually use. We have described the color change in each case, as it can vary. The concave cut gems actually show peach highlights at times! Usually the color change is purple, red, teal depending on lights/wavelengths available.
Why pay many times more for this material than necessary??? Our rough comes directly from Russia as well as the United States and is being faceted either abroad or in the United States. We cut for calibration as well as freeforms or any size and shape desired. The cutting is the best that can be obtained. This material is a true synthetic and has a wonderful color change from bluish green to amethyst purple (and slight variations) - just like the finest natural material coming from Brazil. Unlike the natural material, our Synthetic Alexandrite is well cut, properly proportioned, clean, has a wonderful color change and is always consistent when ordered. The lab Alexandrite from the United States is grown for laser applications. This material is not as saturated as the Russian material and very larger gemstones can be faceted without being overly dark. The Russian material becomes too dark is sizes over 7mm. We have faceted 50+ct gemstones from the laser rod material and it has never been dark!
NOTE: Our material is produced using the Czochralski Pull Method. The retail on the faceted material is now $495 per carat as of 2019 - offered by a major supplier of castings and calibrated gemstones for the trade. Before comparing prices, understand the differences in production, simulated stones and therefore costs involved.
DO NOT BE FOOLED by color shifting synthetic corundum selling for a few dollars per carat! For manufacturers or users of Synthethic Alexandrite, our trade prices CANNOT be beat! If one sees lower prices, it could be synthetic sapphire, which some companies frequently sell as synthetic alexandrite - even if you ask, it frequently isn't disclosed. So be careful!....Call us now or place an order online........
We have been told that our material appears better cut and has a better color change that what some jewelry stores have seen from major suppliers of this material AND our prices are FAR BELOW OTHER COMPANYS PRICES! Call or write us with your needs and we'll give you a price quote. We must have certifiable evidence that you are business. This material is only being sold to business who are looking for quantity and on a regular basis if necessary. Note that for material that must be cut, please allow 3-4 weeks. Custom orders require a 50% deposit. (Yes, we do custom cutting of this material for our customers and the price for the finished gem will still be 50% below the retail prices out there!)
Laboratory Grown Alexandrite - U.S.
One may see Synthetic Alexandrite on the market; unfortunately if the price is too low, it will usually test out as Synthetic Corundum(Sapphire). Those who sell Synthetic Corundum as Synthetic Alexandrite do so illegally and do this because of the cost differential and the fact that most customers will never have their gemstone tested. The cost of the Syn Sapphire is VERY inexpensive compared to true Syn Alex. The Synthetic Alexandrite below is fairly exclusive to All That Glitters, as this gem material is an off-shoot of the creation of laser rods for military applications. This material has less saturation than some of the other material produced out there (All That Glitters has this material too!), and allows a very large gemstone to be faceted without being overly dark. Our prices on this material are very low since we purchase it directly from the lab and we have our own cutters too!

Alexandrite is a very photo-reactive gemstone making photography difficult as the true colors that the eye sees, are not what is captured by the camera. This material is usually a purple under fluorescent lights, bright pinkish red under incandescent, and outside with one's back towards the sun, the gem will typically be green to blue green. Most of the time there is a bleed-through of colors, so a gemstone will have a number of colors seen by the observer, especially as the gemstone is turned and the different axes and facets interact with the available light source. In some of these gems, one can see purple, pink, peach, blue, green, etc. The photos do not do these gemstones justice. It is best to view these gems in person (actually, it is always adviseable to view gemstones directly as photos can never capture the internal life or reflections of a gem!). We do have a 10 Day guarantee, so if you do not like your gemstone for any reason, it can simply be returned.

Interesting Facts about this particular material:
1.) One of our cutters used his 630-680nm diode laser and pointed to a faceted gemstone and the rough. The material went from a purplish pink color to blue green and remained like that for a few minutes. Other lasers would most likely have some affect on the color, as one is 'pumping' the atoms of the material. He also saw fringes. This material would most likely be used to create a tuneable laser...
2.) Down what I believe is the the C/Optic Axis: Teal/Orange
Side: Purple/Orange
90 deg to above: Teal/Purple
Tipping it just right will also give a yellowish green and purple; have seen pure green too. Simply Amazing Material!


What is the difference between a Synthetic and a Simulant? There is a BIG difference - not only what the material is but also in price. Learn More - < Synthetics vs. Simulants >

Why purchase Synthetic Alexandrite from All That Glitters??
The Best Price Available
Great Cutting
Wonderful Color Change
Consistent Cutting and Quality
Custom Cutting
Fast Turnaround
A Google Search of this material shows All That Glitters being a major market mover, providing a great deal of the information on this affordable and beautiful gemstone:
Note: Magnification and bright lighting is required to photograph gemstones. Some inclusions may be visible under these circumstances. You are viewing photographs as if you were using a loupe or microscope - not your unaided eye. Under normal conditions, these inclusions may not be visible.
Not responsible for mismatches of prices, photos, stocknumbers, etc.
<! code to insert on Photos Pages and others, where one wants the Payment Info/Intent to Purchase Form to appear -->
Buy Now Using the Following Options:
We continue to utilize Square, Venmo, popmoney, Wise and other services/applications, as well as Personal/Bank Checks, Wire Transfers and Bank to Bank ACH. We are always seeking additional options which would be reliable, safe and user friendly.

Contact us via Phone, Email or use our Intent To Purchase Form to discuss payment. Square, Popmoney and Wise links are below. Square is similar to PayPal, but an account is not required; Popmoney is bank/bank, account to account; Wise (formerly Transferwise) is typically for International Transactions/Foregin Currency but also works within the United States.

NOTE - For those who must utilize PayPal, we can provide an invoice or have funds sent to a PayPal account we have access to. There will be a 3% charge for this service, which PayPal charges - regardless of whether the item is returned. This is PayPal's mandate as of October 2019 - the only payment application that we are aware of that will not return their fee if an item is returned. We no longer offer PayPal as a standard payment option...

Purchase using Square:
Learn More by clicking on the logo!  
Purchase using Venmo:
Learn More by clicking on the logo!  
Purchase using Popmoney:
Learn More by clicking on the logo!  
Purchase using Wise:
Learn More by clicking on the logo!  
For purchases using another form of payment, please use our
Intent to Purchase Form.
You may also telephone or send an email: Contact All That Glitters