Fine Mineral Specimens
Quartz with Two Super Large Enhdros that REALLY Move!
The title of this mineral specimens says it all - a nice piece of Quartz with two Very Large Very Movable Bubbles(Enhydros). Click on the photo to display a closer image of the two bubbles. (ggc-15-02) $3,500 - for what this is and with very few similar pieces available, this seems to be a VERY good buy! (In Tucson of 2023, we saw a quartz with a large bubble, not as nice and as moveable as this one, and the price was also $3500 - and we have More Than One Large Moving Bubble...Think of the millions of years that have passed when this liquid and gas was captured by this growing quartz crystal - and the extinct plants and animals that were flourishing at that time. Simple Amazing!
A very attractive group of Quartz coated with Blue Fluorite - from Inner Mongolia. A relatively new find. Click on the first image above for more detail. (crysco-15-01) $450
A
B
A - Doubly Terminated Yellow Beryl Crystal (Helidor) weighing 166.65cts from Tajikastan. Note the terminated small Smoky Quartz growing on the side. This crystal seems to be clean and one might be able to facet gems, but the natural beauty and uniqueness of the piece should mandate it remains as a specimen. (blumnt-15-01) $2,800
B - Wonderfully very transparent/clean light green Fluorite cluster from China (Xian Hua Pu). (crysco-15-02) $350
Uniquely terminated Aquamarine Crystal from Afghanistan. Because of the unique habit/termination, how does one really put a price on a one-of-a-kind piece?? (dko-15-01) $1,500
Enhydro (water trapped in a mineral, millions of years old) in Quartz
A
B
A - Terminated Amethyst Crystal(Namibia) with large moveable Enhydro, visible in photo. (mincol-15a-1c) $400
B - Terminated Clear Quartz Crystal(Namibia) with moveable Enhydro, visible in photo. (mincol-15a-1b) $275
Enhydro (water trapped in a mineral, millions of years old) in Quartz
Detail
Terminated Amethyst/Clear Quartz Crystal from Namibia, bright shiny specimen with moveable Enhydro, visible in both photos. (mincol-15b-1b) $525
Enhydro (water trapped in a mineral, millions of years old) in Quartz
Detail
Amethyst-Smoky-Clear Quartz Cluster (Namibia). One can see where an enhydro existed, but liquid seems to have either moved further into the crystal or somehow evaporated though no surface openings are evident. Being sold as a nice interesting specimen. (mincol-15a-1a) $180
Enhydro (water trapped in a mineral, millions of years old) in Quartz
Detail
A super single Amethyst Crystal in a geode from Namiba, encrusted with other minerals on some sides of the Amethyst, and a nice enhyro with about 10mm of movement can be seen. This is a fairly large specimen but will fit into the palm of one's hand. (mincol-15b-1a) $1,875
A nice Pyrite and Quartz specimen from Haron, Peru that fits into the palm of one's hand. This combo of Quartz/Pyrite is very desirable. (crysco-15-03) $475
A fairly large nice Pyrite specimen on matrix from Spain. This is only one angle and there are other Pyrite crystals on the other side. A great piece for one's collection! (pdv-15-10) $849
Nice Pyrite Specimens from Spain can be very costly depending on the size of the cubes, the complexity, aesthetic beauty, etc. This specimen was chosen by the owner of All That Glitters after having first pick of a group of fine specimens just in - as he has known those who obtain these piece directly from the mine over the past few decades. This piece was chosen for all the right reasons! If you click on the following link, you can view a similar piece which came up to auction and had a selling estimate of $8,000 - $12,000. As always, we offer you quality at low prices because of our 41 years in the trade, our knowlege and access to items through our contacts, so no need to spend thousands for a Fine Pyrite Specimen from Spain! Of course, the one at auction has a custom lucite stand, which we will gladly have made for you at a great price, and we won't change you an extra $7,000 to $11,000 more.... Pyrite Auction Specimen
Palm-sized Amethyst Crystal from Rio Grande Do Sul, Brasil. Note the very interesting spherical cluster of very small smoky quartz embedded in the Amethyst Crystal surface/faces. Initially thought be to unusual - verified by two well-known mineral/crystal dealer indicating that they had never seen anything like it before. A real unique beauty - and priced to move! (bjmin-14-01) $4675
Maine Tourmaline! Mount Mica (Approx 2009-2010), Oxford County
Title says it all! A nice specimen of Maine Tourmaline,nicely terminated complicated crystals growth/structure, striations, etc. (lh-14-01) $925
Save Us
From the Cutter
Etched Yellow Beryl (Heliodor Crystals) from Tajikistan. Clean internally, but beautifully etched on the outside - with at least one natural termination per piece! Would make nice pendants. Will be cutting these once we have the time to examine, mark and send to our cutter to be worked.
Weights/Prices from left to right: 21.82cts - $575 (blumnt-13-01a) and 26.79cts - $625 (blumnt-13-01c)
Naturally Etched Yellow Beryl (Heliodor) Crystal with one polished face/table allowing one a clear view of the etching. Can be made into a wonderful pendant with the table facing the viewer showing the etching on the back. (blumnt-13-01b) Approx 17cts. $679 Similarly etched crystals are above, but there is no table.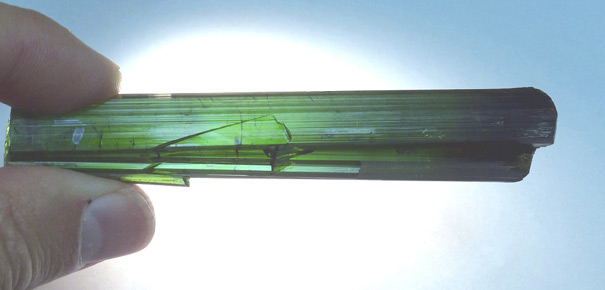 A 205ct Tourmaline Crystal from the Famous Cruzeiro Mine in Minas Gerais Brasil. Purchased directly from the Neves Family back in the 1980s - owners of the Cruzeiro. This is a dark green crystal whose color is best seen when held up to the light or against a light surface. If you look carefully, there is also a hint of blue near the base. Clean with a few things internally which is to be expected; this was bought initially for cutting, but it has been determined that is best left as a specimen. This is a large crystal with other crystals running parallel down the main crystal as can be seen in the photos. Other crystals grew next to this grouping, and their impressions can be seen on the side. Crystals like this have gone up over the past several years, and we have marked this at a fair price, below the wholesale pricing we have seen for similar material while in Tucson over the past few years. $3,600
An unusual spherical Pyrite Cluster from Bingham, UT! Unique and beautiful. (wamole-14-01) $575
Pyrite from the famous Peruvian Locality (Huanzuala). Weighs 471cts and measures approximately 53mm long by 35mm high. From the Bill Metropolis collection. (bmet-14-03) $375
Quartz Scepter from Goboboseb Namibia weighing 119cts and measuring approx 55mm long. From the Bill Metropolis collection - with the original label. (bmet-14-01) $250
New Hampshire Smoky Quartz from Hales Location in N. Conway. Weighs 45cts and measures approx 42mm long by 11mm wide. From the Bill Metropolis collection - with the original label. (bmet-14-04) $275
(Great for a pendant, a collection or can even be faceted!)
Large 837ct Black Tourmaline (Schorl) Cluster from Minas Gerais, Brasil. Measures approx 50mm x 50mm). From the Bill Metropolis collection - with the original label. (bmet-14-02) $975
Very clean facet grade green Tourmaline terminated crystal from Minas Gerais, Brasil. Approx 40cts measuring about 30x14x10mm. (pm-14-01) $749
Very low at today's specimen/mineral prices - this is a real beauty in every way...
A clean terminated Topaz crystal from the Thomas Range, Juab County, Utah. With other minerals on the outside that actually go into the crystal a bit, making this fascinating to look at with a loupe or microscope. Measures about 35mm long and weighs about 18cts. There are a few formerly Garnet crystals on one end that have been replaced by Hematite - the label indicates the following: "Topaz with Hematite After Garnet". Note not only the wonderful full termination on the right hand side of the photo, but there is another terminated very small Topaz crystal on the far left - very unique all around and from the United States! Nice color to the Topaz also, being a peach or orangy beige. (pm-14-02) $1,200
An incredibly Beautiful Cluster of Burmese Bi-Color Tourmaline on quartz matrix. One can even see a terminated Quartz Crystal in the photo on the left. Burmese gemstones and mineral specimens are HIGHLY sought around the world and prices have and will be constantly going up. This particular piece literally came from Mogok, a well known and famous gemstone/mineral producing area! (mogok-14-01) $2525
Because this was a Burmese piece, we asked one of our associates/friends his thoughts about this specimen: "The piece from Burma is atypical and nice... It is nice, and Burmese stuff is pretty hard to find at a decent price and probably should be bought whenever reasonable." His forte is larger more costly pieces in the tens of thousands of dollars - if this were slightly larger, this would be associated with those figures! Fits in the palm of one's hand and is probably about 2" or so.
An extremely large Black (Schorl) Tourmaline Crystal from China with a custom-made stand (possible Cherry or Teak??). There seems to be a layer running horizontally near the base that seems to have some color, green, and that might be a layer of Green Tourmaline. The piece is in wonderful condition, shows numerous other crystal faces on the sides, is well terminated, and is something that one just doesn't see in this size. From top to bottom of the crystal, it measures about 4.5" and across piece, it is again about 4.5". (sissto-14-01) $1,275
(Available only from our West Coast Office - send an email to check availability)
Note: Magnification and bright lighting is required to photograph gemstones. Some inclusions may be visible under these circumstances. You are viewing photographs as if you were using a loupe or microscope - not your unaided eye. Under normal conditions, these inclusions may not be visible.
Not responsible for mismatches of prices, photos, stocknumbers, etc.
<! code to insert on Photos Pages and others, where one wants the Payment Info/Intent to Purchase Form to appear -->
Buy Now Using the Following Options:
We continue to utilize Square, Venmo, popmoney, Wise and other services/applications, as well as Personal/Bank Checks, Wire Transfers and Bank to Bank ACH. We are always seeking additional options which would be reliable, safe and user friendly.

Contact us via Phone, Email or use our Intent To Purchase Form to discuss payment. Square, Popmoney and Wise links are below. Square is similar to PayPal, but an account is not required; Popmoney is bank/bank, account to account; Wise (formerly Transferwise) is typically for International Transactions/Foregin Currency but also works within the United States.

NOTE - For those who must utilize PayPal, we can provide an invoice or have funds sent to a PayPal account we have access to. There will be a 3% charge for this service, which PayPal charges - regardless of whether the item is returned. This is PayPal's mandate as of October 2019 - the only payment application that we are aware of that will not return their fee if an item is returned. We no longer offer PayPal as a standard payment option...

Purchase using Square:
Learn More by clicking on the logo!  
Purchase using Venmo:
Learn More by clicking on the logo!  
Purchase using Popmoney:
Learn More by clicking on the logo!  
Purchase using Wise:
Learn More by clicking on the logo!  
For purchases using another form of payment, please use our
Intent to Purchase Form.
You may also telephone or send an email: Contact All That Glitters