Gemstones - Spinel
Information on Spinels: Depending on the lights that are available, they may look different from one light source to another. This can be a plus as they can look like two different stones at times. Many of the reds or pinks will be less vibrant under fluorescent and more vivid in daylight and incandescent lights. Many may mistake spinel to be sapphire, ruby or even other stones. This has been true of even well-known, famous gemstones such as the Black Prince's Ruby - it was actually a red spinel. Though synthetic spinel is used in high school and college rings, the naturals have been under rated by the public.
We have always been bullish on spinel. Here are some reasons why It is not overpriced for what it is - for most colors and sizes they are still very affordable.
Spinel takes a wonderful polish.
It is available in numerous colors.
Spinel is harder than most commonly seen gemstones in rings as it is has a hardness of 8 on the Mohs scale, so it is just slightly softer than sapphire or ruby but harder than garnet.
Note that we have had many of these gems stashed away in our vaults for decades. These were priced at that time, so the pricing is also decades old. Prices may change in the future. Now is the time to add to your gemstone collection or create a piece of jewelry with a gemstone which should be one of the most popular gemstones with the public.
Spinel has been making the gemstone/jewelry trade news lately and is getting a second look by many...
Prices Seen in AGTA Article
All That Glitters Pricing to the Trade/Public is Ridicously LOW!
A very bright neony 1.16ct Mahenge Spinel of a unique color, perhaps best called a reddish pinking orange. Very bright as expected from this famous/costly locality. Well cut and clean. Prices of this material have constantly gone up in the price and this is an amazing price for what it is. (mwgems-23-01) $2,268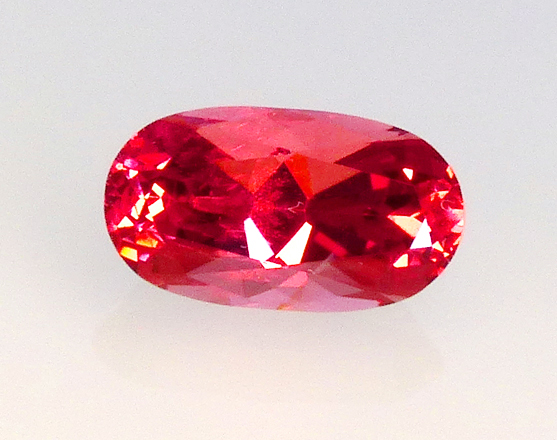 Love this Color! It can be described as an orange color but depending on the lights, will take on more red or pinkish highlights. This 3.05ct oval was faceted by a well-known award winning cutter and some of his work is displayed in a museum collection. The origin of the rough was Vietnam, which has been known for producing fine Spinel over the past several years and in wonderful colors including purples, blues, cobalt blues and in this case, an orange! Orange Spinel is not common regardless of the country of origin. (ggc-19-04) $5,612
Very lively light pink 3.26ct Vietnamese Spinel, reminiscent of what one thinks of in Kunzite. Can be lilac or purply a bit depending on lights. Faceted in the U.S. by a Multi-Award Winning Cutter who is represented in museums. (ggc-20a-02) $3,912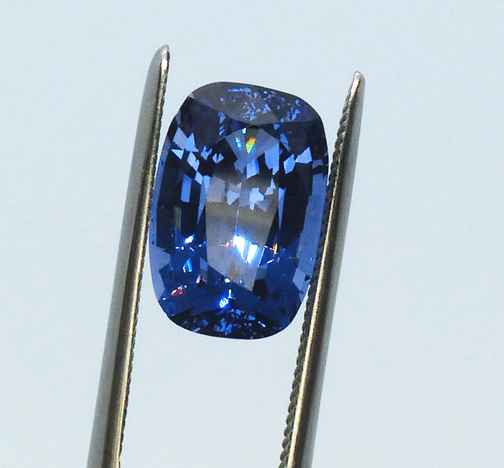 Both beautiful and large for nice Spinel, this 3.97ct Purply Blue Spinel is from Madagascar. The color, like many gemstones, will take on various hues depending on the lights and one may even see the rainbow pattern of dispersion at times (in the photo you get a hint of the dispersion within some of the sparkle the camera caught). Seeing mostly variations of blue, but also see a slight hint of purple or indigo. Would not call this a true color shifter. One of our cutters saw this piece in person and he had the following to say - "this is fairly classed as a blue spinel. If I were to be precise, it's violet blue, but the violet is certainly a modifier. I very much like this material and keep my eyes open for it." Shows red flashes under a Chelsea Filter - Cobalt suspected. Very pretty, nicely cut, clean and would make a killer ring for someone. (mfg-19-03) $5,479
Beautiful Red Oval Vietnamese Spinel weighing 1.65ct. Vietnam has been producing some incredible colors of Spinel over the past decades, but the fine material is still far and few between! This is one of the finest reds we have had in inventory over the past 40+ years. (goni-17-01) $3,795
Originally a 5.11ct Sri Lankan Blue Spinel, the pavilion was partially recut, a few facets on the crown were tweaked and re-polishing in general was performed by an a very well-known respected award-winning cutter, yielding a 4.39ct finished gemstone. The cert below is prior to reworking; should a customer wish to resubmit it for certing, the original cert indicating that it is a natural Blue Spinel is guaranteed and accompanies the purchase. Also, we will devulge the cutter to the new owner. The color of this piece shifts under most lights so very difficult to describe the color blue. The photo does seem to show a more saturated blue. The light ring used on the lense of the camera and at a distance away from the gemstone without being overly close, allows full illumination of the gem, showing off the brilliance as well as the fine polish. A fine large Natural Blue Spinel... (nshgm-17a-01) $10,865
View Cert
1.32ct Mahenge Spinel of a Neon Reddish-Orange-Pink color. Vivid color and just a beautiful gem. Eye clean, though like many Mahenges and other gems, there are a few things under a loupe - and would most likely be other Spinel crystals as is quite common in Spinel. Very well priced for Spinel of this color and famous location. Second photo is another attempt to show the color and beauty of the gem, but this is something one has to see in person. For those familiar with Spinel from this location, the color gives away the origin of this gem - Mahaenge! (ctmc-17b-01) $3,340
A large 2.26ct Oval Mahenge Spinel of a NEON Padparadscha Color - Neony Orangy Pink. A must see in person - of course, one can also see this from across the room. Color is everything in colored gemstones, and this has it! Well cut, brilliant, eye clean, large and a color that is just incredible. Really nothing else in color looks like this out there in the gem market. The photo is not capturing the true color and is showing more red and more saturation. A true must see and for anyone who wants a one-of-a-kind color or fantastic Spinel, look no further. (ctmc-17a-02) $78,588 We have seen prices for Mahenge Spinel of similar size but without this fine unique color selling at the same wholesale price per carat... (That being said, the colors of those other Spinels were still drop dead gorgeous, bright, etc. but just not exactly the same color that All That Glitters has been so fortunate to encounter, negogiate and actually purchase for inventory.) We've added a second photo attempting to obtain the best color rendition and saturation that one sees with one's eyes. It is difficult, as we have seen slight shifts in color between photo apps and even within the Chrome browser; the glowing factor can also vary. As always, best to see in person. This Spinel, for those in the know, screams Mahenge! (The parcel paper in which this gemstone can be found is marked as - "Spinel (MAHENGE!) - Large Neon Orangy Pink, Pad-like, Oval, 2.26ct)". We think that the color description suites it well.
2.54ct Padparadscha Colored MAHENGE Spinel from Tanzania. A Great Color - Not Usually Seen in Spinel.
Believe this is the second of this color we have ever had in our 35 year history. Color will vary depending on the lights/wavelengths available. Hard to describe, but under fluorescent lights it is a medium bright orangy pink, perhaps slighly more orange; under incandescent, it tends to be more pink with a slight glow. It is neither fully pink or fully orange. It is not a neon color like some Mahenges, but the color is very attractive, and it certainly is brilliant and sparkles under incandescent light. We are displaying three different photos; the color is very attractive under various lights - but like many gemstones, may color shift a bit. It looks very much like Sapphires that we have seen or have in inventory. We find this color very attracitve. There are some inclusions deep in the gem as to be expected, and they are most likley Spinel Crystals. We can see this in a setting with white diamonds and perhaps even with other colored gemstones like blue Sapphire as accents. A photo from GIA was available decades ago that showed a Padparadascha Sapphire in a ring and surrounded by both white Diamonds and blue Sapphire - it was stunning and it is still remembered to this day! (Actually, we found the photo on line and thought we would share it - our Pad Spinel is slightly more saturated in color, another plus for this fine unique Spinel!) Measures approximately 8.7x7.0x5.4mm (crtzn-16-01) $6,287
Direct from Sri Lanka, 2 very nicely cut Spinels all from the Nivitigala Mines in Ratnapura. Priced to move - for these colors, sizes, decent cutting, if we were to price them based on what we saw on the Tucson wholesale floors this year, they would be far more in price...
Interesting Blue 3.00ct Square Cushion Spinel from Sri Lanka (Ratnapura-Nivitigala mines). This blue is reminiscent of what one sees at times in the Sri Lanka area; the term of "Cobalt" is frequently associated with this color, whether it contains Cobalt or not. It does color shift depending on the available lights, and the color shift is between two variations of blue. One could call this a Midnight Blue or Midnight Navy Blue. Some have also called this a green blue. One variation of the color is shown on the back of a hand and that color seems to be pretty accurate; the larger photo is close, but very difficult to capture the true color seen. Approx 8.0x7.8x5.8 (shlgems-16-01) $2,880
Large 4.28ct Cusion Shaped Sri Lankan (Ratnapura-Nivitigala mines) Spinel of a color that is difficult to describe, and it also color shifts (like many natural gemstones) depending on available lights and the wavelengths in those lights. Under fluorescent lights, the color could be described as dusty pink with purple; under incandescent, it appears more reddish with purple highlights. For nice Spinel, this is large and we find the color to be interesting and the future owner will find that they will have a gemstone that looks differently from room to room, lighting condition to lighting condition, with the body color changing, as well as the highlights that display. Approx 10.3x8.0x6.3mm (shlgems-16-03) Contact Us for Pricing.
A
B
A - 1.16ct Burmese Fine Ruby Red Spinel - photo doesn't show the true fine color red. (kjcl-15b-02) $2,669
B - Large 6.35ct Oval Spinel, impressive, of a deep pink ice color - reminiscent of Bubble Gum Pink California Tourmaline! We had this recut to improve the brilliance, which is now better. Priced to move at $7,620. (egaj-15-50) Note that in about 2018 (Tucson Gem/Mineral Show), a similarly colored Spinel of about the same size was being offered at $1500/ct to trade (wholesale) - that was offered by a friend/associate of ours who always has a good price - and so again, you will save thousands of dollars off even a low wholesale price with this purchase!
Large 2.01ct Vietnamese Neon Reddish Pink Spinel - killer color from a deposit producing incredible colors for the time being. (primgem-16-01) $5,085
A
B
A - 1.34ct Cushion Shaped Red Spinel from Burma. (kjcl-15a-04) $2,312
B - Rose-Red Spinel from Sri Lanka, pear shape weighing 3.98ct. (egaj-15-18) $5,492
A
B
A - Purplish Pink Burmese Spinel weighing 1.47cts. (btree-15-03a) $1,690
B - 2.91ct Fine Orange Burmese Spinel Square Cushion - unique color, clean with fine cutting. A must see in person! (jdbkk-15-01) $5,019/td>
Neon Orange 1.43ct Oval Spinel from Burma. One doesn't see Orange Spinel often, and certainly not this bright - not to mention it is from a VERY desirable country! (btree-15-03b) $2,795
An unique very bright lively color and cut - 1.50ct Round Salmon Orange Spinel from Africa (Mahenge). Spinel is not commonly seen in rounds - and you can't help but see this blowing Salmon Orange from even 10 feet away! A glowing ember colored Spinel. (egaj-15-65) $3,450
View Video
A rare color in Spinel, as well as a very decent size in carat weight and a round - all pluses for this gemstone. Shows red flashes under a Chelsea Filter - Cobalt suspected. Weighs 2.70ct - we would call this color an Indicolite Tourmaline Blue or even Sapphire Blue under various lights. (egaj-15-49) $5,279
A beautiful Rose-Red to Red Cushion Shaped Spinel of 2.70cts. (egaj-15-04) $7,425
This is the second largest Spinel we purchased on our long excursion abroad in late 2015. It weights 3.25ct. A very lively gem of a Medium Bright Pink. The origin is the all important gem producing country of Burma. (pond-15-03) $5,606
A
B
A - 1.07ct Red Burmese Spinel (pengm-15-01) $1,070
B - 1.29ct Red Burmese Spinel (pengm-15-02) $1,548
A uniquely colored 0.81ct (approx 7x5mm) Neon Orange Mahenge Spinel; have never seen this color from the Mahenge area, or for that matter, from any country! (btgem-15-02) $1,725
2.89ct Trilliant Blue Spinel - unique color, sparkles nicely and may color shift to a purple depending on the lights. Turns

Red

under Chelsea Filter, an indication of Cobalt. (kjcl-14a-01) $3,988
A really nice 2.49ct Cushion Cut Burmese Spinel of a reddish orange or orangy red color. Color depends on the lights available and can be more intense under certain lights. Clean and nicely brilliant, fine spinel is more difficult to find each year, not to mention the price per carat continues to climb every year. Measures approximately: 8.3x6.4x5.5mm (kjcl-11-25) $4,295


Another similar Spinel was certed by GIA and the color description shown is Red. I personally think there is another modifier along with the red, but nothing was noted by GIA.
0.92ct Oval Reddish Orange Spinel (scrp-08-05) $828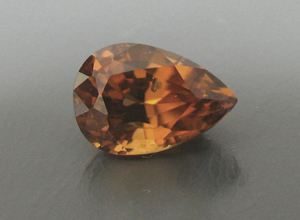 1.40ct Spinel Approx 7.5x5.1mm Pear - Smoky Orange, Burma (evgem-06a-02) $588
3.87ct Spinel
From

Burma

, known for their spinels and corundum, the color of this piece is reminiscent of Rhodolite Garnet! (gag-06-01) $3,250
A
B

A - 2.26ct Natural Roval Clear Spinel Some color is evident in the gemstone due to the background and lighting. (minco-04-01) approx 8.1x7.6x5mm $1,800

B - 3.46ct Natural Oval Clear Spinel (minco-04-02) approx 8.4x7.8x6.1mm $3,460

Note - With clear/white spinel, the spinel crystal cannot contain any impurities within the crystal lattice. If there are any impurities, which is usually the case in 100% of the crystals as they grow, there will be some color. In this case, we have a pure spinel with no other elements or impurties - which is quite rare. These are the only clear spinels that we have had in inventory since starting this business, as if it is not a pure Spinel, without any other elements present, it will have some sort of color - so quite rare for a clear/white Spinel! (In the oval Spinel above, the beige/salmon color seen is the reflection of the photographers fingers...)
A
B
C
A - 1.50ct Trilliant Spinel, quite saturated but with purplish blue highlights. (ksn-95a-03) $900
B - 1.62ct Oval Spinel (agl-92c-01) $1,555
C - 1.26ct Oval Spinel (pgml-92b-01a) $756
A
B
C
D
A - 1.24ct Oval Spinel purplish pink(pgml-92b-01b) $558
B - 1.30ct Oval Spinel purplish red (pgml-92b-01c) $936
C - 3.21 ct Oval Spinel (rma-92-02a) $3,082
D - 1.33ct Emerald Cut Spinel (rma-92-01) $1,117 (red under a chelsea filter)
A
B
A - 2.70ct Roundish Magenta Red Oval Spinel Difficult to find large rounds! (pgml-92b-01d) $2,268
B - 0.90ct Marquise Shaped Spinel (minco-92a-01a) $540
A
B
A - 1.33ct Pear Shaped Spinel (minco-92a-02a) $798/td>
B - 0.87ct Pear Shaped Spinel (minco-92a-02c) $419
A
B
C
A - 2.76ct Pear Shaped Spinel A unique color... (minco-92a-01b) $1,987
B - 1.03ct Oval Spinel (minco-92a-02b) $742
C - 1.13ct Oval Spinel (minco-92a-02d) $815
Note: The above stones have some inclusions. The steel blue one has a feather deep in the stone and the two red ones have small inclusions. The reds look like rubies under incandescent lights and with the inclusions, if one can see them, it is also remininscent of rubies.
A
B
A - 1.18ct Marquise Shaped Spinel, Bright Pink, (fi-93a-03) $710
B - 1.95ct Oval Spinel, unsual Purple Blue, color shifting, some inclusions deep, but not eye visible. Turns

Red

under Chelsea Filter, an indication of Cobalt.(ksn-93-06e) $3,365
A
B
C
A - 1.06ct Oval Spinel, nice blue purple color, color shifting. Turns

Red

under Chelsea Filter, an indication of Cobalt. (ksn-93-07a) $1,463
B - 0.90ct Oval Spinel, Tourmaline Pink or Rhodolite Color, (qcgm-90-01) $864
C - 1.82ct Oval Purple Spinel, slighlty color shifting, two small inclusions visible in the right light or with loupe - they are visible in the photo because of the angle, lighting and magnification. Note that they are not readily visible with the unaided eye (depending on eyesight) and they are really interesting under a microscope, proving the stone is natural. (ksn-93-06a) $2,184 (Refaceted in the US by one of our cutters to make an even better looking stone in polish, brilliance, etc!) Turns

Red

under Chelsea Filter, an indication of Cobalt but because this is not a blue, the coloring agent might actually be Iron in combination with Cobalt.
To View Only the Mahenge Spinel in Inventory, Visit the Following Page:
(The Mahenge Spinel Page is a subset of this page, displaying Mahenge Spinel Only)
Mahenge Spinel
Note: Magnification and bright lighting is required to photograph gemstones. Some inclusions may be visible under these circumstances. You are viewing photographs as if you were using a loupe or microscope - not your unaided eye. Under normal conditions, these inclusions may not be visible.
Not responsible for mismatches of prices, photos, stocknumbers, etc.
<! code to insert on Photos Pages and others, where one wants the Payment Info/Intent to Purchase Form to appear -->
Buy Now Using the Following Options:
We continue to utilize Square, Venmo, popmoney, Wise and other services/applications, as well as Personal/Bank Checks, Wire Transfers and Bank to Bank ACH. We are always seeking additional options which would be reliable, safe and user friendly.

Contact us via Phone, Email or use our Intent To Purchase Form to discuss payment. Square, Popmoney and Wise links are below. Square is similar to PayPal, but an account is not required; Popmoney is bank/bank, account to account; Wise (formerly Transferwise) is typically for International Transactions/Foregin Currency but also works within the United States.

NOTE - For those who must utilize PayPal, we can provide an invoice or have funds sent to a PayPal account we have access to. There will be a 3% charge for this service, which PayPal charges - regardless of whether the item is returned. This is PayPal's mandate as of October 2019 - the only payment application that we are aware of that will not return their fee if an item is returned. We no longer offer PayPal as a standard payment option...

Purchase using Square:
Learn More by clicking on the logo!  
Purchase using Venmo:
Learn More by clicking on the logo!  
Purchase using Popmoney:
Learn More by clicking on the logo!  
Purchase using Wise:
Learn More by clicking on the logo!  
For purchases using another form of payment, please use our
Intent to Purchase Form.
You may also telephone or send an email: Contact All That Glitters