Decorator Items for the Home
Includes larger mineral specimens, sculpted/carved gemstone material, antiquities, etc.
Items listed here would typically be found displayed in a home (window, bookcase, curio cabinet, desk, bureau...)
Note - many of our Mineral Specimens would be ideal for a curio cabinet, shelf, etc. so please visit our Mineral Pages as these items might not appear in our Decorator category!
Large Double-Terminated Quartz Crystal with numerous transparent green to blue Tourmaline crystals - approx 6-1/2" high. From the Naipa Mine, Alto Ligonha, Zambezia Province of Mozambique. The first photo shows the two terminations of the Quartz at the top, and a larger photo of this image is available below. Other photos below show the specimen as it is rotated, to show the large number of Tourmalines that are scattered on the surface, with many being able to be seen imbedded in the Quartz itself, and more are probably totally hidden inside. Unsual for such transparent crystals, and the color is also very good from green, to green blue to blue. This piece has a lot of check marks for specimens of Quartz with Tourmaline growing on its surface and internally as the quartz grew around the Tourmaline crystals that were originally on the surface of the Quartz but were engulfed by the Quartz as it grew! (jrod-19-01b) Initial Offering Price of $2,500.
Detail/Closeup of Main Photo Above
Detail/Closeup - 1
Detail/Closeup - 2
Detail/Closeup - 3
Detail/Closeup - 4
Roman Bronze (approx. 300BC). Said to depict Cupid, but posssibly a Roman athlete playing the ball game of Harpastum, as one can clearly see what looks like a ball in the palm of his right hand. Found in Northern Jordan back in the 1980s along with some other small bronzes. Measures 4-1/2 inches high. (ja-19-04) $1,975
Detail - Large View
Left Side
Right Side
Back
Front - Detail/Closeup
Back - Detail/Closeup
Wollastonite Skarn from Primorye (Primorsky)Region, Dalnegorsk - Russsia. (Skarn is a metamorphic rock that has been chemically and mineralogically altered by metasomatism. Wollastonite is a common mineral in skarns or contact metamorphic rocks. Skarns can sometimes produce some wonderfully rare and exotic minerals with very unusual chemistries. Wollastonite forms from the interaction of limestones, that contain calcite, CaCO3, with the silica, SiO2, in hot magmas.) The deposit that produced this natural work of art, was said to be active about 41 years ago when this piece was mined/polished. This unique 7"x4.5" plaque is surrounded by a black polished mineral border. The natural design consists of black and what seem like a very light beige to very light green depending on lights. The darker yellow color seen on the left had side is a shadow. Incredibly beautiful and certainly looks like a design that an artist has created, but it is entirely natural - only polished! These uncommonly beautiful natural occurring mineral slices are frequently purchased by collectors due to the designs, colors, etc. and may see very high prices. Like many gemstones, these unique plaques can be very indivualistic and are rarely seen and not often available on the market. In 41 years in the gemstone/mineral business, All That Glitters had never seen an item such as this and the color as well as the design was fascinating enough to be placed into the All That Glitters inventory. (geork-19-01) $1,029
Front
Back
Closeup 1
Closeup 2
Closeup 3
Closeup 4
Large 2,710+ct Quartz Crystal with beautiful inclusions including several sprays of crystals. Surfaces have been polished to allow viewing from all the natural crystal faces. Would look beautiful on a lit base or perhaps on a lit custom-made bronze base with hand-applied patina to match the color of the inclusions! We know an artist that can be contacted to create a custom bronze lit base! (tccl-18-01) $1,275.
Russian Mineral Slab most likely from the Ural Mountains, measuring approximately 7-5/8"x5-3/8" - with the frame measuring 10-3/4"x8-1/2". Aesthetically beautiful and entirely natural. Note the incredible symmetry which seems almost too perfect to have been created by nature! This contains Azurite (blue) and some Malachite (green), but the other colors/minerals are currently unknown - the colors blend harmoniously. Excuse the reflections which are present in the photo due to the high gloss of the slab. If you click on the upper image, a larger image will display. This piece of natural artistry is housed in a custom cut/joined frame, matte black, with two borders of a reddish color which pick up the reddish orange in the slab itself - a wonderful marriage of the art and frame! (This piece is ready to hang, having all the hardware/wire on the back) Truly a piece of art that, if more common and available, perhaps some art galleries would hang on their walls. This is a piece of natural art that can grace someones home and one doesn't have to worry about the same issues as a standard piece of art on canvas, paper, etc. (minruss-17-01) $900 (Note that we saw some slabs from Russia in Tucson (2017) of about the same size, housed in a non-custom inexpensive frame from most likely a bargain outlet. The colors were more of the blue/green that are common when one indeed finds a 'similar' item but the symmetry and design was not present. If that particular piece were priced based on retail markups, it would be selling for $1400-$2100. In an email conversation with a well-known on-line auction house, they estimated this piece would sell for between $1000 - $2000, without the frame.)
Large 485+ct Clear Brasilian Quartz with numerous well-defined Green Epidote Crystals. This material is available in smaller sizes out there on the market, including in All That Glitters inventory, but to have such a large water clear piece with transparent green crystals, is very uncommon. (The price per carat for smaller pieces is far higher than the price per carat of this piece - to be marked at the same price per carat would mean this piece would have a price tag of just under $3,500 - and that price could be more of the expected price if one were to find a similar one for sale.) Great for display in a curio cabinet or as a paperweight. (mpnto-17-01) $1,455 (Only $3/ct!) Measures approximately 75x35x26mm (about 3" long!) Click on the above image to view a closeup of the needles...
We knew we had great prices on our unique Agate Slices, but one at auction in 2016 was nothing special in color and pattern, nor very aesthetically pleasing (unlike our hand-selected pieces below). Pricing was multitudes higher than our All That Glitters pricing!   Agate Slice at Auction
Natural Agate Slice from the Tabajaran Mine in Rio Grande du Sul, Brasil. (ngi-15a-02c) $575
With custom wooden stand as shown.
For a more detailed photo of this piece, click on the image above.
Natural Agate Slice from the Tabajaran Mine in Rio Grande du Sul, Brasil. (ngi-15b-02b) $475
For a more detailed photo of this piece, click on the image above.
Natural Agate Slice from the Tabajaran Mine in Rio Grande du Sul, Brasil. (ngi-15b-02c) $575
For a more detailed photo of this piece, click on the image above.
Natural Agate Slice from the Tabajaran Mine in Rio Grande du Sul, Brasil. (ngi-15b-02i) $525
For a more detailed photo of this piece, click on the image above.
A gorgeous Agate Slice measuring approx 19"x15" and set into a custom wooden base. From the Tabajaran Mine in Rio Grande du Sul, Brasil. Weighs over 30 pounds. Please contact us for a specific price quote for shipping, as this item falls into a different category vs. the shipping of gems. (ngi-15a-01) $2100 Comes with the custom wooden display stand shown in the photo.
For a more detailed photo of this piece, click on the image above.
Click on the following link to see how beautiful this slice can be when placed in the proper setting within a home!


Decorating Ideas
Medium sized Agate slice measuring approxing 15"x12" with custom-made wooden base. See how beautiful this slice can be when placed in the proper setting in a home! Please contact us for a specific price quote for shipping, as this item falls into a different category vs. the shipping of gems. (ngi-15b-01) $1,475 Comes with the custom wooden display stand shown in the photo.
For a more detailed photo of this piece, click on the image above.
Click on the following link to see how beautiful this slice can be when placed in the proper setting within a home!


Decorating Ideas
An extremely large Black (Schorl) Tourmaline Crystal from China with a custom-made stand (possible Cherry or Teak??). There seems to be a layer running horizontally near the base that seems to have some color, green, and that might be a layer of Green Tourmaline. The piece is in wonderful condition, shows numerous other crystal faces on the sides, is well terminated, and is something that one just doesn't see in this size. From top to bottom of the crystal, it measures about 4.5" and across piece, it is again about 4.5". (sissto-14-01) $1,275
Outdoors - on white paper
Outdoors - transmitted light

People have said this part of the slice looked like ET....

An incredibly beautiful and unique, one of a kind Agate Slice from the Rio Grande do Sul area of Brasil, specifically from Salto do Jacui. In 30+ years, we haven't seen anything like this, but we have seen some designer pieces where similar concentric circles have been cut out of agate and made into round pieces for high end jewelry or collectors - selling at about $400 each. (rock3k-13-01) $1,825 Comes with a custom wooden stand for display - perfect for the top of a desk, bureau or curio-cabinet.
Unusual Quartz Geode with Tourmaline
C
rystals!
Ruler for Scale - A Hefty Piece and Fairly Thick!
Slice held up to daylight - Black Tourmaline commonly granular and some pieces missing, making an even more interesting piece!
One of the open spots of the slice actually shows wonderful quartz crystallization!
When this was encountered, we had never heard of Tourmaline crystals being found in Quartz geodes. This was a surprise to find and we snapped it up. In conversations with others, it seems that it is known to occur but it not common. We are currently awaiting more information, as we have sent an email to GIA as well as a very well-known mineral dealer. We did hear back from a well-known mineral dealer who indicated that he thought this would sell for about $2,000. However, his email seemed to indicate that he might have been thinking this was a much smaller slice of a geode and we got the impression that he was comparing it to a sliced tourmaline crystal. Our feeling is that even with photos, he didn't grasp that this was a huge quartz geode that contained tourmaline crystals - probably because he had never seen or heard of such a thing either. As in other All That Glitters inventory, this is priced to sell and we don't hold items back for personal use or a collection, though this is certainly something that we had never seen before in the past. Priced inexpensively considering the size, uniqueness (one-of-a-kind?) and the weight!.... (micho-13-01) $750
A VERY Large Slice of Petrified Wood originating from Madagascar and measuring approximately 14.5" across and 13" top to bottom. The smaller photos above show some of the detail of the piece. In some of the nooks and crannies, there are crystals growing as well as some other unusual formations when one studies it more closely! (normad-12a-01) $775
(Shipping is $50 - should it cost any more than that, we will pick up the extra charges)
An approximately 7" across slice of Madagascar Petrified Wood showing growth rings in a section - a very unusual and unique feature! (normad-12b-01) $350
An approximately 7" across slice of Madagascar Petrified Wood - very colorful as one can see. (normad-12b-02) $300
This is a beauty from a famous location in China, and came from a person who wrote a detailed technical report on the location and analysis of this particular locale. We are attempting to obtain more information, but the language barrier can be a problem. This piece sits on its own custom carved base (rosewood?). Besides the main Emerald crystal, there is a small one near the base and under the large one as seen in the photo; some color to the left of the large one and above the quartz; and also part of a crystal on the back/top. We can tell you that it is from the Malipo Area, Yunnan, China. Approximate measurements are 3 inches across the widest part of the front, 3" high and about 1.5 inches thick. Fine Quality Mineral Specimens have been fetching outrageous figures. We have seen interesting aesthetically pleasing Pyrite pieces fetching up to $40,000. (smc-10-01) $1,779
The unique crystals we have in Beryl, Emerald, Garnet, Tourmaline and others, seem ridicuously low...
Weighing in at an amazing

1,563cts

,

this piece of multi-colored Burmese Jade was sculpted into a marvelous lizard. We particularly liked the banded feature of this piece as it is truly reminiscent of some lizards. Difficult to find good carving material and the price of carving has gone up tremendously! (btgem-11-01) $2,495
Camille the Two-Toned Burmese Jade Chameleon - Currently All That Glitters Mascot!
This unique, well executed Jade Carving originates where fine Jade is to be found - Burma. It is two-toned and this natural aspect of the natural material has been expertly integrated into a Burmese Chameleon weighing approximately 317cts of Jade! Our new mascot will probably not be around too long, and some might even say that it is endangered. Some astute collector of Jade, the unique, chameleons, jewelry store, etc. will see this and add it to their collection. This is the first carving that we felt was of high quality and not overly priced - and we have been looking for items of quality and distinction for over 20 years! We honestly do not have a feel for pricing such an item which was intricately carved over many hours or the price of this interesting two-tone 317cts of Jade, but we are basing the price on our cost. We really don't want to part with Camille, but if she finds a better home, we will let her go and only hope that we can find some of her relatives..... (chapr-05-01) $4,275 Interesting facts about Camille - she weighs 317cts!!! Her overall length is approximately 3 inches and her height is about 2 inches. She has been photographed for a magazine article which can be accessed via the link below. Not too many have the opportunity to own an item that was seen in a magazine around the world! (Not to mention, it is Genuine Natural Jade too!)

As seen in Cedar WIngs Magazine

Cedar Wings Article

*** Click on any of the images above for a larger view! ***

Comes with a Hand-Made Wooden Stand!
Left Side
Right Side
Front View
Bottom
This one-of-a-kind piece was carved from a piece of fossilized wood (agatized) found in Nevada. Expertly sculpted it depicts a mother octopus guarding her young which are still in the egg sacs. Measures approximately 3"x2"x1.75" ( rstvn-11c-01) $1,675
A wonderful piece of art and antiquity. Signed by the artist. Purchased decades ago. $2,175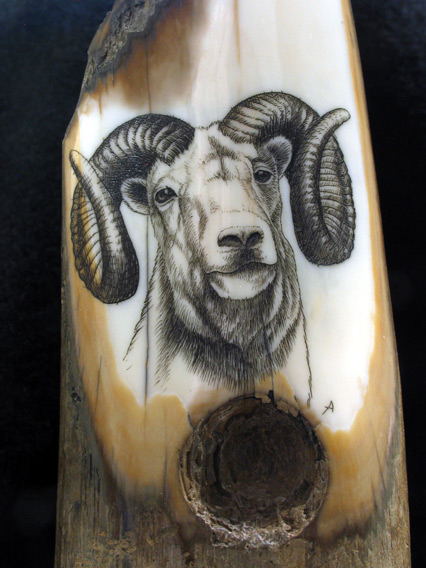 A wonderful piece of art and antiquity. Signed by the artist. Purchased decades ago. The back has more of these holes, which most likely were made to make fire. $2,375
Both of these pieces are featured in:
Gemstones - Understanding, Identifying and Buying, by Keith Wallis
This beautiful Bronze Thai Buddha Head came from one of the capitals of Thailand (Sukothai) back in the early part of the 1800s. It would have been in a shrine in a wealthy home owner or possibly in a temple. It is quite common to find just heads of statues because it was a common practice to cover solid gold buddha statues with other common material, thus hiding the fact that the statue was gold from those who might be invading the area from neighboring countries. The heads were removed to verify that it was not gold beneath! This piece measures approximately 4" from the bottom to the top of the head. (tem-10-01) $2,100
Terra Cotta Head, Tolita-Tumarco C, 500 BC/AD; La Tolita, Ecuador. The head measures approximately 2.5" from the top to the bottom. Just a beautiful piece that we could not pass up. Custom stand is included in sale. (prmgns-10-01) $875
This nice piece came from a dealer in Belgium that we have dealt with for decades. As can be seen in the above label, it is Aztec, from Coatlinchan and looks as if it found its way into a collection/museum back in 1955. We haven't had an Aztec piece in the past, so wanted to offer this to our customers to collect antiquities. (prmgns-10-02) $875
A bronze donkey carrying salt plates. Crafted by the Senufo Tribe something before 1900. Approximate dimensions: 3.75"Lx2.5"H Former All That Glitters Collection (palart-09-01) $949 (Larger photos available upon request)
Bronze Shiva of Indian Origin - approximately 18th Century. Believed to have been brought to Sweden during trade between the two countries 200 hundred years ago. Purchased in Sweden at an auction house. Approximate dimensions: 3.5"H x 4"W (diagonally) (Larger photos available upon request) Former All That Glitters Collection (palart-09-02) $1,975
We have produced some macro (close-up) photographs and created Giclee Museum Quality Canvas Prints of some of our Artistic and Aesthetically Pleasing Natural Mineral Specimens. Each image is on canvas and stretched on 3/4" stretcher bars. These can be easily framed or just hung on the wall as is. There is a UV coating making the images more resistant to fading in bright light.


Shipping for each giclee is a flat fee of $40 - U.S. ONLY. All That Glitters will pay shipping costs over $40!

Image

Size (inches)

Description

Price




19x21

Crazy Lace Agate


$225



19x25


Crazy Lace Agate


$260


18x20

Laguna Agate

$195



18x18


Mushroom Jasper


$180




10x8





Polka Dot Agate





$100



10x13


Brasilian Agate with
Sagenite Crystals


$120

9x12

Chinese Chalcedony (I)

$110
9x12

Chinese Chalcedony (II)


$110
9x12


Chinese Chalcedony (III)


$110
The following 7 items are plaques, with the centers being Russian Ural Jasper. Believe the frames to be onyx, but it has not been tested. There is a handle on the back of each piece. To insure safety, it is recommend that you frame the pieces and hang them that way, or use a wooden, brass or similar tripod as one would display a dish. As you can see from the photos below, 3 pieces are similar, as the Jasper was sliced revealing similar colors and patterns, but still very distinct and different from the other. We have had a few of these unique and collectable works of art over the past several years, with many in the trade purchasing them for sale in their storefronts, but the person who used to find them on occasion during his travels through his native Russia, is now retired. We came upon a person who had 7 pieces - and after tough negotiations, we purchased all 7. We are happy to offer them to our online customers. These pieces measure approximately 5x5.5 inches and do vary, but not much.


Each piece is priced at only $269 unless otherwise marked .
Russian Ural Jasper Plaque (in-10-01a)
Russian Ural Jasper Plaque (in-10-01b)
Russian Ural Jasper Plaque (in-10-01c)
Russian Ural Jasper Plaque (in-10-01d)
Russian Ural Jasper Plaque (in-10-01e) $379
Russian Ural Jasper Plaque (in-10-01f)
Russian Ural Jasper Plaque (in-10-01g) $379
Note: Magnification and bright lighting is required to photograph gemstones. Some inclusions may be visible under these circumstances. You are viewing photographs as if you were using a loupe or microscope - not your unaided eye. Under normal conditions, these inclusions may not be visible.
Not responsible for mismatches of prices, photos, stocknumbers, etc.
<! code to insert on Photos Pages and others, where one wants the Payment Info/Intent to Purchase Form to appear -->
Buy Now Using the Following Options:
We continue to utilize Square, Venmo, popmoney, Wise and other services/applications, as well as Personal/Bank Checks, Wire Transfers and Bank to Bank ACH. We are always seeking additional options which would be reliable, safe and user friendly.

Contact us via Phone, Email or use our Intent To Purchase Form to discuss payment. Square, Popmoney and Wise links are below. Square is similar to PayPal, but an account is not required; Popmoney is bank/bank, account to account; Wise (formerly Transferwise) is typically for International Transactions/Foregin Currency but also works within the United States.

NOTE - For those who must utilize PayPal, we can provide an invoice or have funds sent to a PayPal account we have access to. There will be a 3% charge for this service, which PayPal charges - regardless of whether the item is returned. This is PayPal's mandate as of October 2019 - the only payment application that we are aware of that will not return their fee if an item is returned. We no longer offer PayPal as a standard payment option...

Purchase using Square:
Learn More by clicking on the logo!  
Purchase using Venmo:
Learn More by clicking on the logo!  
Purchase using Popmoney:
Learn More by clicking on the logo!  
Purchase using Wise:
Learn More by clicking on the logo!  
For purchases using another form of payment, please use our
Intent to Purchase Form.
You may also telephone or send an email: Contact All That Glitters