Gemstones - MAHENGE Garnet
So what is Mahenge Garnet??
Mahenge Garnet was discovered a number of years after the amazing discovery of Spinel in Mahenge - you will often here the term Mahenge Spinel for exceptionally colored Spinel, just as you now hear the term Mahenge Garnet. Mahenge is a town in the Mahenge Mountains of Tanzania. It is the headquarters of Ulanga District in Morogoro Region. The Spinel deposit occurred in 2007 and in about 2015, the area began to produce beautiful Garnet also - usually clean, dispersive, bright colors in pinks, magentas, purples and some oranges as well as true Padparadscha colors. The range of colors was wide as well as unique at times. The pricing on this material has always been high, especially for larger pieces say over 3cts and of nice color. One piece of rough we saw in about 2015, would cut about a 15ct gemstone. The price on the bag containing the rough was $15,000 - and it was already sold. We believe that it sold for slightly less than this, but overall when cut, this Mahenge Garnet would have to sell for over $15,000 to break even. Obviously, not every Garnet or gemstone from Mahenge should be highly priced, but for those exceptionally colored ones, especially of size, expect to see high prices.
Below, are two screen grabs of information we found online pertaining to Mahenge Garnet. We recommend that those who haven't seen this material, seek out fine examples at a show to see what this material can look like. Most likely stores, especially chain stores, will not have this gemstone as it is more of a collector gemstone or for those in the know versus the average consumer. Then again, most consumers do not realize that Garnet is just not red, but comes in orange, green, yellow and even color changing Garnets exist. Though there are blue to purple color change or color shifting Garnets, there hasn't been one that just shows a nice pure blue...but mark our words, the Garnet Group is VERY diverse and it is only a matter of time!...
Mahenge Garnet (1.19ct), purplish pink, in an intersting parallelogram or diamond shape, giving a few possibilities on how to set. Faceted in the U.S. (ag-19-01nr) $130 including Full Insurance/Shipping via USPS Priority!
Oval Color Shifting Mahenge Garnet weighing 4.27cts, Oval. In diffused daylight, it is a deep rose, and under various other lights, can look more salmony taking on more orange. Faceted in the U.S. $2,135 (ctmc-17a-01c)
5.72ct Orangy Mahenge Garnet, Square Cushion, U.S. Faceted - some inclusions (very small pinpoints which might turn out to be platelets, which have been seen in similary colored Garnets in Africa/Madagascar, including the Imperial Malaia Garnet that the owner of All That Glitters named and submitted to the Gemological Institute of America (GIA) for study - appearing in Gems and Gemology Magazine) but not noticeable to the naked eye due to the incredible sparkle, polish and brilliance! The orange Mahenge is not common, nor is this size. Would describe the color as orangy, perhaps smoky orange under fluorescent light, but more pink under incandescent light - so some color shifting will be seen, which is another interesting feature of this gemstones! $3,718 (ctmc-17a-01b)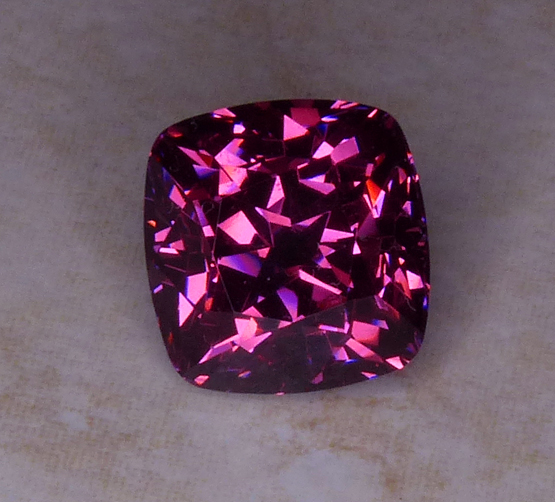 Large Beautiful Magenta 8.59ct Square Cushion Mahenge Great - huge for this material! Color is gorgeous and could also be described as a reddish purple going to a reddish pink depending on lighting. U.S. Faceted. $6,872 (ctmc-17a-01a)
Visit our other Garnet Inventory Pages to view more photos of the Garnet Group:
Miscellaneous Garnets - May not displayed on the pages below
Color Change/Color Shifting Garnet
Mahenge (New Location/Colors Create Demand)
Spessartite (Orange)
Demantoid (Green Andradite)
Tsavorite (Green Grossular)
Imperial, Imperial Malaya, Champagne or similar
Note: Magnification and bright lighting is required to photograph gemstones. Some inclusions may be visible under these circumstances. You are viewing photographs as if you were using a loupe or microscope - not your unaided eye. Under normal conditions, these inclusions may not be visible.
Not responsible for mismatches of prices, photos, stocknumbers, etc.
<! code to insert on Photos Pages and others, where one wants the Payment Info/Intent to Purchase Form to appear -->
Buy Now Using the Following Options:
We continue to utilize Square, Venmo, popmoney, Wise and other services/applications, as well as Personal/Bank Checks, Wire Transfers and Bank to Bank ACH. We are always seeking additional options which would be reliable, safe and user friendly.

Contact us via Phone, Email or use our Intent To Purchase Form to discuss payment. Square, Popmoney and Wise links are below. Square is similar to PayPal, but an account is not required; Popmoney is bank/bank, account to account; Wise (formerly Transferwise) is typically for International Transactions/Foregin Currency but also works within the United States.

NOTE - For those who must utilize PayPal, we can provide an invoice or have funds sent to a PayPal account we have access to. There will be a 3% charge for this service, which PayPal charges - regardless of whether the item is returned. This is PayPal's mandate as of October 2019 - the only payment application that we are aware of that will not return their fee if an item is returned. We no longer offer PayPal as a standard payment option...

Purchase using Square:
Learn More by clicking on the logo!  
Purchase using Venmo:
Learn More by clicking on the logo!  
Purchase using Popmoney:
Learn More by clicking on the logo!  
Purchase using Wise:
Learn More by clicking on the logo!  
For purchases using another form of payment, please use our
Intent to Purchase Form.
You may also telephone or send an email: Contact All That Glitters