Gemstones - Ruby
Expect to Pay Much More in a store setting, IF you can even find the size, quality, color, clarity and cutting!
(This is where it benefits individuals or the trade to deal directly with a company/individual with more than 35 years in the gemstone trade. All That Glitters' L. Allen Brown deals directly wiith associates living in other countries and travels in person around the world to make these direct purchases. Many times this includes purchasing the rough gemstones and faceting the gemstones using gemstones cutters in the United States! There is no substitute for experience and knowledge learned in the field...)
Import History of Burmese Rubies:
The U.S. government banned the import of rubies as well as Imperial Jade from Myanmar (Burma) in 2003 as part of sanctions against the country's ruling military. A loophole permitted the purchase of gems originating in Myanmar as long as they are worked/cut/faceted/polished in third countries such as India or Thailand. The import therefore allowed rubies mined in Myanmar and imported to the U.S. so long as they were cut and polished in another country. This loophole was closed in 2008, and the ban on rubies and jade was lifted entirely in 2016.
Burmese Rubys are known around the world and some consider them to be the finest available.
The owner of All That Glitters was looking for these gemstones while in Thailand, on the Burmese Border as well as in Burma, but the problem was that there were only a few Rubys that met the criteria for placement into the All That Glitters inventory: Great Color, Decent Clarity and Cutting and also very important, Price. Very few pieces met this criteria, though we were prepared to purchase what we could. Hopes were high but were dashed due to the availability of this rare commodity...
Burmese Rubys setting new auction records include:
in 2015, the Sunrise Ruby became the world's most expensive coloured gemstone, selling for $30M at auction. It was sold in Switzerland to an unnamed buyer, and becomes the most expensive gem which is not a diamond.
2006 saw a new record of $3.6 Million Dollars for a 8.62ct Burmese Ruby.
In 2010, a 8.66ct sold for $2.1 Million Dollars.
And there are currently many more examples!
The Red of Ruby as well as the color change of Alexandrite is very difficult to capture what the eye sees vs. what the camera captures. The true colors of rich ruby, as many of these are, just do not photograph well. The recently photographed Rubies described as Purplish Red are even more difficult to photograph and the existing photos posted here we feel are not good representatives of the true colors. All of these Rubies are higher end fine quality pieces and well priced. We offer our 10 Day Satisfaction Guarantee - so if you are not satisfied with your purchase for any reason, you may return the item for a full refund less the cost of shipping/insurance and other fees that might have been incurred. We have a wonderful sales record with only a handful of returns in 35+ years, and most of these are all due to unusual circumstances, and a few where people were trying to match colors to existing gems (which is one of the most difficult things to do...).
1.60ct UNHEATED Fancy Cushion Ruby of a Magenta Red color. Difficult to obtain good photo with accurate color. (awa-20-01) $6,400
View Cert
1.61ct Purplish Red Square Cushion Ruby. Difficult to obtain good photo with accurate color. (nwgl-20-01)


SOLD! (Goldsmith)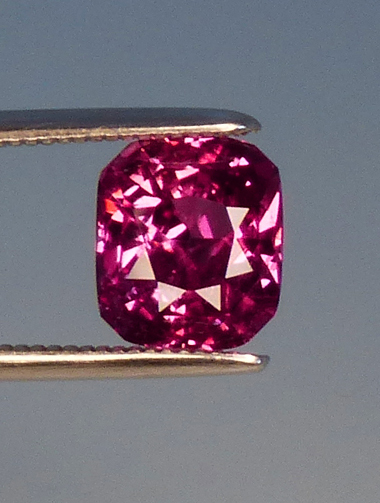 1.25ct Squarish GIA Certed Purplish Red Ruby! (btree-19-03) $3,750
View Cert
An Incredible UNHEATED LARGE RUBY weighing 5.67cts!!
Many gemstones (Sapphire, Ruby, Tourmaline, Aquamarine, Tanzanite and others) are routinely heated. This partciular Ruby is Unheated and well cut with no blemishes on the surface due to voids, scratches, etc. - also unusual in most Ruby/Sapphire unless faceted in the U.S. This is a very fine large Ruby and a very important gemstone, something that has taken us four decades to find in our travels abroad and was thought to be very worthwhile to have in inventory.

Color is always difficult to capture correctly and even attempts to correct color can fail as the camera doesn't capture the color the eye sees. Then there is color rendering on various mobile devices which adds another layer and possiblity of incorrect color display. The color as described by GIA is Purplish Red. Depending on the lights one sees magenta (or purplish) body color but also red - all dependent on the lights available and the wavelengths found in those lights. This is one of those gemstones that one has to be seen in person, as that way the color is correct for one's vision/color perception, one can appreciate the cutting, brilliance, polish, sparkle etc. in real time as the gem is tilted, producing life, sparkle and various colors. A nicely cut, better than eye clean, 5.67ct GIA Certed Ruby, that is Unheated...very uncommon indeed.

Origin is the land/country of Sapphires and Rubies...Ceylon. The most costly Rubies have been from Burma, with a fine red color, unheated and frequently seen as being sleepy due to fine inclusions. The Graff Ruby - an 8.62 carat Mogok Burmese Ruby set in a Diamond Ring, by Graff, sold for $8,600,410 ($997,727 per carat - Sotheby's Geneva, November 2014).

The All That Glitters 5.67ct Purplish Red Ruby, very clean, well cut, unheated gem is not exactly in the same category as the Graff Ruby, but it is in a category of its own as gems like this are just tyically not seen on the market.
(Yes, we have a nice selection of Fine Burmese Rubies also!)

Measures approximately 11.71 x 8.92 x 6.75mm (essentially a 12x9mm) (egaj-15-54) Price Upon Request.


GIA Cert
Gem/Mineral Photograper Jeff Scovil Photographs All That Glitters LARGE Ruby!
The talented Gemstone/Mineral Photographer Jeffrey A. Scovil at the Big E in Springfield, MA (08/10/18) photographing our incredible 5.67ct, GIA Certified UNHEATED Purple Red Ruby. Incredible size, cutting, clarity, etc. One of the most important gems in our 37+ year inventory! See image above.
GIA Certed 1.49ct Square Cushion Ruby - UNHEATED! Nice size, sparkly and priced to move at only $5000/ct!
Photo doesn't do this gem any justice as it doesn't show the sparkle or a true color rendition. (egpl-18-02) $7,450
GIA Cert
1.03ct UNHEATED Ruby, certs indicates red with a modifier of purple. Unheated Ruby is not common and this is priced way below what one would expect. (awa-17-06) $4,200
View GIA Cert
1.05ct Bright Red Ruby - can be seen from a long distance! A give-a-way at $3,200. (awa-17-07)
View GIA Cert
0.81ct Certed Ruby (mcm-96-01) - $2,916
Under high power microscopic examination, the natural inclusions indicate No Heat.
IGI Cert
and
Microfilm
A really wonderful pure red and what one seeks in a fine Ruby. Photos never do a gemstone justice, as capturing true color with a camera is difficult and colors vary on every device where displayed. Also, a photo does not capture sparkle, brilliance, polish and dispersion if available. The color of this Ruby is very close to the color seen in the smaller of the two photos. This is a smaller Ruby compared to others we have inventory, but it is over 3/4cts and a real beauty - cert/microfilm included. Also note that the cert indicated Red as the color with no other modifiers. Unfortunately, obtaining a good photo of the color and sparkle has not been possible. The top photo show more of the color red whereas the bottom shows more of the sparkle of this gem.
A
B
A - 2.34ct Star Ruby (egaj-15-32)
B - 3.43ct Purplish-Red Star Ruby (egaj-15-02b)
A
B
A - Unheated (Certed) 79pt Oval Red Ruby from Madagascar. (egaj-15-66) $2,370 - View Cert
B - 90pt Oval Purplish Red Ruby. (egaj-15-48) $2,700 - View Cert
A
B
A - Unheated 1.07pt Oval Red Ruby - Mozambique (kjcl-15a-09) $4,815 - View Cert
B - 1.41ct Square Cushion Raspberry Red Ruby. (egaj-15-25) $6,345 - View Cert / GIA Cert
Pinkish Red 1.10ct Unheated Ruby (African) (nee-15-02) $4,950 - View Cert
Neon Pinkish Magenta 1.13ct Oval Ruby from Mozambique. (kjcl-15b-03) $4,238
Unheated 1.39ct Cushion Shaped Ruby of a Pinkish Red color. (egaj-15-30) $7,645 - View Cert
GIA Cert
An EXCEPTIONAL Glowing Neon Pink Red 1.70ct Cushion Ruby - Unheated! (egaj-15-69) $17,000 - View Cert
GIA Cert
2.05ct Unheated Ruby, Cushion; Red with subtle overtones. Photo doesn't do the gemstone's beauty/color any justice. (egaj-15-03) $20,050 - View Cert
GIA Cert
Unheated 0.98ct Ruby - GIA Certed!
GIA Certed Ruby weighing 0.98cts, purplish red, UNHEATED; (egaj-11-03) $3,920
View GIA Cert
GIA Certed 1.13ct Ruby!
1.13ct Purplish Red GIA Certed Ruby (egaj-11-61) $4,520
View GIA Cert
GIA Certed Purplish Red Ruby!
1.50ct oval Purplish Red Ruby from Ceylon. GIA Certed. (ajay-15-01) $6,000
View GIA Cert
GIA Certed UNHEATED 1.55ct Ruby!
GIA Certed 1.55ct Purplish Red Ruby - UNHEATED (egl-08-02) $9,300
View GIA Cert
GIA Certed UNHEATED 1.73ct Ruby (or Sapphire??) - Color Shifter!
Best Description: Purple Sapphire under Fluorescent/Red Ruby Under Incandescent!
This INCREDIBLE 1.73ct gemstone from Ceylon (Sri Lanka) color shifts. This gem stood out among many hundreds of Rubies that we were looking at. It is a very UNIQUE piece, as in person you can see two distinct colors depending on the lights. Ruby and Sapphire are the same mineral (Corundum) and it is only the percentage of red that makes a Sapphire, a Ruby. Under fluorescent light, it is more purple and therefore, we would call it Sapphire - as did a lab in Bangkok. Under incandescent light, it dances with sparkle/scintillation and displays a red with some purple highlights. Under GIA grading lights, this was graded a Purplish Red Ruby. In over 39 Years in the gemstone business, we haven't had a little beauty quite like this - nor have we seen a gemstone in corundum that shifts from a Sapphire to Ruby or Ruby to Sapphire depending on the lights/wavelengths available.

This particular gemstone was discussed with another Gemologist (degree from GIA and an appraiser north of Boston). He also thought it a unique gem and was surpised to see that one could call it a Sapphire or even a Ruby - dependent on the lighting. This gemologist believed that GIA would note the color change/shift. After receiving the gem back from GIA, the owner of All That Glitters called the GIA Gem Lab to see why this characteristic wasn't noted on the cert. We were put in touch with a person whose specialty is colored gemstones within the lab and he indicated that he remembered the gemstone and that internally, they had discussions on this very piece, comtemplating what the cert should be and what the content should read. It was also noted that the gemstone displayed a Reverse Color Change/Shift - another physical property that just adds more interest and rarity to the piece! For some, this gemstone causes a dilema - how can a faceted Corundum be both a Sapphire and Ruby? Rather than issuing perhaps a Sapphire or Ruby Report, perhaps identifying it as Corundum, with a color change/shift from Red to Purple depending on lights/wavelengths available, and with a comment indicating that this is a color change or color shifting Natural Corundum (No Heat) and that it may be called a Sapphire under some lights or a Ruby under others, could indeed cover all bases.

This is a rich saturated gem, but not overly dark- as noted, there is more sparkle under incandescent lights, which is probably due to Chromium which gives Ruby color and glow. GIA Certed Ruby and another plus - Unheated! (svd-07-04) (Price Upon Request)

View GIA RUBY Cert
View SAPPHIRE Cert
Glass Filled Ruby Discussions - March 2010 Major Chain Selling Without Disclosure
Learn More - Glass Filled Ruby Article
Many companies may have treated their Rubies with fillers or have even used a technique called diffusion treatment (usually with Beryllium), which adds un-natural color to obtain a better looking Ruby and increase the final price to the consumer. All That Glitters avoids this treatment and will disclose if this process has been performed. This treatment may be acceptable in the market in the future, but it should certainly be disclosed and the price should be adjusted accordlingly. Refer to the following link to learn more:
Caveat Emptor - Buyer Beware
Note: Magnification and bright lighting is required to photograph gemstones. Some inclusions may be visible under these circumstances. You are viewing photographs as if you were using a loupe - not your unaided eye. Under normal conditions, these inclusions may not be visible.
Not responsible for mismatches of prices, photos, stocknumbers, etc.
Buy Now using your PayPal account:

Purchase using popmoney:
Learn More by clicking on the logo!
Purchase using Transferwise:
Learn More by clicking on the logo!
For purchases using another form of payment, please use our Intent to Purchase Form.
You may also telephone or send an email.