Gemstones - Spessartite Garnet
"Is it any wonder that we were quoted prices just over the $1,000 per carat mark at Tucson for luscious large spessartite? Months later, prices quoted to us for eye-clean, top-color 3 to 5 carat stones ranged from $400 to $800 per carat. If you didn't mind some gas bubbles or other small eye-visible inclusions, prices were generally half those for eye-clean stones."
Read More - Modern Jewelers May 2008 Spessartite Article
The Orange Spessartites described in the article above wholesales for approximately $400-800/ct in 3+ct sizes, which is the smallest that All That Glitters typically purchases. We offer to the pubic the fine gemstones shown below, which are all BELOW what you would even expect to pay if you were in the trade! We buy direct from the sources selling the rough or faceting the rough. We typically do not purchase rough ourselves because the rough can be difficult to determine the clarity; best to buy an already faceted gemstone so one knows what one gets in clarity, as well as the final color, as many garnets and other gemstones may look very different in the rough vs. the faceted gemstone...
Price lists for most high end fine colored gemstones can be thrown away as they are very outdated, as prices have increased tremendously. Who would thought a few years ago that nice blue Tourmaline of decent size would be selling at $1000/ct.....Wholesale!
A
B
A - 2.13 Oval Bright Orange Spessartite Garnet (Sri Lankan) (egaj-15-22) $1,491
B - 5.07ct Large Oval Bright Orange Spessartite Garnet (kjcl-15a-02) $3,549
Rarely seen in this size or clarity, these Nigerian Spessartite Garnets look like gum drops. There are a few small inclusions, but for this material this too is rare. Nothing in either gemstone is noticeable where it would be considered a negative.
Pear: 10.64cts
Oval: 5.98cts
(kjcl-11-15) $400/ct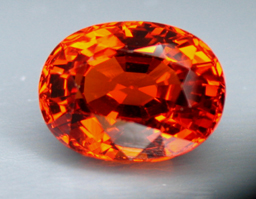 Certed 6.40ct Oval Spessarite, Good Orange. (11.65x8.79x6.59mm) (kaek-07-03) $4,320
View Cert
Certed 7.11ct Oval Spessartite, Good Orange. (11.75x9.47x7.11mm) (kaek-07-04) $4,799
View Cert
A Large Clean Decently Faceted 5.23ct Deep Orange Spessarite Garnet! Has alot going for it.
Approx Dimensions: 11.3x7.4x5.3mm (gemplz-07b-01) $3,530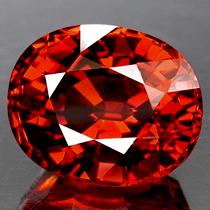 3.34ct Oval Spessartite, Deep Reddish Orange, approx 8.7x7.0x5.8mm (gemplz-07a-01) $1,670
3.52ct Trilliant Spessartite Garnet; brilliant and glows reddish orange.
Dimensions Approx: 10.4x8.5x6.0mm (algemst-07-01) $1,760
5.26ct Orange Red to Burning Ember Red Spessartite Garnet (gemst2u-07-01) $2,630
Dimensions: Approx 9.7x9.6mm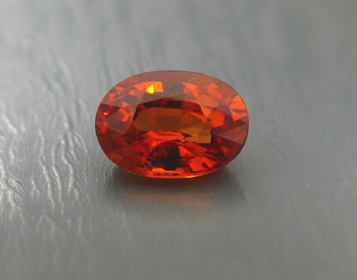 Spessartite Garnet, 4.90ct Oval (kaek-06-14) $3,185
A
B
A - Spessartite Garnet, 5.08ct Oval (kaek-06-22) $3,048
B - Spessartite Garnet, 5.18ct Oval (kaek-06-19) $3,108
A
B
A - Spessartite Garnet (kaek-06-13) Oval: 2.99cts; Cushion: 2.73cts $450/ct
B - Spessartite Garnet, 5.84ct Oval (kaek-06-17) $3,796
A
B
A - Spessartite Garnet, 6.13ct Oval (kaek-06-21) $4,138
B - Spessartite Garnet, 6.45ct Cushion (kaek-06-20) $3,225
Spessartite Garnet, 7.96ct Flash Emerald Cut (kaek-06-15) $6,368
Photo appears on two different pages!
3.19ct Oval Spessartite Garnet, (kaek-06-39) $2,552
Fan is Sold! (Retail Store Purchase)
A VERY desirable color.
A

B

A - 3.37ct Trilliant Spessartite Garnet, East Africa, U.S Cut (doost-99-01b) $1,685
B - 6.95ct Trilliant Spessartite Garnet, East Africa, U.S. Cut (doost-99-01a) $3,475
These photos do not do these stones any justice! Lively, well cut, clean and large!
Visit our other Garnet Inventory Pages to view more photos of the Garnet Group:
Miscellaneous Garnets - not displayed on the pages below
Color Change/Color Shifting Garnet
Spessartite (Orange) Garnet
Demantoid (Green Andradite) Garnet
Tsavorite (Green Grossular) Garnet
Imperial, Imperial Malaya, Champagne or similar
Note: Magnification and bright lighting is required to photograph gemstones. Some inclusions may be visible under these circumstances. You are viewing photographs as if you were using a loupe - not your unaided eye. Under normal conditions, these inclusions may not be visible.
Not responsible for mismatches of prices, photos, stocknumbers, etc.
Buy Now using your PayPal account:

For purchases using another form of payment, please use our Intent to Purchase Form. You may also telephone or send an email.