Gemstones - Newly Photographed
Note that those gemstones below are being offered at their Initial Public Offering (IPO) and typically priced to move quickly. Prices may increase on any particular gemstone depending on market conditions and the fact that many of All That Glitters items are One of a Kind...
All That Glitters is known for searching throughout the world for the Finest Gemstones and Rough of high quality and uniqueness. Lower quality material may be be found online or in stores, but few have the exceptional material that we offer the trade and our online customers. Gemstones will only be added to our inventory if color, size, cutting, clarity and price match our strict criteria!
Approx 16ct Grooved Specialty Ametrine. Photo will be updated when this gem is received back from our cutter. Inquire if Interested.
Large 5cm x 5cm x5cm Meteorite Cube with wonderful natural etchings (Sweden). Similar to one we sold at auction a few years back. This one weighs just under 1 kilo(!), which is essentially 2.25 pounds in such as small cube! (Below you will find a description of the previous one we had auctioned off as well as a description of the typical etching which may be found in this particular meteorite. This new cube is from the same meteorite and from our associates/friends who metal detector for meteorite fragments in Sweden and then attempt to create cubes. Unlike many cubes regardless of size, it is difficult to obtain a cube/specimen without too many black marks (minerals), cracks or even missing sections including corners! This particular piece is exeptional in size and mostly free of blemishes. (tms-19-01)

SOLD!
A lively U.S. Faceted/Grooved Ametrine from All That Glitters special rough. This beauty weighs 30.30cts and when posted by others online when photos first became available, received about 2000 likes/comments in a few days, and that number has climbed dramatically. Only one piece like this, so if you are one of the admirers, now is the time to make it yours... Contact us for pricing. (ajml-16a-01b)
Here is another WOW gemstone whether one views the photo or sees it in person. A triangular piece faceted in the U.S. by a cutter making a name for himself. This Ametrine weighs 33.67cts and is another one-of-kind piece faceted from our rough obtained from the mine owner a number of years ago. This material comes from only one mine in the world, and we have direct access! (ajml-16a-01e)

SOLD! (Jewelry Designer/Manufacturer)
A more yellow (brandy or cognac colored) example of Ametrine with only approximately two small sections of purple. This piece weighs 28.31cts and was faceted in the U.S. by one of our fine cutters who has been cutting our rough in this material for some time. Contact us for pricing. (27.2X18.0X13.2mm) (ajml-16a-01c)
A very deep velvety purple Amethyst (13.92ct) with blue overtones/highlights, you will get more flashes of color at times vs. brilliance due to the saturation. One usually has to look for finely colored Amethyst as the colors can be almost clear, to the Rose de France to a more commerical quality purple, but this goes to the entirely opposite scheme, being both very rich and dark. Difficult to photograph as the camera essentially sees a deep glowing blue without any purple; the eye sees the purple but with the blue flashes/overtones as noted. Some may feel this is overly dark, but for someone who wants something unusual in Amethyst, as well as a perfect shape for a ring and especially a pendant, this would work nicely. This is one of those few gemstones that due to the fact it is difficult to photograph (and recently a few of our Ametrines have been difficult to photograph to show it accurately as far as color, etc.), seeing it in person is really the thing to do. As always, if you make a purchase from All That Glitters and you are not happy in any way, you have our two wonderful return policies. Ideally, we wish that people would request a purchase/viewing of gemstones in person as that is really the only way one will see the true color, the mirror-like polish, the internal brilliance of the gemstone as it is moved/tilted, etc. Contact us for pricing. (22.1x15.3x10.6mm) (afgm-19-01c)
25.99ct U.S. Faceted Ametrine in an oval shape with a checkerboard top. Though the rough had areas of Citrine the positioning of the Amethyst color in the pavilion/culet, along with the positioning of the Amethyst color as well as the shape, produced a gemstone that at first look appears to be Amethyst - but on tiping/tilting and with lights, one can see that it though it has great purple color, there are other things going on internally with highlights of bronze, yellow and an orangy color at times! (Second photo is from our cutter, as obtaining a good photo of this piece was difficult. Note we disclose cutter information upon request and certainly make it known on the receipt with a purchase.) Contact us for pricing. (24.9x17.6x12.4mm) (ajml-19-01s)
A lively shield shaped Ametrine weighing 25.23cts faceted by one of our U.S. Cutters from our rough. A nice mix of blending/mixing and certainly a conversation starter if set and worn in public! (ajml-19-01h)


SOLD! (Jewelry Designer/Manufacturer)
Not commonly seen, this uniquely shaped (diamond, lozenge or parallogram) 15.97ct Amethyst, can be set in a few different ways, making a unique piece of jewelry, whether a ring or a pendant. Due to size, most would prefer it as a pendant or pin. Others might be more inclinded to even add it to their collection due to shape, cutting/polish or the color. Faceted by one of our cutters from rough obtained in Africa, the color is a deep purple with highlights of blue, pink or red at times. Contact us for pricing. (27.6x15.9x10.8mm) (afgm-19-01b)
4.17ct U.S. Faceted African Garnet in a long spear shape. Color varies depending on the lights, but mostly a reddish rose. Due to the facet arrange in the pavilion and what is expected in an elongated shape, the gemstone shows off its brilliance as it is tipped with the brilliance going up and down the gemstone. (vyg-19-01a) $834
A 5.65ct Elongated Hexagonal Aquamarine faceted by one of our U.S. Cutters. Medium-Light Blue, lively, with some inclusions under power, but hidden by the brilliance and location, so not obvious to the naked eye. The light pattern is broken up by the inclusions and can be seen due to the macro photography in the photo above. A slightly deeper gemstone in the pavilion but properly faceted for the particular design. (dwfb-19-01) $1130 (Only $200/ct) - stores are paying $200/ct for small lightly colored aquas and poorly cut too!

SOLD!(PBB)
Large 16.16ct Amethyst, U.S. Faceted, in a interesting kite shape. Color is a deep glowing purple with blue highlights depending on the wavelengths in the light. A darker gem, but it catches the light and sparkles depending on angle. Contact us for pricing. (afgm-19-01a)
32.19ct Ametrine faceted from our rough by one of our cutting specialists. Has more rich purple than yellow, as there are two small concentrations of yellow and that is in the area of 3 and 9 o'clock. One sees a main body color of purple but with peach highlights in the surrounding areas of 3/9. Under bright lights, the area of peach/mixing extends even further. A very lively gemstone with a super polish. If set into jewelry, most people will do a double-take as it is not simple fine quality Amethyst as they will realize there is something different due to the unique highlights and play of color that comes from the internal reflections. Contact us for pricing. (ajml-19-01t)
3 Included Quartz weighing a total of 45.07cts. Beautiful crystal inclusions, some in clusters, in green, white and tan. (ddkbb-19-01p) For a Fast Sale - $350 (Great price for all three!)
Montana Sapphire (U.S. Cut) set with blue and white Sapphire Melee - 18kt White Gold!
Top View
Offset Top View
Side/Top View
Rotated Side View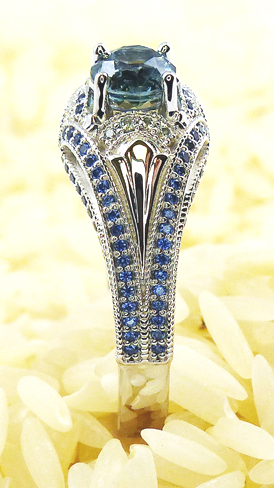 Side View
CAD-CAM Rendition

Top View
Montana Sapphire (H) (5.2mm) weighing 0.98cts and faceted in the US from All That Glitters rough! - $4,100
8 White Sapphire Accents (N)
142 Medium Blue Sapphires (H) to match the center gemstone
(Costs to set all these gemstones was over $1000...)
A U.S. gemstone and faceted in the U.S. also by one of our cutting masters!
A super piece for an everyday wear, special events or even as an engagement ring (and there is a special wedding band that was designed for this particular piece if desired).
Extra White and Blue Sapphire Melee accompany the piece.
Padparadscha Sapphire with Diamonds and Glowing Blue & Pad-like Sapphire Melee, set in 18kt White Gold!
Top View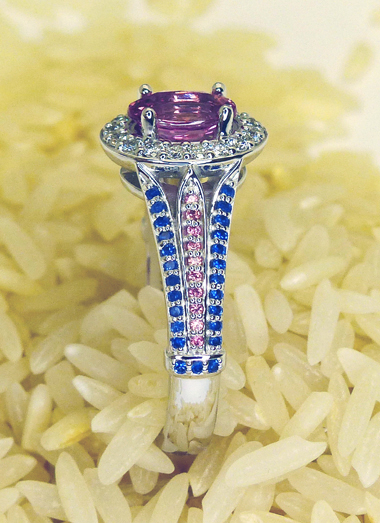 Side View
CAD-CAM Rendition
Stone Map
GIA Certed Padparadscha Sapphire weighing 0.93cts (H) - $5,900
(Photo does not do this gemstone justice, it is a very bright lively gem! The color on the office laptop matches what we see in person, but will most likely vary from display to display.)
18 Full Cut Diamonds, G-H/SI
20 Orangy Pink Sapphire Accents (N) to match the center Padparadscha
50 Glowing Blue Sapphire Accents (H)
18kt White Gold - Rhodium Plated
(Cost to set all these gemstones was just under $1000)
A beautiful bright brilliant GIA Certed Padparadscha Sapphire set in a very distinctive setting.
A super piece for an everyday wear, special events or even as an engagement ring (and there is a special wedding band that was designed for this particular piece if desired).
Extra Blue and Pad Sapphire Melee accompany the piece.
View Cert
Very large 6.93ct Mint Merelani Garnet, faceted in the U.S. from All That Glitters rough, by a wonderful cutter. Bright lively gem with hints of dispersion. Has that 'glow' as expected from much of this material. As also expected, in this size there are some inclusions that can be seen with a loupe, but a plus to indicate natural origin as this unique color is not often seen and anything indicating natural crystal growth will be a help in identification. For those in the know, this color always hints at Mint Merelani Garnet (Grossular), a relative of Tsavorite. This was a difficult gemstone to photograph and to obtain an accurate color. On our laptop monitor, we have an accurate color; with so many devices now displaying images, accurate color is a problem since screens are not calibrated. Have recently seen a 1.6+ct round, without the glowing green this gem has, and the retail on it was approximately $2500/ct. A slightly larger than one carat was seen in Tucson (2019) with a wholesale price of $1,500/ct; with this being such a large example of this gemstone species, you will be surprised at our low pricing! (vyg-19-03)
A 2.42ct Montana Sapphire of a blue-green color, faceted in the U.S. We obtained the rough directly from a miner in Montana, and it was a light green. Upon cutting it, it seems as if we are pulling in some color from the other axis or there may be some zoning. The eye blends this more vs. the closeup/magnification of the photo. It can be described as a green blue or blue green. For an American gemstone and a Sapphire, this is priced to move at only $1,695. (bng-19-02)
5.07ct Large Oval Bright Orange Spessartite Garnet (kjcl-15a-02) $3,800
A Brasilian Alexandrite Oval weighing 0.57cts and having a great green to bluish green color, turning to various colors depending on the lights, but have seen a sort of green/blue/grey purple which is difficult to describe. Of course, both colors will be vary depending on the type of lights and the wavelengths available. The photo showing the green color is acccurate, but the other color had to be modified as the camera wasn't picking up what the eye was seeing. GIA described the color change as Blue Green to Grey-Purple. For what this is and the current market on material which isn't as nice as this, this is a good time to add this to your collection or jewelry if you have wanted a nice Natural Alexandrite. (ggc-19-03) $1,800
View Cert
 
U.S. Faceted 28.26ct Fancy Ametrine in a very unique and beautiful cut. (ajml-16b-01b) $1,250


SOLD!
Besides the concaving and flat faceting our Ametrine Rough in the U.S., we decided to try something different, so this particular piece is faceted but has a double bubble in the very center. Interesting fan or shield shape, this piece weighs 26.73cts. (ajml-16a-01g) $1,000

SOLD!
This is a super piece and has many pluses in its favor and that includes the following: nice rich purple with blue highlights; it is a tri-color 14.09ct quartz being purple on both ends and clear quartz in the center; the U.S. multi-award winning cutter faceted the ends but the clear quartz center is carved; this material and cutter faceted a large number of gemstones in this tri-color quartz so that there is a full necklace as well as a pair of earring - this is in well-known museum collection, but that set is faceted and not as distinct/unique as this particular piece!... (ggc-19-01) $1,400

SOLD!
All That Glitters has been seeking large Andalusites that we had once seen about 40 years ago, but we haven't found the quality or the size reminiscent of the previous time. It is also difficult to find anything decent even in smaller sizes for Andalusite, but we found an old parcel from Brasil and picked out 5 nice gems for inventory. (pgc-19-01p)

SOLD! (Perhaps to be seen in a store near you!)
This unique large GIA Certed 2.51ct well cut color changing garnet hails from Madagascar. The color range varies depending on the light source and wavelengths found in those lights. We have viewed the piece under incandsccent, fluorescent, white/yellow LED as well as natural and some jewelry store lights and the colors are across the board. It really has some unique colors/flashes when there is more than one light source. The photos here show it being a really nice green, a sage green, a reddish bronze as well as a purplish color. We can see this in a ring surrounded with white diamonds and with more than one light source, the colors displayed will dazzle the viewer and of course, we don't believe that the public or even those with gemological knowledge would immediately know what species of natural gemstone this would belong too! GIA has determined this garnet to fall into the Pyrope-Spessartine Garnet Group, with a color change they described as Green to Pinkish-Purple. It really changes and varies quite a bit depending on the lights/wavelengths available, with an incredible green being seen under a small LED light that is in the All That Glitters office. (mfg-19-02) $4,518
View Cert
 
Clear Quartz with what is believed to be a Star Actinolite. This was occasionally seen on the market about 10 years ago and quickly disappeared as this wasn't a large deposit. Found a parcel and we choose the two nicest for clarity, nice stars/sprays of the Actinolite.
A
B
A - 25.80ct (lss-19-02b)

SOLD!

B - 58.40ct (lss-19-02a) $584
 
A
B
A - 13.10ct Included Quartz with a glowing orange stripe - Galilea, Brasil (lss-19-01b) $310
B - 17.72ct Included Quartz with a mix of at least three different mineral species. (Minas Gerais, Brasil) (csms-19-02) $375
 
A
B
A - 29.15ct Included Quartz from Galilea, Brazil. Wonderful mix of dendrites, color and even an area that seems to glow and looks like schiller of some sort. (lss-19-01a) $410
B - 31.60ct Included Quartz with a wonderful geometric pattern above a field of gold. (Malacacheta, Brasil) (lss-19-04) $349
 
A
B
A - 34.85ct Included Quartz with what is believed to be a spray of Green Chlorite. (Madagascar) (mnrk-19-01b) $349
B - 49.43ct Included Quartz with fine black Tourmaline needles above an earth-tone background. (Minas Gerais, Brasil) (csms-19-01) $325
 
A
B
A - 80.85ct Included Quartz with bright orangy red swirls as well as a whitish mineral running at a slight angle within the colored section. (Madagascar) (mnrk-19-01c) $425
B - 108.20ct Included Quartz with needles along with approximately three other distinct minerals. (Madagascar) (mnrk-19-01a) $775
 
A
B
A - 118.30 Included Quartz consisting of what appears to be two black Tourmaline needles which traverse the gemstone at two sharp angles. Contains dendrites, needles and color! Great natural geometric pattern along with numerous minerals make this piece not only interesting, but beautiful. (Galilea, Brasil) (lss-19-05) $470
B - 57.60ct Included Quartz consisting of crystal clear Quartz and numerous black Tourmaline needles. A large and wonderful shape for a pendant. This material is more difficult to find as collectors and designers seek out the aesthetically pleasing and unusual natural gemstone material. (Minas Gerais, Brasil) (lss-19-03)

SOLD! (Intergem Dealer Sale)

 
A
B
A - A really nice example of purple Sapphire, weighing 1.54cts. (btree-19-02)

SOLD! (Intergem Dealer Sale)

B - 1.38ct Neony Deep Bubble Gum Pink with lots of pizzazz/sparkle. (btree-19-01) $2,175 View Cert
 
A
B
A - Unheated Green Sapphire weighing 1.39cts. Green is a not a common color in Sapphire. (Madagascar) (egpl-19-03)


SOLD! (Jewelry Designer/Manufacturer)

B - 1.25ct Squarish GIA Certed Purplish Red Ruby! (btree-19-03) $3,750 View Cert
 
A
B
A - Unheated Purple Sapphire Oval of 1.81cts. Difficult to photograph and seeing some blue depending on lights, but it is mostly a purple similar to commercial grade Amethyst - some of the facets show this color as shown in the photo. Consider the body color to be this color of purple. Photo doesn't do this justice. Some inclusions under power, including needles and some voids break the surface on one of the facets on the pavilion similar to a diamond, trying to conserve weight and leaving naturals....Origin is Madagascar. (mfg-19-01) $2,450
B - 1.83ct UNHEATED Oval Sapphire (GIA Certed) of a unique color that would best be described as a pink with just some orange overtones, salmony to some extent. (The dichroscope does show both orange and pink, but the pink predomninates.) The photo does this gemstone no justice, as the color cannot truly be captured. GIA describes the color as a purplish pink, but depending on the lights, the secondary hue we believe varies either showing the slight purple in the cert as described or perhaps taking on that hint of orange. A great color regardless of how is it described AND it is also unheated! (Madagascar) (egpl-19-04) $5,490 View Cert
 
A
B
A - 2.03ct Square Sapphire of an interesting Dusty Red Salmon/Reddisn Bronze color. The color is very unique in that it does shift and you can watch it change while walking from being under one light source to another. For those who like unusual as well as beautiful, this UNHEATED Gem is for you.

(If you don't like having to explain to people who ask what the gemstone is that you are wearing, then his Sapphire is not for you, as we guarantee people seeing it will be asking exactly that question, which is the norm with All That Glitters Gemstones in general!)

This Sapphire hails from Madagascar, which has been producing some killer gems at times, and this is one of them! (egpl-19-01) $3,550
(Less than $1750/ct for this Sapphire, a Uniquely Colored One and it is Unheated...Pricing doesn't get better than this!...)
B - An interesting 2.27ct Green Sapphire that shifts in color depending on available lights - have seen it as a fine green, but also more pastel bluish green. (Madagascar) (egpl-19-02)

SOLD! (Jewelry Designer/Manufacturer)

 
A
B
A - A very deep blue Sapphire trilliant weighing 2.17cts. One can see green flashes of color under bright lights. (Madagascar) (egpl-19-05) $2,600
B - An interesting piece for a collection or perhaps pendant, this large slice of a Sapphire crystal shows deep blue, beige, black and various colors when held up to bright lights. (Mozambique) (lcrst-19-01) $749
 
Don't think much has to be said about this Montana Sapphire, as the picture can speak for itself... This is a U.S. Gemstone and faceted in the U.S. by a cutter known for his cutting of Montana Sapphires. The rough came from El Dorado Bar and was cut in this beautiful hexagon and weighs a whopping 2.86cts. Color is various blues depending on the lighting being viewed under. This is a must have for those seeking an American Sapphire from an important location and the superb cutting and fine color just adds to the desirability. (bng-19-01) $3,990
Love this Color! It can be described as an orange color but depending on the lights, will take on more red or pinkish highlights. This 3.05ct oval was faceted by a well-known award winning cutter and some of his work is displayed in a museum collection. The origin of the rough was Vietnam, which has been known for producing fine Spinel over the past several years and in wonderful colors including purples, blues, cobalt blues and in this case, an orange! Orange Spinel is not common regardless of the country of origin. (ggc-19-04) $4,880
Both beautiful and large for nice Spinel, this 3.97ct Purply Blue Spinel is from Madagascar. The color, like many gemstones, will take on various hues depending on the lights and one may even see the rainbow pattern of dispersion at times (in the photo you get a hint of the dispersion within some of the sparkle the camera caught). Seeing mostly variations of blue, but also see a slight hint of purple or indigo. Would not call this a true color shifter. One of our cutters saw this piece in person and he had the following to say - "this is fairly classed as a blue spinel. If I were to be precise, it's violet blue, but the violet is certainly a modifier. I very much like this material and keep my eyes open for it." Shows red flashes under a Chelsea Filter - Cobalt suspected. Very pretty, nicely cut, clean and would make a killer ring for someone. (mfg-19-03) $4,764
When the owner of All That Glitters saw this Topaz, it was a must have for inventory. This 3.86ct Cushion comes from the famous Ouro Preto Imperial Topaz deposit in Minas Gerais, Brasil. While traveling in Brasil in the past, the owner of All That Glitters visited Ouro Preto more than once and also had a tour of the gold mine over in the adjacent town of Mariana. This particuar Topaz has numerous colors including pink, orange, salmon, etc. There are a few fine needles deep in the gemstone and this is an indication that the color is natural and not heated. Some of the Topaz here will be heated to obtain a pink color. In this case, it was decided to leave it entirely natural and with the lovely color as it came out of the ground, there was really no need to consider enhancement of any kind. A fine color, large, brilliant, natural Topaz, it is a pleasure to view this piece for those who like this color and appreciate a fine Topaz. The color has a Padparadscha feel to it and is not the typical yellow or orangy color typically found - that being said, even a nice orange is not common, especially in larger sizes. (ramcam-19-02) $6,562
What a Gemstone! The photo hasn't captured the life or the true color, which is best described as a Magenta Rubellite. This is old material from the 1990s discovery of pink Tourmaline from Nigeria. Very few pieces from that find had this color and it can truly be described as glowing. The cut is very brilliant, so not only do you have have the glowing magenta red, but the brilliance from the cutting and proper angles form the superb cutting. This 7.02ct "gem" was faceted by a well-known award winning cutter and some of his work is displayed in a museum collection. (ggc-19-02) $10,530
Here is a Rare and Unique Piece - a Tourmaline Trapiche Slice. This is a 2.15ct Tourmaline slice from Zambia. Due to the color as well as the design one sees, this is more reminiscent of Emerald Trapiche and that is what it was originally thought to be. One should never just do a 'sight id' as sometimes one can be surprised; this material is not typically seen whereas Trapiche in Emerald is well-known and sought after. Even Sapphire and sometimes Ruby Trapiche may be seen in the market, but is no way common. (lcrst-19-02)

SOLD! (Intergem Dealer Sale)
1.62ct Round Tsavorite - clean, well cut, brilliant, uncommon in larger sizes when round, and a great 'chrome' green color which one seeks in fine Tsavorite. This has been stashed away from a dealer we have known for about three decades and some fine pieces like this are making their way back into the market due to his retirement. (rma-19-01) $2,754

SOLD!
Matched pairs of Aquamarines, nice deep blue calibrated, 5x7mm ovals. 7+cts total. $2,400


SOLD!
Matched pairs of fancy cut deep blue Zircon. $300/ct ($4,998)


SOLD!
Matched pair of fancy cut deep blue Zircon. $300/ct ($2,559)


SOLD!
Roman Bronze (approx. 300BC). Said to depict Cupid, but posssibly a Roman athlete playing the ball game of Harpastum, as one can clearly see what looks like a ball in the palm of his right hand. Found in Northern Jordan back in the 1980s along with some other small bronzes. Measures 4-1/2 inches high. (ja-19-04) $1,975 Available from our West Coast Office Only.
Detail - Large View
Left Side
Right Side
Back
Chaledony Seal showing warrior with shield, in a chariot drawn by a pair of horses, with not only the sun in the sky but an Aegean Greek Star - superb image! "Regarding the Aegean Star - typical star displayed in Greece, Alexander The Greats time, mentioned several times in the Trilogy of Alexander the Great written by Maximo Manfredi, an Italian writer/antropologist who wrote three books." Research on line shows a Vergina Sun Symbol, with various number of rays, and also called Macedonian Sun or Argead Star. More research could be done to obtain more info, as two images appear in the sky and one would be the sun and the other perhaps a Star observable during the day due to an astronomic event. Hellenistic Period about 300BC - the time of Alexander the Great. Thought to have originally been part of a pendant. Measures approximately 48x48mm. (ja-19-01) $750 Available from our West Coast Office Only.

The largest cylinder seal we have seen, fashioned from Agate and depicts what is believed to be a hunting scene. Said to be from Bactria (Persia), circa 500 BC. Measures 4-1/2 inches high. We actually had to purchase clay to view the scene from this large cylinder but we were not disappointed. There are 3 human figures through the piece, all dressed differently. All appear to be holding weapons, knives, swords or similar. There seems to be deer or a type of antelope, and one image of what appears to be a falcon or other raptor and quite possibly on the arm of the person to its right - therefore, this seems to indicate the raptor is being used to hunt. Also, there is another animal that seems to be a lion, with a mane and long tail, with a paw extended towards a figure to its left who holds a knife. Due to the size of the cylinder, it is very difffult to obtain a crisp image of all the incised areas present, as one must apply the proper pressure, speed, etc. With some time, and some trial and error, one should be able to obtain a nice impression of the whole seal in one roll. The raptor/falcon is more detailed than shown; insufficient pressure was applied to obtain the detail. This is also the case of the lion, but we did press that section into the clay on the bottom and there is a better image of the head but the body/tail is lacking in that impression. Various large images of this cylinder seal may be seen below. After the impression was made in the clay, it was heated, so this hard clay table with the image of this scene will accompany the sale of this special cylinder seal. A Very Rare Piece with a beautiful scene. (ja-19-03) $1,500 Available from our West Coast Office Only.
Hunting Scene
Hunting Scene Rotated 180 degrees
Falcon Closeup
Lion Closeup
Lion - Separate Impression
To learn more about Cylinder Seals, vising the following page: Cylinder Seals
Front - Detail/Closeup
Back - Detail/Closeup
Wollastonite Skarn from Primorye (Primorsky)Region, Dalnegorsk - Russsia. (Skarn is a metamorphic rock that has been chemically and mineralogically altered by metasomatism. Wollastonite is a common mineral in skarns or contact metamorphic rocks. Skarns can sometimes produce some wonderfully rare and exotic minerals with very unusual chemistries. Wollastonite forms from the interaction of limestones, that contain calcite, CaCO3, with the silica, SiO2, in hot magmas.) The deposit that produced this natural work of art, was said to be active about 40 years ago when this piece was mined/polished. This unique 7"x4.5" plaque is surrounded by a black polished mineral border. The natural design consists of black and what seem like a very light beige to very light green depending on lights. The darker yellow color seen on the left had side is a shadow. Incredibly beautiful and certainly looks like a design that an artist has created, but it is entirely natural - only polished! These uncommonly beautiful natural occurring mineral slices are frequently purchased by collectors due to the designs, colors, etc. and may see very high prices. Like many gemstones, these unique plaques can be very indivualistic and are rarely seen and not often available on the market. In 40 years in the gemstone/mineral business, All That Glitters had never seen an item such as this and the color as well as the design was fascinating enough to be placed into the All That Glitters inventory. Currently hanging in the All That Glitters West Coast Office and only available when in this particular office. (geork-19-01) $1,029 Available from our West Coast Office Only.
 
Large terminated Tourmaline crystal weighing 672cts and measuring about 4 inches long! From the Naipa Mine, Alto Ligonha, Zambezia Province of Mozambique. Large plates of Tourmaline crystals on quartz plates have been known from this area, and they typically are watermelon, having a pink center and green rind/outer coating. This particular specimen appears black but when held under bright light, the body color is a blue and as one approaches the termination, it is green. As the color changes from blue to green, it appears that a shine to the surface can be seen, which indicates that cabachoned gems for the tip would produce Cat's Eye Tourmaline. Nice large terminated Tourmlaine from a famous locality!... (jrod-19-01a) $1,500 Available from our West Coast Office Only.
Click on either image above for a larger photo with more detail.
Large Double-Terminated Quartz Crystal with numerous transparent green to blue Tourmaline crystals - approx 6-1/2" high. From the Naipa Mine, Alto Ligonha, Zambezia Province of Mozambique. The first photo shows the two terminations of the Quartz at the top, and a larger photo of this image is available below. Other photos below show the specimen as it is rotated, to show the large number of Tourmalines that are scattered on the surface, with many being able to be seen imbedded in the Quartz itself, and more are probably totally hidden inside. Unsual for such transparent crystals, and the color is also very good from green, to green blue to blue. This piece has a lot of check marks for specimens of Quartz with Tourmaline growing on its surface and internally as the quartz grew around the Tourmaline crystals that were originally on the surface of the Quartz but were engulfed by the Quartz as it grew! (jrod-19-01b) Initial Offering Price of $2,500.
Available from our West Coast Office Only.
Detail/Closeup of Main Photo Above
Detail/Closeup - 1
Detail/Closeup - 2
Detail/Closeup - 3
Detail/Closeup - 4
A 34.52ct Cushion Cut Ametrine, faceted from All That Glitters hand-picked specialty rough, by one of our US cutters. This ametrine is slightly more saturated then previous ones, and should easily find a new home. (ajml-16a-01a)

SOLD!




We knew this would sell to a jewelry designer/manufacturer immediately when he was advised of this new piece back from the cutter. We put it up for sale for approximately two weeks on our website for others to perhaps become the proud new owner. After two weeks, we sent that person an email with the description and photo, and it was requested to be sent out..."Got the stone. It's lovely. " Could be still available, but will be perhaps 3X the original price!
An Incredible UNHEATED LARGE RUBY weighing 5.67cts!!
Many gemstones (Sapphire, Ruby, Tourmaline, Aquamarine, Tanzanite and others) are routinely heated. This partciular Ruby is Unheated and well cut with no blemishes on the surface due to voids, scratches, etc. - also unusual in most Ruby/Sapphire unless faceted in the U.S. This is a very fine large Ruby and a very important gemstone, something that has taken us four decades to find in our travels abroad and was thought to be very worthwhile to have in inventory.

Color is always difficult to capture correctly and even attempts to correct color can fail as the camera doesn't capture the color the eye sees. Then there is color rendering on various mobile devices which adds another layer and possiblity of incorrect color display. The color as described by GIA is Purplish Red. Depending on the lights one sees magenta (or purplish) body color but also red - all dependent on the lights available and the wavelengths found in those lights. This is one of those gemstones that one has to be seen in person, as that way the color is correct for one's vision/color perception, one can appreciate the cutting, brilliance, polish, sparkle etc. in real time as the gem is tilted, producing life, sparkle and various colors. A nicely cut, better than eye clean, 5.67ct GIA Certed Ruby, that is Unheated...very uncommon indeed.

Origin is the land/country of Sapphires and Rubies...Ceylon. The most costly Rubies have been from Burma, with a fine red color, unheated and frequently seen as being sleepy due to fine inclusions. The Graff Ruby - an 8.62 carat Mogok Burmese Ruby set in a Diamond Ring, by Graff, sold for $8,600,410 ($997,727 per carat - Sotheby's Geneva, November 2014).

The All That Glitters 5.67ct Purplish Red Ruby, very clean, well cut, unheated gem is not exactly in the same category as the Graff Ruby, but it is in a category of its own as gems like this are just tyically not seen on the market.
(Yes, we have a nice selection of Fine Burmese Rubies also!)

Measures approximately 11.71 x 8.92 x 6.75mm (essentially a 12x9mm) (egaj-15-54) Price Upon Request.


GIA Cert
Gem/Mineral Photograper Jeff Scovil Photographs All That Glitters LARGE Ruby!
The talented Gemstone/Mineral Photographer Jeffrey A. Scovil at the Big E in Springfield, MA (08/10/18) photographing our incredible 5.67ct, GIA Certified UNHEATED Purple Red Ruby. Incredible size, cutting, clarity, etc. One of the most important gems in our 37+ year inventory! See image above.
40+ct U.S. Faceted Ametrine from All That Glitters Custom Rough
This 40.24ct custom cut U.S. faceted Ametrine measures approximately 26.2x18.9x14.5mm. The yellow/purple (citrine/amethyst) are uniquely separated in some areas as well as blended in others, creating some unique and beautiful patterns as the gemstone is tilted/worn. The first photo was shot under fluorescent lights using a light ring which allows brilliance and sparkle, and is just slightly off angle. The second photo (courtesy of Troy Richardson) was shot with no light ring and therefore shows more color than sparkle. (ajml-16b-01h)

The cutter had the following to say after seeing the results of his work - "A whopper. A beauty. Possibly the best Ametrine I've ever done..."

Contact us for pricing.
4.18ct US Faceted Square Umbalite Garnet. Three distinct colors depending on the available lights - under fluorescent it appears a burgundy wine and doesn't have much life, but under incandescent or diffused daylight or other lights, it dances. Incandescent shows the color as a vivid ruby red and under other lights such as diffused a light that has more blue wavelength, the color is magenta. Cutter is learning how to facet and there was a natural part of the garnet crystal which was left as it wouldn't affect any side, but it actually fell on one of the corners as this was to be more squarish with fancy pointed corners. A small facet was placed on the corners making this more of a square cushion. We have a decent amount of this rough; we are promoting the cutter, so we are selling this piece and similar pieces recently cut at very low prices! (eagt-18-01d)

SOLD! (New Zealand)
4.30 carat US Faceted Square Umbalite Garnet. Three distinct colors depending on the available lights - under fluorescent it appears a Burgundy wine and doesn't have much life, but under incandescent or diffused daylight or other lights, it dances. Incandescent shows the color as a vivid ruby red and under other lights such as diffused a light that has more blue wavelength, the color is magenta. Polish is 100,000 diamond, and therefore the mirror like finish reflects beautifully and adds to the look of the gemstone in addition to the internal brilliance. The tweezers are reflecting off of the facets due to very fine high quality polish. This gemstone was faceted by the owner of All That Glitters. (eagt-18-01b) $430

SOLD!(UK)
Oregon Sunstone (4.60cts) in the Custom Elegante Design!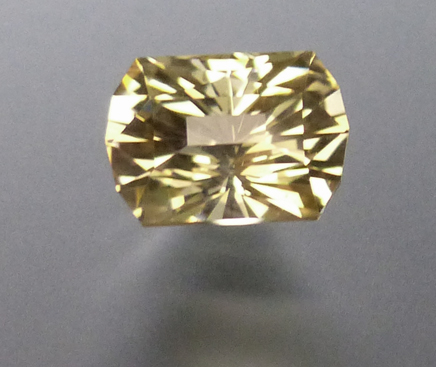 Faceted by the owner of All That Glitters, this is a custom cut called "Elegante" developed back in about 2004 by the cutter and based on other similar designs, but with a different distinct top and small table. Photo doesn't do the sparkle or color justice. Depending on the lights, it is a lemon yellow to a sort of champagne color. There is a splash of pink when looking down the long axis, that also perhaps adds to the color. $500 including shipping/insurance via Priority Box. (dd-atg-18-01)

Learn More about the All That Glitters Elegante Design: < Elegante Design >


"Fall in New England", Inspired by the Changing Leaves and the Masterful Color Display in Nature.

A Collaboration in Gems, Design, Precious Metal: All That Glitters/Katzenbach Designs



4.30ct Flame Shaped Red-Orange Topaz, Ouro Preto (Minas Gerais, Brasil); AGTA - N


(Topaz includes variations of Orange, Red, Peach and Melon and is
Accented/Enhanced by the Autumnal Colors of the Sapphire Suite)

131 Round Red/Orange/Yellow Sapphire Suite weighing a total of 3.27cts; ATGA - H

18kt Royal Yellow Gold

Multi-Wire 14kt Yellow Gold Choker, Created by Hand and with a 14kt Barrel Clasp.
(14kt will wear better than 18kt and not bend as easily)
(Choker may be easily removed from the pendant if desired;
comes with an 18" Black Leather Cord with 14kt Lobster Claw Clasp)

One of the many entries into the

AGTA Spectrum Awards Contest - 2018

!

Price Available Upon Request


AGTA 2018 Spectrum Awards Judging Card
Wide Shot Showing Custom Chain
CAD-CAM Early Rendering
CAD-CAM Later Rendering
CAD-CAM Rendition - Side View Showing Tiers
Completed Casting Ready for Gem Setting
Note: Magnification and bright lighting is required to photograph gemstones. Some inclusions may be visible under these circumstances. You are viewing photographs as if you were using a loupe - not your unaided eye. Under normal conditions, these inclusions may not be visible.
Not responsible for mismatches of prices, photos, stocknumbers, etc.
Buy Now using your PayPal account:

Purchase using popmoney:
Learn More by clicking on the logo!
Purchase using Transferwise:
Learn More by clicking on the logo!
For purchases using another form of payment, please use our Intent to Purchase Form.
You may also telephone or send an email.