Gemstones - Newly Photographed
Note that those gemstones below are being offered at their Initial Public Offering (IPO) and typically priced to move quickly. Prices may increase on any particular gemstone depending on market conditions and the fact that many of All That Glitters items are One of a Kind...
All That Glitters is known for searching throughout the world for the Finest Gemstones and Rough of high quality and uniqueness. Lower quality material may be be found online or in stores, but few have the exceptional material that we offer the trade and our online customers. Gemstones will only be added to our inventory if color, size, cutting, clarity and price match our strict criteria!
We have some absolutely very unique, beautiful, rare, one-of-kind and important new pieces available in our inventory - some very large for their gem species. We have based our pricing on what we paid as well as used The Guide (2014 wholesale pricing) to be as close to those prices as possible, if not below, depending on what category one feels the gemstone should fall into with respect to the matrix that appears in The Guide.
Pricing determined by our cost and using The Guide (Nov/Dec 2014 - a wholesale price list). Most gemstones fall well within wholesale pricing as shown in The Guide. Prices subject to change without notice. Note that since 2014, fine gemstones have increased dramatically in price.
Flat faceted blended Ametrine pentagon cut by one of our U.S. cutters - weighs 26.31cts. We typically use a light ring when photographing items, but in this case we simply bounced light off of white paper so that this gemstone was mostly illuminated. This shows a nice mix of yellow (citrine), purple (amethyst) and a mix of both of those colors which produce what one might call a rose-gold or bronze color. Priced to moved. (ajml-16b-01e)
An Incredible UNHEATED LARGE RUBY weighing 5.67cts!!
Many gemstones (Sapphire, Ruby, Tourmaline, Aquamarine, Tanzanite and others) are routinely heated. This partciular Ruby is Unheated and well cut with no blemishes on the surface due to voids, scratches, etc. - also unusual in most Ruby/Sapphire unless faceted in the U.S. This is a very fine large Ruby and a very important gemstone, something that has taken us four decades to find in our travels abroad and was thought to be very worthwhile to have in inventory.

Color is always difficult to capture correctly and even attempts to correct color can fail as the camera doesn't capture the color the eye sees. Then there is color rendering on various mobile devices which adds another layer and possiblity of incorrect color display. The color as described by GIA is Purplish Red. Depending on the lights one sees magenta (or purplish) body color but also red - all dependent on the lights available and the wavelengths found in those lights. This is one of those gemstones that one has to be seen in person, as that way the color is correct for one's vision/color perception, one can appreciate the cutting, brilliance, polish, sparkle etc. in real time as the gem is tilted, producing life, sparkle and various colors. A nicely cut, better than eye clean, 5.67ct GIA Certed Ruby, that is Unheated...very uncommon indeed.

Origin is the land/country of Sapphires and Rubies...Ceylon. The most costly Rubies have been from Burma, with a fine red color, unheated and frequently seen as being sleepy due to fine inclusions. The Graff Ruby - an 8.62 carat Mogok Burmese Ruby set in a Diamond Ring, by Graff, sold for $8,600,410 ($997,727 per carat - Sotheby's Geneva, November 2014).

The All That Glitters 5.67ct Purplish Red Ruby, very clean, well cut, unheated gem is not exactly in the same category as the Graff Ruby, but it is in a category of its own as gems like this are just tyically not seen on the market.
(Yes, we have a nice selection of Fine Burmese Rubies also!)

Measures approximately 11.71 x 8.92 x 6.75mm (essentially a 12x9mm) (egaj-15-54) Price Upon Request.


GIA Cert
40+ct U.S. Faceted Ametrine from All That Glitters Custom Rough
This 40.24ct custom cut U.S. faceted Ametrine measures approximately 26.2x18.9x14.5mm. The yellow/purple (citrine/amethyst) are uniquely separated in some areas as well as blended in others, creating some unique and beautiful patterns as the gemstone is tilted/worn. The first photo was shot under fluorescent lights using a light ring which allows brilliance and sparkle, and is just slightly off angle. The second photo (courtesy of Troy Richardson) was shot with no light ring and therefore shows more color than sparkle. (ajml-16b-01h)

The cutter had the following to say after seeing the results of his work - "A whopper. A beauty. Possibly the best Ametrine I've ever done..."

Contact us for pricing.
4.18ct US Faceted Square Umbalite Garnet. Three distinct colors depending on the available lights - under fluorescent it appears a burgundy wine and doesn't have much life, but under incandescent or diffused daylight or other lights, it dances. Incandescent shows the color as a vivid ruby red and under other lights such as diffused a light that has more blue wavelength, the color is magenta. Cutter is learning how to facet and there was a natural part of the garnet crystal which was left as it wouldn't affect any side, but it actually fell on one of the corners as this was to be more squarish with fancy pointed corners. A small facet was placed on the corners making this more of a square cushion. We have a decent amount of this rough; we are promoting the cutter, so we are selling this piece and similar pieces recently cut at very low prices! (eagt-18-01d) $418
A
B
A - Certed 3.27ct Purply Rose Spinel, priced to move at only $200/ct! (ssgm-18-02)


Under Consideration (RC) - Contact Us if Interested


View Cert
B - Certed Purple Spinel weighing 3.23cts, also priced to move at only $300/ct! (ssgm-18-01)


Under Consideration (RC) - Contact Us if Interested


View Cert
4.30 carat US Faceted Square Umbalite Garnet. Three distinct colors depending on the available lights - under fluorescent it appears a Burgundy wine and doesn't have much life, but under incandescent or diffused daylight or other lights, it dances. Incandescent shows the color as a vivid ruby red and under other lights such as diffused a light that has more blue wavelength, the color is magenta. Polish is 100,000 diamond, and therefore the mirror like finish reflects beautifully and adds to the look of the gemstone in addition to the internal brilliance. The tweezers are reflecting off of the facets due to very fine high quality polish. This gemstone was faceted by the owner of All That Glitters. (eagt-18-01b) $430
Oregon Sunstone in the Custom Elegante Design!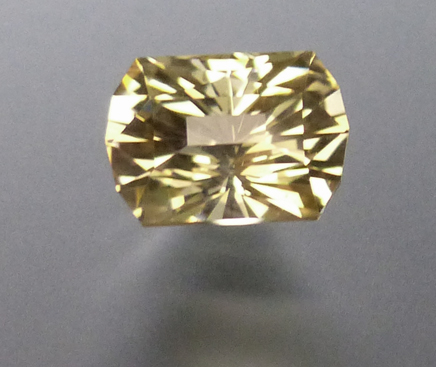 Faceted by the owner of All That Glitters, this is a custom cut called "Elegante" developed back in about 2004 by the cutter and based on other similar designs, but with a different distinct top and small table. Photo doesn't do the sparkle or color justice. Depending on the lights, it is a lemon yellow to a sort of champange color. There is a splash of pink when looking down the long axis, that also perhaps adds to the color. $500 including shipping/insurance via Priority Box.
New Find From Brasil! Amethyst Trapiche Slices....
Said to be from the Aracuai area of Brasil.
This grouping of hand-selected aesthetically beautiful pieces have been requested to be studied by GIA
for inclusion in Gems & Gemology Magazine, Summer 2018 Edition!
Article link to be found below...
A
B
A - 14.50ct Trapiche Quartz, (mcv-18-02b) $850
B - 16.73ct Trapiche Quartz, (mcv-18-02a) $987


C
D
C- 17.03ct Trapiche Quartz,

SOLD!!

(mcv-18-02c) $1,005
D -27.75ct Trapiche Quartz, (mcv-18-02d) $1,637
Article Now Available Online and Available in Gems & Gemology Magazine, Summmer 2018:
Trapiche-like Amethyst from Brazil
29.27ct Square Emerald U.S. Flat Faceted Ametrine, showing the purple, yellow and blended colors of Ametrine! First photo was taken with a light ring attached to the camera; second photo taken outside under heavy threatening clouds and held over a sheet of white paper. This represents a lighter saturation of Ametrine from the All That Glitters Collection. Has a wonderful polish, extremely well executed and very brilliant! (Measures approximately 19.2 x 18.0 x 14.0mm) (ajml-16b-01g)

SOLD!




For a larger image of the first photo, click on that image!
Gem/Mineral Photograper Jeff Scovil Photographs All That Glitters LARGE Ruby!
The talented Gemstone/Mineral Photographer Jeffrey A. Scovil at the Big E in Springfield, MA (08/10/18) photographing our incredible 5.67ct, GIA Certified UNHEATED Purple Red Ruby. Incredible size, cutting, clarity, etc. One of the most important gems in our 37 year inventory! Photo to be posted in the future when Jeff finishes his magic within a week or so...
"Fall in New England", Inspired by the Changing Leaves and the Masterful Color Display in Nature.

A Collaboration in Gems, Design, Precious Metal: All That Glitters/Katzenbach Designs



4.30ct Flame Shaped Red-Orange Topaz, Ouro Preto (Minas Gerais, Brasil); AGTA - N


(Topaz includes variations of Orange, Red, Peach and Melon and is
Accented/Enhanced by the Autumnal Colors of the Sapphire Suite)

131 Round Red/Orange/Yellow Sapphire Suite weighing a total of 3.27cts; ATGA - H

18kt Royal Yellow Gold

Multi-Wire 14kt Yellow Gold Choker, Created by Hand and with a 14kt Barrel Clasp.
(14kt will wear better than 18kt and not bend as easily)
(Choker may be easily removed from the pendant if desired;
comes with an 18" Black Leather Cord with 14kt Lobster Claw Clasp)

One of the many entries into the

AGTA Spectrum Awards Contest - 2018

!

Price Available Upon Request


Wide Shot Showing Custom Chain
CAD-CAM Early Rendering
CAD-CAM Later Rendering
CAD-CAM Rendition - Side View Showing Tiers
Completed Casting Ready for Gem Setting
A
B
A - Oval 8.43ct Grossular Garnet (wsm-07-01a) $2,529

SOLD!

B - 10.64ct Cushion shaped Grossular Garnet (wsm-07-01b) $3,192

SOLD!

Large Grossular Garnets from Sri Lanka. Deposit was back a few years ago and was mined out. Unique material. There are some inclusions in this material, which is to be expected, but nothing that would be detrimental
7 mm Portuguese Round Bright Orange Tourmaline from Africa weighing 1.44 carats and a wonderful example of this material. Faceted from All That Glitters rough. (vyg-18-tst-01) $275

SOLD! (Jewelry Designer/Manufacturer)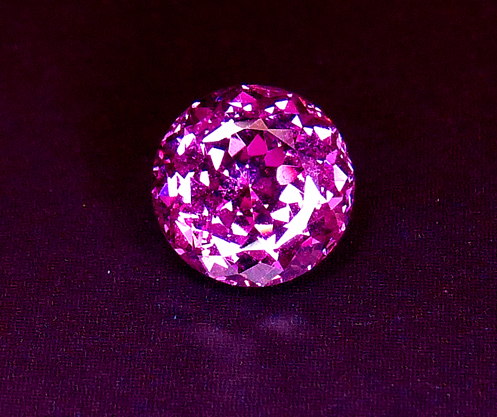 7 mm Portuguese Round Purple Garnet from Africa faceted from our rough. The light ring reflection from the surface as well as internally providing a nice sparkle from both the surface and internally, just like all of our recently faceted Portuguese Rounds. This gem weighs 1.90 carats. (vyg-18-tst-03) $380

SOLD! (Jewelry Designer/Manufacturer)
2.92 carat total weight of four interesting and uniquely colored garnets from Africa. The colors and weights are as follows:
orange pink pad-like garnet: 0.72ct (vyg-18-tst-05)
imperial/champagne: round, 0.65ct (vyg-18-tst-06a)
imperial/champagne: oval, 0.75ct (vyg-18-tst-06b)
unique yellowish: 0.80ct (vyg-18-tst-02)
$375 (Parcel Only)
This is a test sample of colors found in Africa and these sizes are typical for these colors. Larger pieces of this material are not common, but do occur at times.


Under Consideration (RC) - Contact Us if Interested
A nice very Bright Yellow Zircon faceted from our rough, weighing in at 10.97 carats. Price is $100/carat. (jeg-18-01b)
A
B
A - Another piece of All That Glitters rough that has recently been faceted producing a 7mm 2.07 carat Portuguese Round bright orange Zircon. (vyg-18-tst-04) $275

SOLD! (Jewelry Designer/Manufacturer)

B - 8.71 carat Orange Zircon from our rough. Photo was modified a bit to tone down the orange as the camera photographed a much more intense Orange. This is an interesting unique color orange and hard to describe. Reminiscent of the colors of Autumn in New England! Priced at $100/ct. (jeg-18-01a)
Wonderfully colored Tsavorite Garnets with that glowing chrome green expected of fine Tsavorites or Chrome Tourmaline. Total carat weight is 1.70cts. Photo does not show that rich glowing green - can't capture it with a camera. Would be super as both a ring and a pendant. (kdent-18-01p)

SOLD!(Jewelry Designer/Manufacturer)
7.78ct Watermelon Sunstone from Oregon - U.S. Faceted
Original Rough
Preform Prior to Cutting
A 7.78ct Watermelon Sunstone from Plush, Oregon. Faceted/Concave Cut by an Award Winning U.S. Cutter! A photograph of the original rough as well as the preform just prior to cutting is displayed below the finished piece. Note the green, red and coppery schiller. This is a darker gem, but with good lighting and when tipped back/forth or moved around, all the colors, schiller and unique cutting can be seen. Priced to move at $1,575. (da-17-01)
Large U.S. Faceted Umbalite Garnet weighing 12.63ct. Color is red to magenta and is faceted in a fancy cushion shape. Difficult to obtain an accurate true color rendition. A 7+ct Umbalite from a well known West Coast business was selling at $1000/ct a few years back. This is priced at only $600/ct! (vyg-18-01a) $7,578
Golden Orange Tanzanite (Zoisite) weighing 4.93cts and faceted from All That Glitters rough by one of our expert cutters! (eagt-18-01) $6,163
An African True Orange Tourmaline weighing 7.73cts! Rough was hand-selected by the owner of All That Glitters and faceted in the U.S. A super orange color, very lively and a larger gemstone for Tourmaline now-a-days. The price for many colors of Tourmaline is approaching $1000/ct wholesale, and when discussing retail pricing, the prices are certainly there already! Only $500/ct. (vyg-18a-nr) $3,865
A Rhodolite Garnet Oval weighing 5.69cts and originating from Tariri, Tanzania. Faceted by one of the U.S. cutters working with All That Glitters. A darker gem with deep red highlights, this is priced to move as one would be hard pressed to find a Rhodolite of this size, faceted by an American and at this price per carat! Photo is not accurate in color - reds are very difficult to reproduce in photos. (eagt-18b-01a) $375
Spinel from Burma with a wonderful red to orange red color weighing 1.86cts. Photo is far more orange and couldn't be corrected to show more red. Faceted in the U.S. by an award winning cutter. (ggc-18-01) $2,200

SOLD! (Jewelry Designer/Manufacturer)
GIA Certed 1.49ct Square Cushion Ruby - UNHEATED! Nice size, sparkly and priced to move at only $5000/ct!
Photo doesn't do this gem any justice as it doesn't show the sparkle or a true color rendition. (egpl-18-02) $7,450
GIA Cert
GIA Certed Padparadscha Sapphire weighing 0.93cts. One of our smallest Pads, but when we find this color, it is hard to pass on... (dbepl-18-01) $3,255
GIA Cert
Doubly Certed Padparadscha Sappire Oval weighing 1.19cts. Another wonderful All That Glitters hand-selected Padparadscha Sapphire over 1ct! True Pads are far and few between. Even if one finds the true Pad color, there are typically problems with symmetry, pavillons that are too shallow or extremely deep, color zoning, inclusions or a price that is ridicuously high. Finding and Buying a Fine Padparadscha Sapphire is similar to finding and buying a Fine Alexandrite!.... (awa-18-01) $4,760
GIA Cert
EGLab Cert
A
B
A - Unique 1.82ct Round Parti-Colored Sapphire showing distinct blue and yellow. Very unusual for a round to truly show the separation of these colors vs. having the colors mixed. A wonderful conversation piece and the owner will receive lots of questions and most will be surprised to discover this beautiful piece is a Sapphire! (egpl-18-01) $3,095

SOLD! (Jewelry Designer/Manufacturer)

B - Another Parti-Colored Sapphire, but a Green and Blue Mix. This 2.41ct Trilliant has a base color of blue, but also has yellow which mixes and produces some green highlights. It has the main appearance of blue when viewed, but if one looks closely, one can see the green highlights. The green and blue do mix to give a unique color blue that the Sri Lankans call Green Sapphire - but most would describe it as a variation of a blue. (egpl-18-03) $3,615
Dendritic Quartz from Galilea, Brasil. A large piece of over 202cts. Beautiful natural design/pattern/scene, and the colors are perfect too, as one has the impression of rolling hills, with trees and literally a blue sky at top! A unique and one-of-a-kind piece. For a closeup of a section of this piece, click on the image above... (mcv-18-01)

SOLD!
Mahenge Garnet Matched Suite of approximately 6.65cts of the famous Manhenge Garnet. Color varies under different lighting conditions and it being more intense in color with strong purple/red highlights at times. (kjcl-18-01)

SOLD!! (Fine Jewelry Designer/Manufacturer)
A
B
Deep Blue Zircon weighing 5.64cts. Has beeen difficult to obtain this material and when we do see it, the wholesale price has typically been $300/ct. (bigi-18-01)

SOLD!! (Fine Jewelry Designer/Manufacturer)

6.54ct Fancy Oval, Deep Blue Zircon. See description above. (bigi-18-02)

SOLD!! (Fine Jewelry Designer/Manufacturer)
A
B
A - Morganite Trilliant Pair weighing 8.22cts and measuring 11mm. Great color and brilliance. We have seen wholesale prices for this material typically up to $125/ct. (ssgms-18-02)

SOLD!! (Fine Jewelry Designer/Manufacturer)

B - Morganite Trilliant Pair weighing 10.59cts and measuring 12mm. Great color and brilliance. We have seen wholesale prices for this material typically up to $125/ct. (ssgms-18-01)

SOLD!! (Fine Jewelry Designer/Manufacturer)
Wonderful meteorite slice showing incredible etching, origin is Russia (Seymchan). Tanzanite rounds in two opposing corners. An interesting piece for jewelry design, a curio cabinet, collection, etc. Very Unique and probably not to be found elsewhere. (panmt-18-01) $450
Front
Back
Closeup 1
Closeup 2
Closeup 3
Closeup 4
Large 2,710+ct Quartz Crystal with beautiful inclusions including several sprays of crystals. Surfaces have been polished to allow viewing from all the natural crystal faces. Would look beautiful on a lit base or perhaps on a lit custom-made bronze base with hand-applied patina to match the color of the inclusions! If you purchase this piece and have an interest in this, we know an artist that can be contacted to do just this custom base! (tccl-18-01) Priced to move at only $750. That's only $0.28 per carart! (If marketed by a few of the well-known mineral dealers out there, expect the price to be 4 figures...) Available from our West Coast Office Only.
9mm Synthetic Alexandrite weighing 3.06cts, set into a Platinum setting (Stuller) with Diamonds, custom modified for our customer. We would expect a genuine natural Alexandrite of this size, clarity, cutting, etc. to fetch about $60,000 retail. One doesn't have to spend $65,000 to have a beautiful platinum and diamond ring with a gorgeous center gemstone. Many colored gemstones exist whether natural or lab grown which would look wonderful when finally set and worn!...

SOLD! (An ATG International Customer)
Diamond Engagement Ring, approx 65pts, VS, H-I, estimated due to being set in Platinum/Iridium Ring, flanked by Tapered Diamond Baquettes weighing approx 15pts in total and of the same clarity/color. We decided we would have this certed and appraised before being offered for sale. The image displayed here is a scanned image from the actual cert. $3,500
View Cert & Appraisal
8.08ct YAG (Yttrium Aluminum Garnet - Synthetic from Russia). Just off the All That Glitters dop. Looks like Tanzanite. The gem was photographed under fluorescent lights and was a purple but the camera was seeing blue. Taking it to a large window where there is diffused light, the color was blue... Seems like a color change YAG - and very much like Tanzanite, where the color may be more purple or more blue depending on the lights/wavelengths available! Design called a Stepped Keystone - could also be called a Tapered Baquette. Flashes of color when tipped back and forth along either axis. Those who wish a Tanzanite without the cost, and a large one at that, this fits the bill. Would make a nice pendant or ring. Considering the time on the cutting, the cost of $350 including shipping and insurance via USPS Priority Box, makes this very worthwhile. We had to cut a piece of this unique rough to see what the result would be. Very pleasing. Measures approx. 11x8x5mm $350 all in, as noted above.
Re-Photographed - Incredible Cat's Eye Chrysoberyl, Large and WELL Priced!
Chrysoberyl Cat's Eye, 3.28ct - great size for jewelry, no blemishes, the exact color and sharp centered eye that one wants in this gemstone! Note not only the sharp eye, but because there were other lights available during photography, one can see a secondary line on the top. (left photo) Milk/Honey affect clearly seen also. Just a wonderful example and the largest/finest Cat's Eye Chrysoberyl we have had in inventory in 35+ years! Below the wholesale price of the 2014 The Guide - as many of our fine gemstones. (egaj-15-45) $8,200
A
B
A - 11.22ct Tourmaline Sllice. Unique colors and unique habit due to the fact that a crystal seems to have grown with various colors and then it was incorporated by overgrowth or another crystal. (kimpx-17-01b) $450
B - Another unique Tourmaline Slice. Intially looks like a watermelon slice, but look closer. It seems to initially be a watermelon crystal growing within another crystal or a watermelon crystal with overgrowth as the pocket composition changed. BUT, it also seems to be an inverse watermelon or perhaps it is a slightly different watermelon slice with overgrowth. A watermelon slice within a watermelon slice? Nature can be very confusing at times, creating some very beautiful and unique items. 15.09ct (kimpx-17-01a) $500
A 6mm Round Green Sapphire weighing 1.12cts. Unheated and Certed. A very difficult color to describe as it seems to color shift depending on the lighting/wavelengths available. Have seen green, sage green, bluish green and an odd color that is simply difficlut to describe! The camera saw different colors than what the eye was seeing under the office lighting conditions - however, it hints at the origin of the green color. Many sapphires are parti or multi-colored. This seems to be a mix of both blue and yellow, so the colors mix producing a green. The multiple colors are caused by the elements that were present during the growth of the crystal/gem - those elements will absorb and transmit differently depending on the wavelengths available. This would also explain why it is a very nice green under certain lights and various other colors and greens under other lighting conditions. Unusual to find nice green Sapphires and Unheated Sapphires are not very common. Round shape is in high demand and this can be set and used in many different applications and settings. (ssgems-17-03) $1,120

SOLD! (Retail Jewelry Store Purchase)
View Cert
We wanted to share this special ring that All That Glitters just completed - set with a recently sold GIA Certed 2.02ct Demanotid Garnet. Set with 18 white diamonds and a green diamond on each side! To view the original unset Demantoid next to the ring, or to view more custom jewelry made with All That Glitters gemstones, visit our Design Gallery: Design Gallery
A 34.56ct Blended Grooved Ametrine Kite completed by our specialty cutter. (ajml-16b-01a)
Contact us for pricing.
We are trying out new cutting designs and using some of our existing unique rough from Synthetic Alexandrite to 40 year old Color Changing Russian YAG. Below you will find some of these pieces...
12.67ct Synthetic Alexandrite (U.S. Grown as laser rod material for the cosmetic industry) faceted in the U.S. Color change is purple, to purple/lilac with teal/green highlights to bright reddish pink. Photographed by a large window - diffused daylight. (laser-17-01) $1,267
Large faceted Color Change Russian YAG (material is about 50 years old)and has a very unique color change from essentially clear to pink. Some might describe it as silver, grey, pewter or lilac depending on the lights, but many would just indicate clear. The pink is a darker version of 'pink ice', a color that many are familiar with. One larger piece exists and was featured in Gem-A Magazine (trade magazine - UK) where it amazed those UK gemologists who saw the piece in person. An under 5 carat faceted round also is available and one can see both the larger and smaller faceted gem, read the article and view a video of the color change by visiting our Published Gems Page!
(Published Gemstones)
This recently faceted piece is similar in all aspects to the large published piece - color change, clean, large, etc. As noted in the article, it is a unique and fascinating color change. This piece was faceted in a design called Pines of the Janiculum and weighs over 76cts. Measures approximately 22.2x16.8mm (alxb-14-01b) $1,500
All That Glitters Faceted Large 38.65ct Synthetic Alexandrite
U.S. Lab Grown Genuine Syn Alex Laser Rod Material
A very large Synthetic Alexandrite in a fancy custom emerald shape, faceted by the owner of All That Glitters from All That Glitters rough. Gemstones custom faceted from this rough are typically priced at $100ct - a cutter in the mid-west familiar with this material, has faceted it and has sold it, thought that the price for a fine and/or large gem from this rough should be priced at $125/ct. The retail price on another U.S. grown lab Alexandrite is $360/ct; wholesale is $120/ct, but that material is too dark to produce anything larger than about 4cts. The color change between the two different lab grown material is slightly different, as there are two different applications for the final product - jewelry vs. laser rod material for the cosmetic industry. The laser rod material can be faceted into gemstones as well, and as you can see, can produce some stunning results. (We have both types, with our material coming from Russia in one case and the company that produces the laser rod material is within the United States.)
The color of this particular gemstone can be described in the following way:
1.) First photo shows the gemstone by a window in diffused light - body color is purple with teal highlights reflecting off the internal facets. Our camera captured more bright blue, but the color is more of a teal. In different window lighting, we have seen this teal be more green.
2.) Middle photo was under our office fluorescent lights - shows a body color of purple with a glowing blue off the internal facets. These colors remind us of some of the fine bluish Amethyst that is available on the market. Look through the very center, the table facet, and in the back in two sections, one can see a more green color.
3.) Bottom photo is under incandescent light. It literally glows a bright pink with red flashes.
4.) We have viewed this gemstone under indoor flood lights and the body color seems to take on more of an orangy pink or perhaps orangy purple.
Various body colors will be seen depending on wavelengths available in the existing light source. This gemstone and material would make a great pendant and when worn where the light source is changing as one walks from room to room, will change color depending on the wavelengths available in the light sources as noted. For those admiring the piece of jewelry, it will receive comments and stares as people notice the gemstone looks dramatically different than it did previously. The 100,000 diamond polish adds scintillation on the surface as it is a mirror finish; one has the internal life due to the brilliance itself. You may note the interesting facet pattern on the top and bottom of the gem in the first photo (star burst pattern); this is due to the unique facet arrangement on the back. We have other photos that show this much better, but we chose this photo to represent this gem over the many that were taken. Please excuse dust and fingerprints that may be seen in the photos. At only $100/ct vs. the suggested $125/ct, the price is $3,865. Includes Shipping/Insurance! (synalex-17-01)
To View a Video of this Gem: Video Clip
Note: Magnification and bright lighting is required to photograph gemstones. Some inclusions may be visible under these circumstances. You are viewing photographs as if you were using a loupe - not your unaided eye. Under normal conditions, these inclusions may not be visible.
Not responsible for mismatches of prices, photos, stocknumbers, etc.
Buy Now using your PayPal account:

For purchases using another form of payment, please use our Intent to Purchase Form.
Save 1% on your purchase by using popmoney:
Learn More by clicking on the logo!
You may also telephone or send an email.