Miscellaneous Gemstones
The Oregon Sunstone Rough shown above produced the faceted gemstones you see below. One can get a good idea of some of the waste of the original rough, as one can see the trim marks where a diamond saw blade will remove cracks, inclusions and areas that are not desired in the finished faceted gemstone. The typical yield that we use when estimating a finished gemstone is 20% - meaning that 80% of the rough that is paid for, is literally trimmed and ground away. Note that the rough piece on the left produced the gemstone in the photo you see below. You can see some of the glittering schiller in the piece of rough. The green outline (watermelon) was removed so as not to mix the green with the reddish orange, as there was a high likelihood that this would muddy the color and the final gemstone would not be the nice pure color you see below!
A Very Large Natural

9.93ct

Oregon Sunstone, mined in 2009 and faceted in the U.S. by our Master Cutter (Stephen Kotlowski). This is a dusty orange under office fluorescent lights, but a bright orange under lights such as incandesents. There is a decent amount of schiller without being overpowered by schiller. It causes a slight sleepiness which is very common in these gems with schiller. It is still bright, it certainly glitters internally and externally (our Master Cutter is responsible for the high polish!) and is a wonderful example of a large orangy Natural Oregon Sunstone! 12.45x11.35x10.60mm (dd-09b-02) $3,972
Note - Production this year, 2009, has been quite low due to mechanized mining failures. Problems continue to plague the complicated mechanisms which must all act as one unit. We were only one of two that were allowed to view this rough and make a selection. The owner of All That Glitters personally chose these two pieces of rough from this very limited selection.
A
B
A - 3.12ct Natural Oregon Sunstone, mined in October 2008 and faceted in the U.S. Some schiller, best seen from the side. A beige or light apricot color; some may call it a Topaz color. (dd-09a-02) $312
B - A large ROUND 4.56ct Natural Oregon Sunstone, also mined in October 2008 and faceted in the U.S. Not seen very often in larger rounds. The color is similar in descripton to the oval. Interesting pattern which gives the design a slight swirl - LOTS of sparkle. (dd-09a-03) $684
A nicely colored 3.78ct Natural Oregon Sunstone, mined in October 2008 and faceted in the U.S. As is typical with the reds, it is surrounded by a field of clear. With the stone tipped on the side, one can clearing see this, as well as an inclusion which runs parallel to the length. Depending on the viewing angle, one can see some of this abscense of color on the side, and the inclusion is not all that readily visible. (dd-09a-01) $567
A Suite of Color....
3.19ct Rose Garnet: $160
1.18ct Green Tourmaline: $118
3.74ct Red Garnet (most likely a fine Rhodolite): $374

SOLD!


(minco-09-02p)
0.71ct Pear Shaped Diamond, Approx H/I color and SI2 Clarity (scrp-08-02) $2,945
An appraisal (2003) is available but obviously outdate; shows more info: Appraisal
A
B
Two cabs of Tanzanian Sunstone weighing about 0.65cts total, showing some phenomenon $65
16.90cts of Tanzanian Sunstone (not exactly matched and can be purchased separately) with a wonderful color and a faint/medium 4-ray stay present. This material was written up in an article by Morgan Beard and is very collectable. You can see the internal fibers that make up the stars. The body color is gold... (7.69ct and 9.21ct) (mj3inc-04-04p) $60/ct
(A great price for this fine quality material!)
3 cabs of Tanzanian Sunstone weighing 14.65cts. The middle stone shows a weak 4 ray star, and the left hand/right hand cab show a fairly distinct cats-eye! These gemstones can be purchased separately. Photo on the left was taken with a pen light to act as the lighting source to show off the phenomenon. (3.66ct, 3.72ct, 7.27ct) (mj3inc-04-04p) $60/ct (A great price for this fine quality material!)
Same 3 cabs under office flourescent lights with no over head pin point light source; therefore, no cats-eye or star.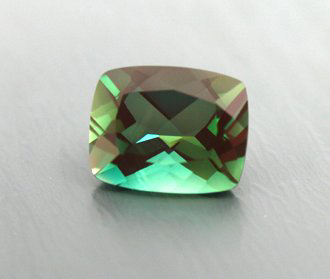 2.89ct Rare Green Andesine Feldspar, uncommon in this color. The red, orange or orangy red that has been prevalent in the market has been proven to have been color enhanced. We are not sure about whether green is also being ehanced, as the articles just discuss the red/orange. This is our first Green Feldspar purchase in our 25+ year history. We just hadn't seen a fine one at an attractive price previouslyl. Whether this is enhanced or not, it is a very nice gemstone...
(dazgem-06a-01) $1,012
Gemstones - New Edition
Two Deep Yellow Orthoclases from Madagascar. Unsual in such fine yellow (note that the color is a medium deep yellow, and the orangy highlights were picked up by the camera. The eye does not see this orange).
Small Oval: 8.28cts (hilbos-05-01a) $621
Large Oval: 31.67cts (hilbos-05-01p)

SOLD !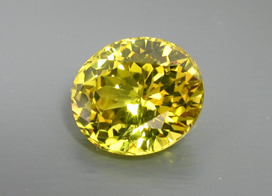 Intense Yellow Chrysoberyl, 3.72ct Oval (awa-07-01) $3,720
Medium Yellow Chrysoberyl, 3.83ct Cushion (awa-07-03) $1,915
1.98ct Diopside
7.88ct Diopside Rough
The origin of this material is Madagascar. One piece was faceted by our cutters to produce the round.

The piece of rough above, which is not facet quality, accompanies the faceted stone.

This would make a great piece for someone interested in faceted stones and the material that produces them. $199
3.57ct Oval Golden Yellow Chrysoberyl (bary-92-03) $1,428

4.49ct Total Weight Yellow Scapolite Parcel - African $247 for the parcel (eagt-94-05p)
3.52ct Sphene (Madagascar), Elong Emerald Cut, Great Dispersion, faceted in the U.S. - $1,408 (mjthre-00b-1b)
Gemstones - New Edition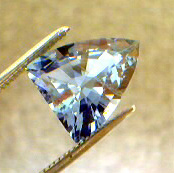 1.41ct Aquamarine, nice shape and color; veil running across, not that noticeable - $212 (tpco-89-02)
Kyanite from Nepal - $200 per carat, ave wt = 2.67cts
Kashmir Sapphire Blue Color! An incredible color without the typically issues of inclusions and zoning seen in this material. This particulat deposit produced some gemmy material, as Kyanite is not thought of as a faceted gemstone - so this particular find and these examples above are far from the norm! (vst-04d-04p)
The two ovals above have been sold. A
Dealer
sale to Slovakia. The two smaller pieces are available - and the average weight of the two is less than 2 carats!
Boulder Opal/Idar-Oberstein Custom Piece
Again, two different images of another unique item. This one incorporates boulder opal from Queensland, Australia and custom carved Mahogany Obsidian.The artisians of Idar-Oberstein, Germany have created a custom piece in shape, texture and color to match the boulder opal below. There are both highly polished surfaces on the obsidian, as well as sandblasted areas. A channel next to the opal will allow a designer to inlay brightly colored gemstones or even intarsia to accent the play of colors from the opal.This unique and one of a kind piece is both signed/dated and is priced at $875. (rshap/grimm)
A
B
C
A - David Stanley Sculpted Interlocking Citrine( 2.11ct)/Amethyst(2.90ct) $735 (dstan-90a#)


Signed statement of authenticity by David Stanley

B - David Stanley Sculpted Green Tourmaline(3.99ct) $650 (dstan-90e#)


Signed statement of authenticity by David Stanley

C - David Stanley Sculpted Interlocking Citrine(2.26ct)/Amethyst(3.48ct) $825 (dstan-90c#)


Signed statement of authenticity by David Stanley

These pieces were designed by David Stanley, one of the first Americans working in a similar fashion to Munsteiner in Germany. These unique pieces were chosen from a few hundred pieces of David's work approximately 20 years ago. They were chosen based on the designs, keeping the customer and goldsmith in mind. Note that the citrine and amethyst pieces are separate pieces, and one can separate them with a bar of gold, diamonds, other gemstones or whatever the customer desires.
For an article on David Stanley's work and a photo of one of his design's click on the link below:
Modern Jewelers Article - David Stanley Gem Sculptor
Note: Magnification and bright lighting is required to photograph gemstones. Some inclusions may be visible under these circumstances. You are viewing photographs as if you were using a loupe or microscope - not your unaided eye. Under normal conditions, these inclusions may not be visible.
Not responsible for mismatches of prices, photos, stocknumbers, etc.
<! code to insert on Photos Pages and others, where one wants the Payment Info/Intent to Purchase Form to appear -->
Buy Now Using the Following Options:
Effective in 2021, after 20 Years with PayPal, we no longer accept payment through PayPal due to issues encountered with this company. We continue to utilize Personal and Bank Checks, Square, popmoney, Wise, Wire Transfers and other services/applications. We are currently seeking other options to PayPal which would be similar, more reliable, safe and user friendly.

Contact us via Phone, Email or use our Intent To Purchase Form to discuss payment. Square, Popmoney and Wise links are below. Square is similar to PayPal, but an account is not required; Popmoney is bank/bank, account to account; Wise (formerly Transferwise) is typically for International Transactions/Foregin Currency but also works within the United States.

NOTE - If PayPal is absolutely necessary, we can provide an invoice or have funds sent to a PayPal account we have access to. There will be a 3% charge for this service, which PayPal charges - regardless of whether the item is returned. This is PayPal's mandate as of October 2019 - the only payment application that we are aware of that will not return their fee if an item is returned....

Purchase using Square:
Learn More by clicking on the logo!  
Purchase using Popmoney:
Learn More by clicking on the logo!  
Purchase using Wise:
Learn More by clicking on the logo!  
For purchases using another form of payment, please use our
Intent to Purchase Form.
You may also telephone or send an email: Contact All That Glitters